Aloe Vera is a wonderful plant with cooling and healing properties which you can use straight from your fridge for things like sunburn and insect bites. It is also a beautiful succulent which can add a touch of drama to any garden or balcony. You can do it for fun and the process of learning becomes very relaxing and a fruitful hobby when you master the techniques. Having access to your own aloe vera means you can make your own fresh Aloe Vera products at home. Let's take a look on how to plant your aloe vera seeds.
Here we will tell you how you can choose the best possible small plant pots container for your small garden and what are those few things which you should keep in mind while you are going to buy your containers.
How To Plant Your Aloe Vera Seeds
Where to buy aloe vera seeds
When buying Aloe Vera seeds one should not rush into buying from the first source you come across.
You can buy aloe seeds from Farmer's markets and reputable local plant/ flower growing services. This is usually the best way to get your Aloe plant seeds.This is not to say that other sources will not be good, but being able to transport your seeds home straight from the source or locally means you can ensure they are handled with care.
Buying Aloe seeds online can be good also as you can compare and research a lot of different suppliers from around the world.
Where to plant your aloe vera seeds?
First of all, decide where you want your plants to grow. You can plant them straight where they are going to live for the rest of their lives, if the weather is warm. You might need to thin them out if you get too many. You can also grow them in pots on balconies, indoors or in greenhouses.  You can choose from a huge range of Aloe Vera planters or containers.  The best types are made of terracotta which drain better and look more beautiful than plastic.
Temperature:
Aloe Vera seeds will need temperatures of above 70 degrees Fahrenheit (21°C) to germinate, so if your outside temperatures are not getting that warm, consider starting them off indoors or in a cold frame. Keep reading to know how to plant your aloe vera seeds.
How to store the seeds before planting them?
If you have spare seeds that you won't be planting immediately or will be travelling with them at any time, It is wise to follow these top tips.
Store your seeds in a cool, dark place. Too much heat or cold temperatures can damage the seeds and will mean they are less likely to germinate.
You can store seeds in paper envelopes or plastic bags to help keep them from drying out also.
How to plant your aloe vera seeds:
Fill a seed tray or pots with a mixture of compost and sand, about 50/50. Or you can use specialist cactus growing compost which is usually available at most nurseries.
Plant the seeds at least 1 inch apart on the surface of your compost
Give it a very light covering of sand or the special succulent compost mixture.
Water from below, so the water soaks up into the compost mixture and doesn't displace your seed or wash the compost off the top. You can do that by sitting the tray into a larger container of water until it sucks the water up to the top. You'll see the sand on the top change colour.  Then let it drain as you don't want it saturated or you'll rot the seeds.
Cover with a clear lid, cling film or put in a propagator
Only water again if the soil totally dries out.  Or gently mist with a spray.
As soon as you see some green shoots, take the cover off, so that the little plants don't get attacked by any fungal nasties.
Time Duration:
It can take from 1 to 4 months for the seeds to sprout, so you might need to be patient! As soon as the little babies are 3 inches high you can gently tease them out and plant in larger pots or into the ground outside if it's warm enough. One must keep an eye on the seeds as they are most fragile and can be prone to fungal infections. If any fungus damages the seeds they will not grow. Here are some less expensive medicinal herbs you can grow at home easily.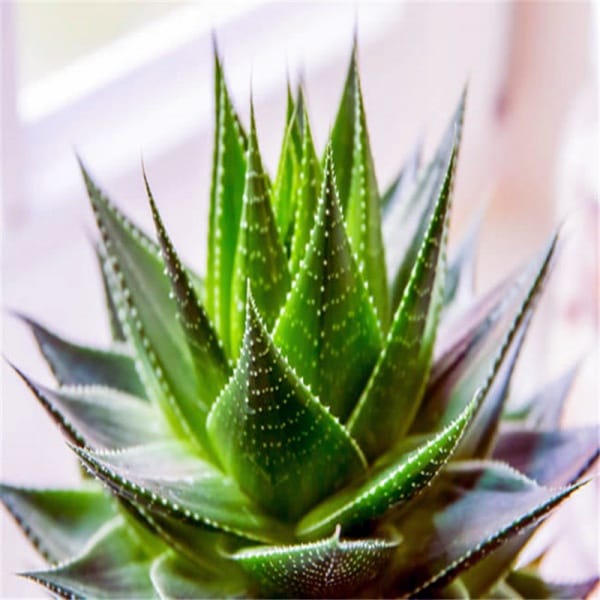 Growing your plant from seeds is different to growing from a seedling and requires more dedication at the beginning. Following are some equipment you should have on how to plant your aloe vera seeds.
You will need an adequate sized flat pan.
Use pumice, perlite or sand.
Use sifted potting soil.
A transparent cover.