Christmas is just knocking at the door and if you are planning to make out some decorations on your own, then it's the perfect time to think about. As there are few days left for Christmas and you will need some time for decoration, you should obviously start planning from now. You can buy various things for your Christmas decorations as it is available in the market nowadays. But the fact is making a DIY project with your own hand is a lots of fun. So let's skip into some DIY decoration projects for your Christmas festival.
Last Minute DIY Christmas Decorations Ideas
1. DIY K-Cup Advent Calendar:
Requirements: 24 Clean K cups, 3 pieces of cardboard, tissue paper, duct tape, number stickers, hot glue gun, ribbon, pushpins, and 24 small chocolates.
Procedure: Clean your Coffee K Cups nicely and put them in a separate place to dry completely. Now you will have to create your advent activity calendar which you will get on the internet. Take out a printout of the template and be sure that you can take a print out of two copies. Now make your tree where the k-cups will rest on. Remember that the cardboard tress needs to be thick so that it can carry all the 24 k-Cups. Make your thanking discs to put inside. Cut the tissue paper circles and number them. Now finally assemble the DIY k Cup advent calendar and glue it up nicely. For more details of the tutorials follow this link.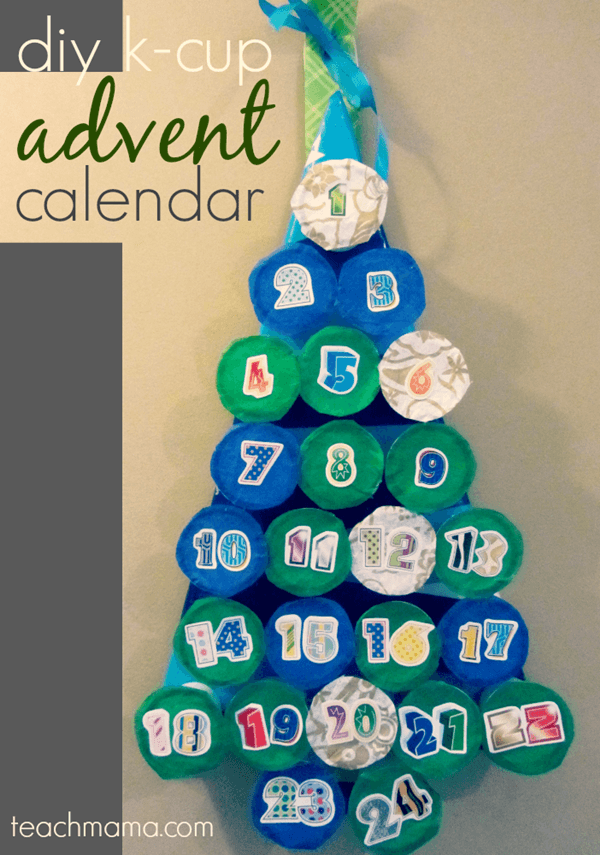 2. Candy cane Centerpiece:
Requirements: Clean empty can or cylindrical vase, two sided ribbon, rubber band, candy canes, roses and wide ribbon.
Procedure: Wrap up the two sided ribbon around the vase and then slide the rubber band around the vase or can. Begin inserting the candy canes behind the rubber band. Now tie the ribbon around the vase taking care to cover the rubber band with the ribbon. Fill it with a little bit of water and arrange for some roses. You can also attach a label with your guest's name on the ribbon. See the details tutorials here.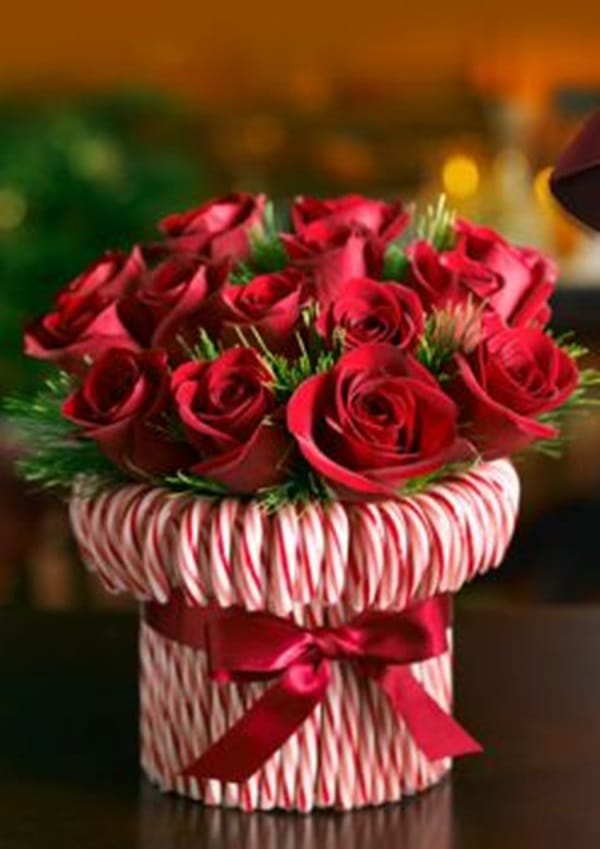 3. Light Bulb Penguins:
Requirements: Old unused light bulbs, fabric paint, paint brush for painting, ribbon, glue and unused woolen gloves to make woolen hats.
Procedure: First of all, we want to say that this project is really very easy and any one with just a bit of idea of craft will be able to make it. Here we will be making penguins from light bulbs and hence you will have to have to paint out a bulb to make it look like a penguin as shown in the picture below. Let the paint dry completely and then cut a piece of ribbon to hang the bulb. Take the glue and stick it at the tip of the bulb nicely. Here's now you will have to cut the thumb of an unused gloves to make out a hat of the penguin. Make a hole on the top so that you can insert that ribbon from the hole. Now after it is done, your project is also completely done.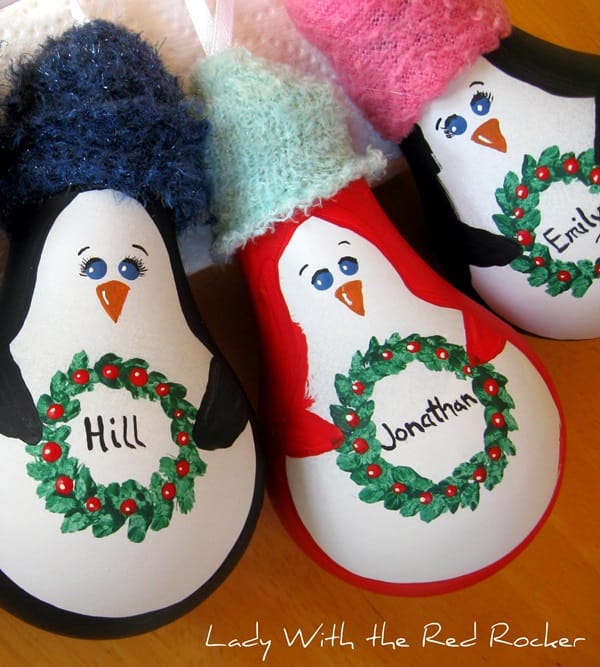 4. DIY Tin Can Snowman:
Requirements: 3 Empty tin cans of different sizes, white and pink paints for painting the cans, paint brush, varieties buttons, black felt for hat, thick floral wires for the arms, Christmas fabric for scarf and hot glue.
Procedure: Paint all the cans with white paint. Take the smallest can from the three as this will be the head. Turn your tin can upside down and attach the buttons in it for making eyes, nose and mouth. Now it's time to make out the arms. Take the thick brown floral wires to make out the arms here. Make a hole on the tin can and glue the wire nicely. Make the hat with black felt as shown in the tutorial in this link. Now lastly put all the things together to make it complete. Ohh! Yes you will have to make the scarf with Christmas fabric to make it look more attractive.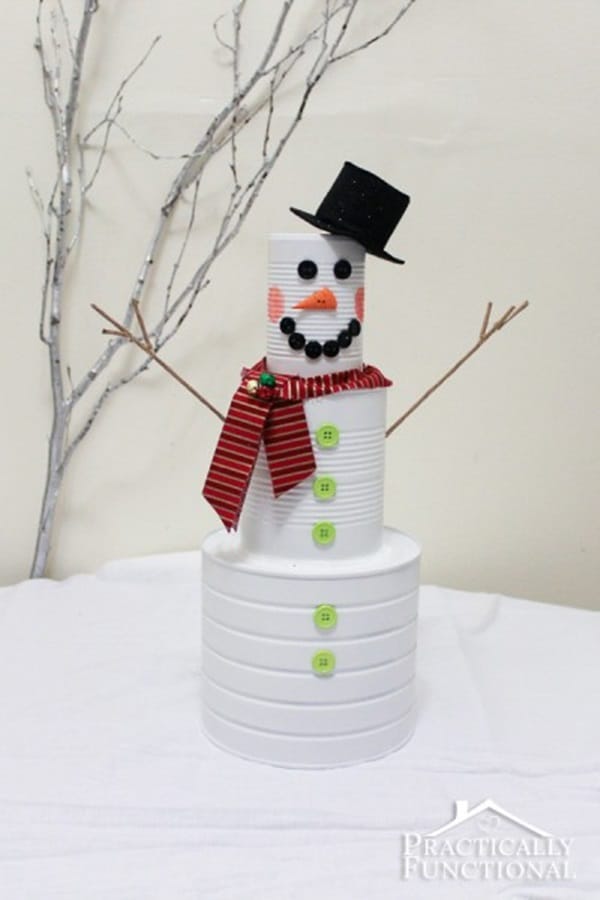 5. Toilet Paper Christmas Tree:
Requirements: Toilet Paper Rolls, Paint and Brush, Stapler to fix the rolls together, Christmas ornaments, a pair of scissors.
Procedure: First stick all the toilet paper rolls to make a Christmas tree. Then paint the complete tree with green color and bottom with brown color to indicate the branches. Now let it dry for some hours. Now decorate the full tree with various ornaments to make it attractive. Remember both the sides should be decorated so that it looks good. Now it is almost ready and you can use it to decorate it in your house as a Christmas tree. If you need more details tutorial, click on this link.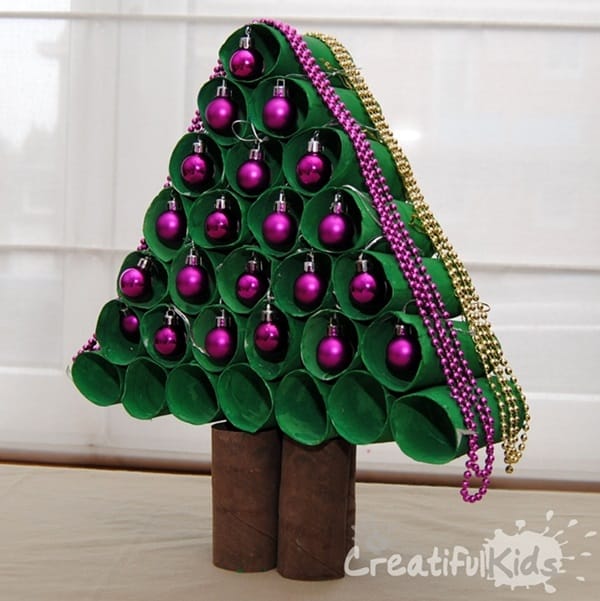 So the next festive season is going to be a bit special this time. Enjoy and have a wonderful festive time.