LISTEN TO ME – I don't want to live a life where HEADPHONES GET ENTANGLED no matter how much you manage them. Why would I always get my headphone free and ready to use before calling my friend on Skype? Why can't I just open my handbag to find my headphones lying neatly wrapped and ready to use instantly? It's better to invest your valuable time in activities that increases your productivity or hobbies that can make you smarter.
Well, congratulations and I feel glad to tell you that your head is not going to feel irritated since no messed up ear buds anymore! And guess what, you don't even have to spend bucks. Make it with these DIY Headphone Cord Wrap ideas that will neither compromise with the appearance nor spoil your headphones.
DIY Headphone Cord Wrap
My Headphone Manager!
Heart Cord Wrap!
Take a thick cardboard and first of all cut out some U's to make it look just like a puzzle piece of heart. You can further grab some sophisticated fabric that you don't use anymore to layer it up on the hard cardboard cut into a heart to make it attractive. And go on wrapping the headphone cord around the heart to keep it safe here after.
Clothes Pin Cord Wrap
Two clothing pins could do wonders that would save a life; life of your earphones! Take two clothing pins and stick their walls together. Just make sure, while you stick their walls you have placed their mouths opposite to each other. Painting on it would be an inspiringly colorful idea to go for. Let it dry and wrap the cord in the empty spaces and you will find them likely to use.
Something Animalistic, Please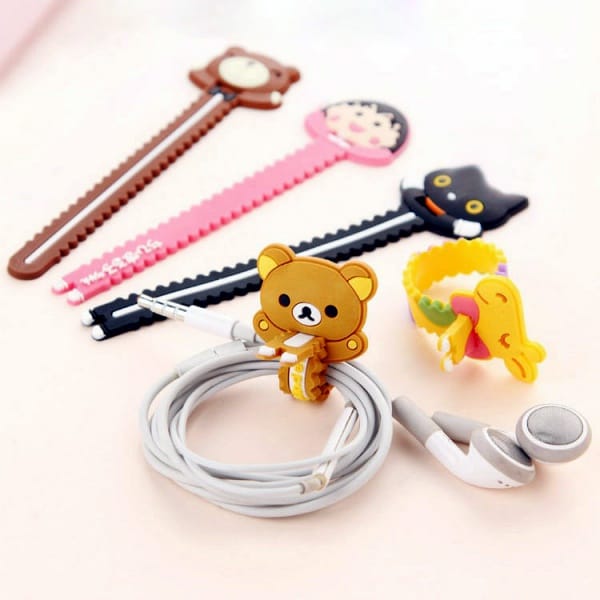 You can get a piece of big rubber and cut it into a shape of an elephant! It is an easy five minutes
DIY Headphone Cord Wrap
idea. Well, I have yet another cuter idea that is also easy to make and works best in case you didn't find rubber. Cut a hard cardboard in a shape of a kitten or panda and using a foam paper layer it up to make a slim yet soft animalistic toy that holds your earplugs safe.
Crocheted Cord Wrap Inspo!
If you know some of the amazing tricks to knit and knot up the crochet then this is an amazing and creative idea to hit right now. And you know the terms; you give this idea of cord wrap 3 days to get completed and it will stay with you for years. This is going to be washable and never loose its charm even after several months of continuous use. Go for it!
Old fabrics and Velcro Cord Wrap
Gran your favorite old fabrics and about an inch of Velcro to get this cord wrap work amazingly. Cut an old fabric into pieces and stitch it securing the boundaries and give it a perfectly finished look. Simple sew each piece of Velcro on its end. Done! Wind your headphone cord around it and tuck!
My Beautiful Headphone Armor
Yarn Wrap Idea
YouTube is there to teach all the best tricks of knitting the yarn with just the hands. I personally prefer it as well. Yarn knitted DIY Headphone Cord Wrap is yet another interesting inspiration to try that guarantees the security of wire. Mix up other contrasting and vibrant sets of colors to make it even catchier. You would be surprised to know that hobbies you can easily learn from internetcompletely change the way you think and aspire you to try out new things with full enthusiasm and zest.
Little Beads doing Wonders
Get number of colorful beads and start cutting them from one side as to discontinue the circular look of beads. Pull the end where you have cut the beads and insert the wire of your headphone into it. Go on following your favorite color scheme and within 15 minutes. You can further go on sealing the beads with cellotape for more secured look. Though, I would prefer ditching the cellotape.
Rubber Spring Easy Wrap
You know those little delicate springs made out of rubber and found in plastic material as well? Yes, you are going to need those springs here. Simple go on winding the springs around the wire and secure this thing with sticky tapes right after. VOILA!
Crocheting Around the Cord
Simply winding the crochet around the cord is an easy idea and I don't remember anything more easily than this. Just the glue and crochet bundle is required and ask your friend for help while you wind the crochet around. How about taking two bundles belonging to two antagonistic sets of vibrant colors making it eye catchy.
Electrical Tape Wrap
Thin electric tape in different colors will be required and just your headphone cord to work on. Oh that's obvious! Go on spiral winding the electric tape around the cord and you go flaunting your all updated headphone cords leaving everyone around you awestruck.
You got several ideas to push off your boring earplugs and renew them as to make everyone go mad finding the same on stores in the market! Ha-ha; don't reveal these fun DIY Headphone Cord Wrap.