Got huge stacks of newspaper bundles lying in your storeroom, and are not sure what to do with them? You have come to the right place. From now on do not just dump newspapers into the recycling bin. Make use of them to do something really interesting and useful. We have got Easy Newspaper Craft Ideas to reuse those Paper bundles. So squeeze out all the creative juices and make some fabulous craft pieces for yourself, family and friends. Imagine-Create-Repeat!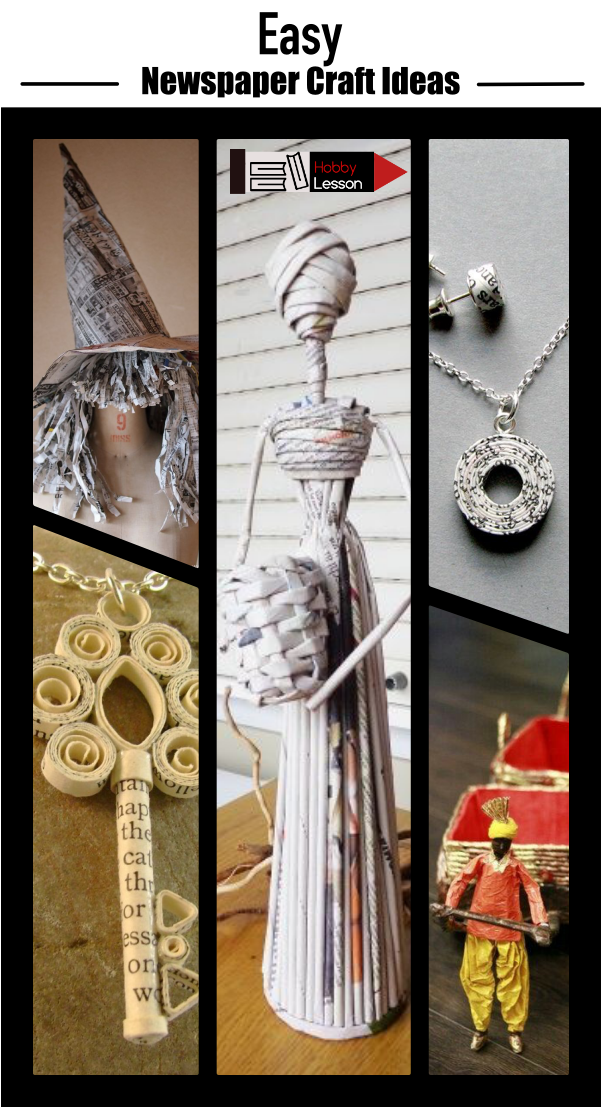 Newspaper Craft Ideas
Photo Frames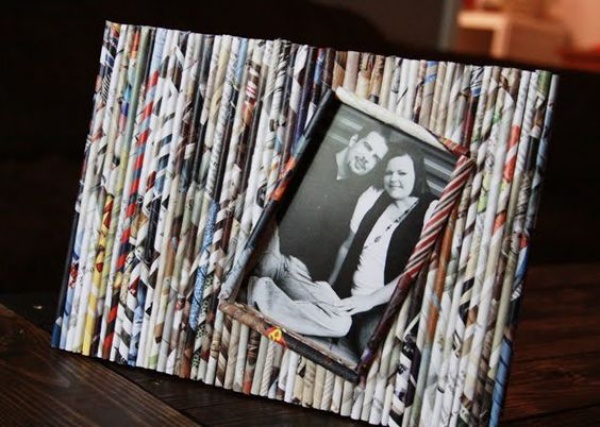 Image Source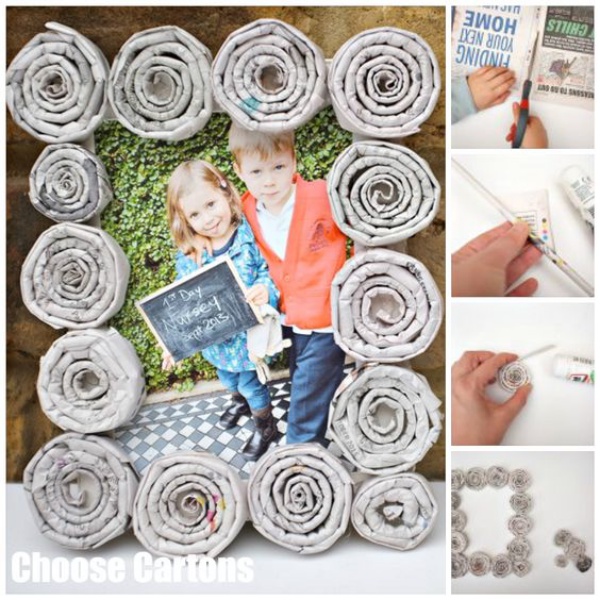 Image Source
Want a new photo frame for your photographs? You have searched online and in stores but everything there looks monotonous! So why not make your own! Here are some easy photo frame ideas, which are very easy to make, and I bet no one would have a frame like this… Ever! Isn't this a beautiful picture framing inspiration? You just need to swirl the newspaper into circles and secure it with glue. And then stick a photo from behind. You can leave it as it is, or color them or you could even add some sparkle to it and to make it more attractive.
Paper Garlands Newspaper Craft Ideas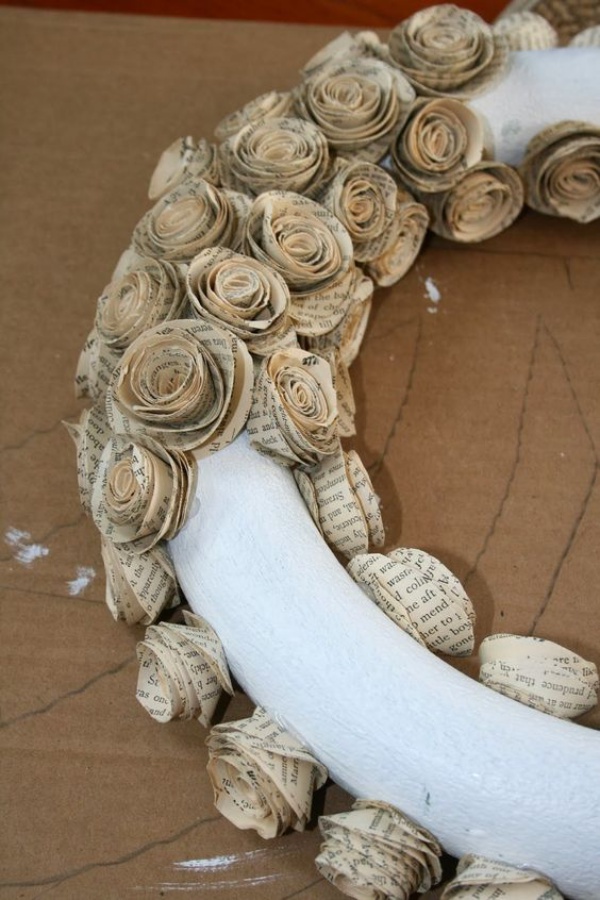 Image Source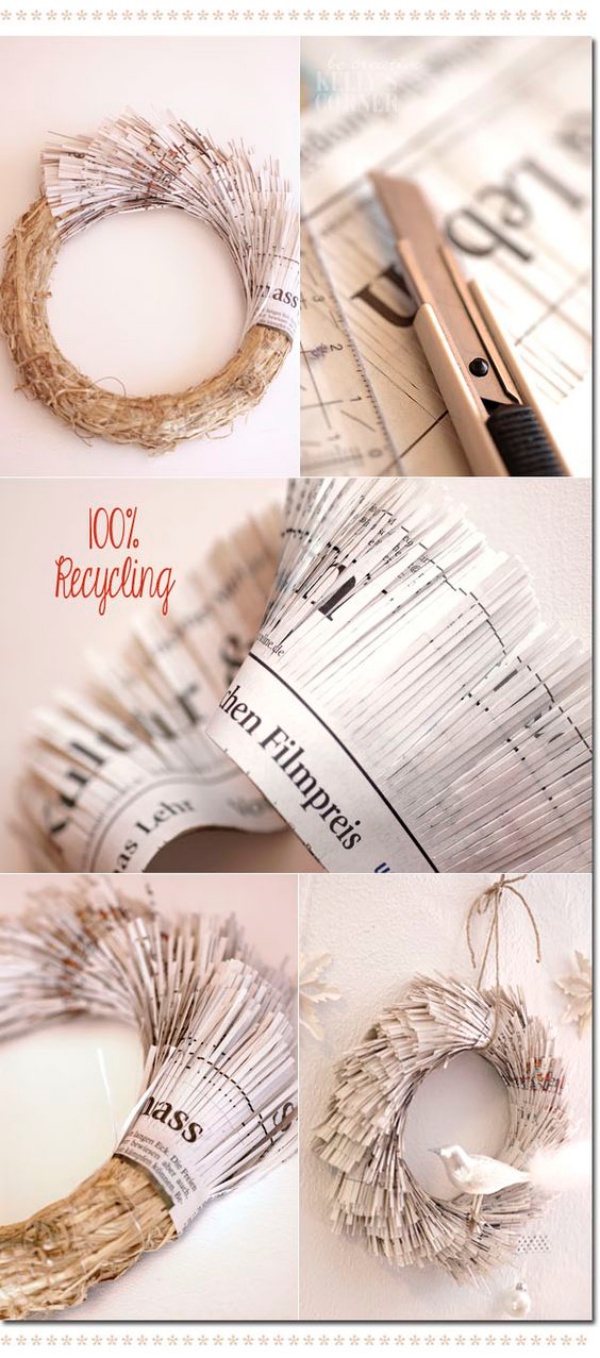 Image Source
You could make a newspaper banner for any occasion like birthday party or just use it to decorate your walls. Anyways this is a cheap option and will look really pretty and unique! You can make a banner like this for a birthday. Just write the name of your child or you could write happy birthday on it too!
Don't shy away from experimenting with different patterns or using sequences or ribbons on it to make it look pretty. Doesn't this wall hanging look absolutely beautiful? It will literally take just 10 to 20 minutes to make this. Take a newspaper and cut it in any shape or size you want like hearts, triangles, circles, stars or flowers(How to make paper flowers) the list is endless and then just stick them on long thread. And that's it!
Cool Newspaper Hat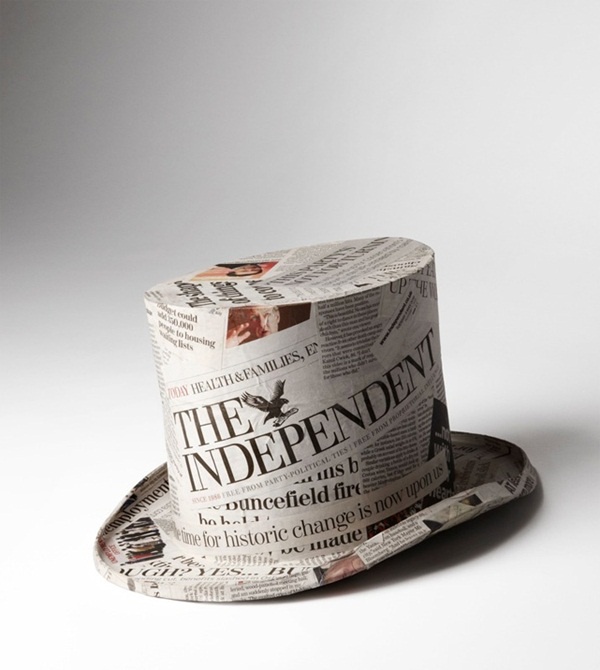 Image Source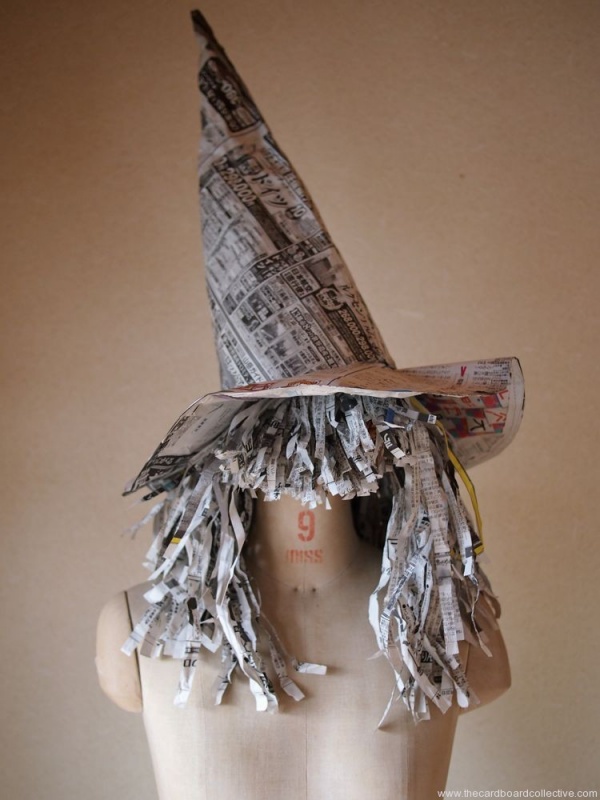 Image Source
Grab your newspaper and get ready for a fun DIY project. We all buy hats for birthday parties or other occasions and spend a lot of bucks. Ever thought of making a hat at home without having to spend those bucks and diesel! Your kids can be a sailor, pirate and even the Pope! Add some cool designs to jazz up your new hat, by using paint, markers, stamps, washi tape or even glitter!
Newspaper Puppets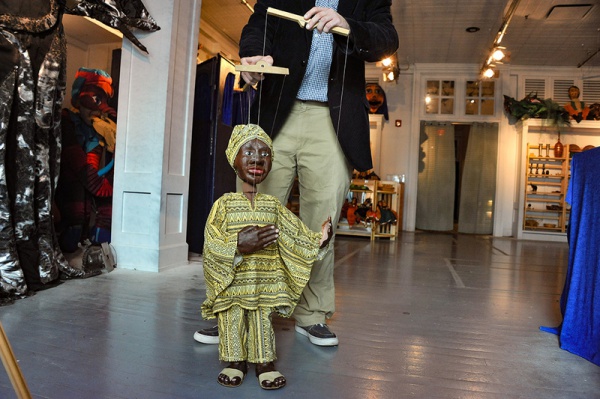 Image Source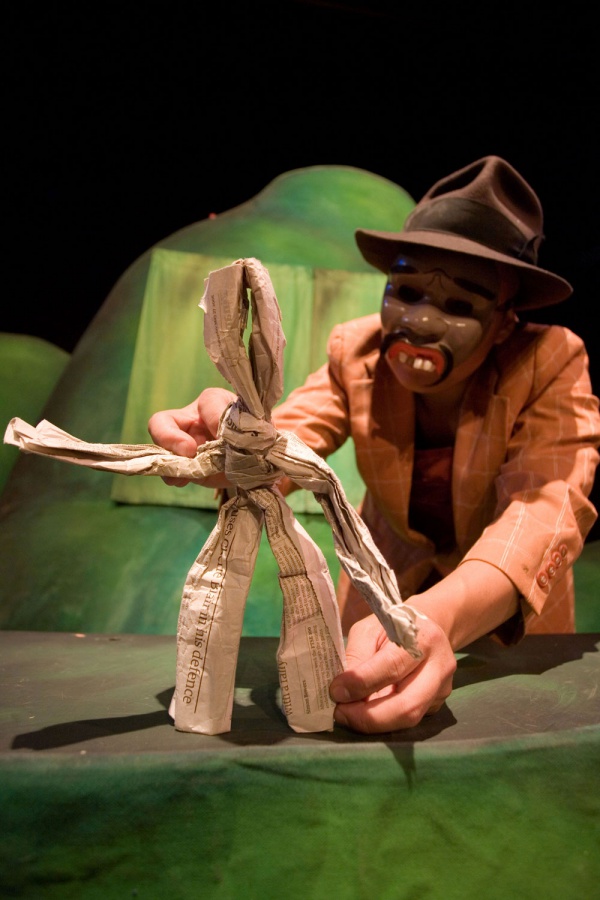 Image Source
This is a really fun DIY craft idea to utilize those newspaper lying useless somewhere in the house. It's super easy and believes me! When I say this, it will be a great boredom buster for your kids. You can make these finger puppets in any shape, size, animal or superhero of your choice. Trace out whatever puppet you want and then paint or color it by your choice and you can also create your own paper mache creatures for halloween to gain attention.
Coasters and Mats Newspaper Craft Ideas

Image Source
Paper Coaster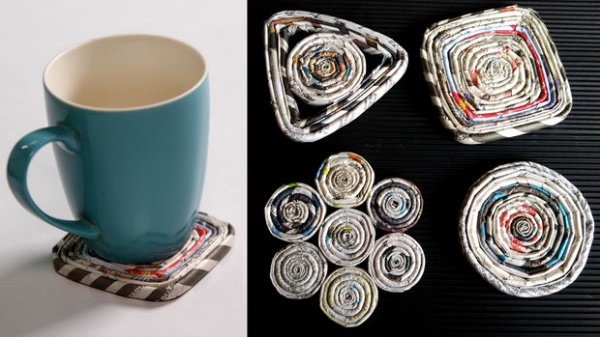 Image Source
Here is a fun and resourceful newspaper craft you would enjoy making. Your guests will be amazed to see these unique coasters and will surely be the center of attention at your tea party! For the coaters for cups and mugs you just to roll some newspaper strips and glue them up together tightly so that they do not open. Now for the newspaper mat, you need to make a number of smaller spirals and glue them up. And that's it! The diameter of the spirals is completely on you. You could make them all of the same size or experiment with smaller and bigger spirals together!
Pretty Newspaper Mason Jars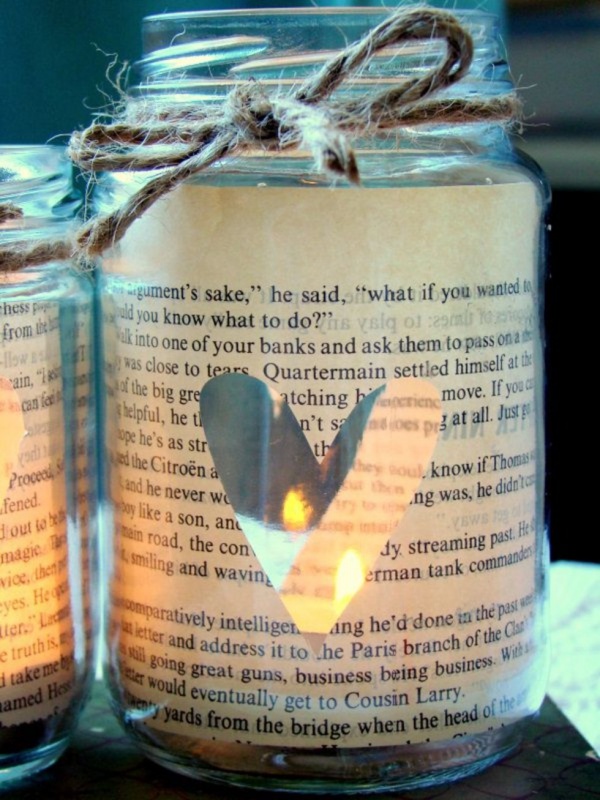 Image Source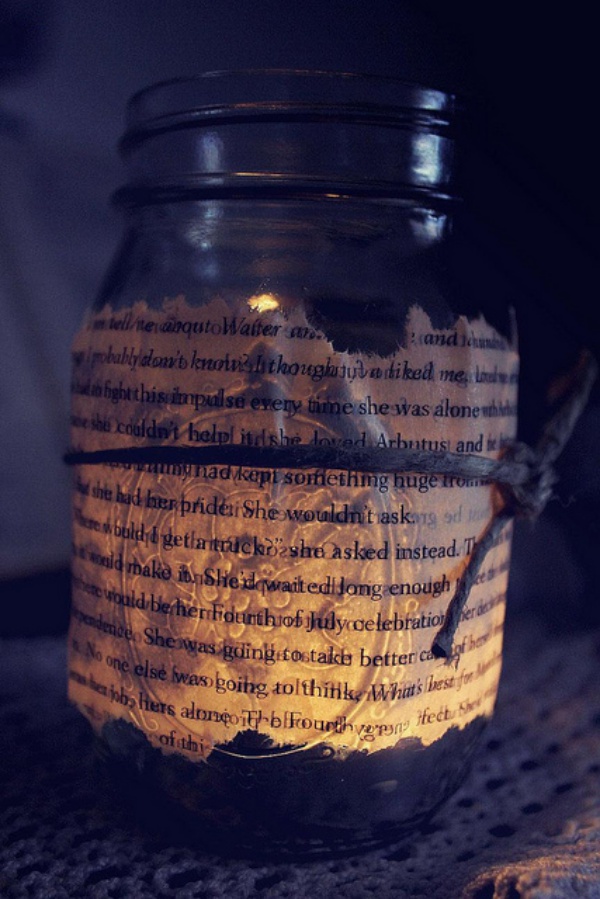 Image Source
Having an empty jar just lying around the kitchen. Why not transform it into a beautiful candle jar. This will be a beautiful piece to keep on your side table in the bedroom or drawing room. Just take an empty jam jar. Measure and cut a piece of newspaper. In the newspaper cut out two heart shapes or triangle or star whatever you like the stick from inside the jar. Then just keep your scented candle inside and voila it's done! You will be amazed at how amazing that looks.
Jewellery Newspaper Craft Ideas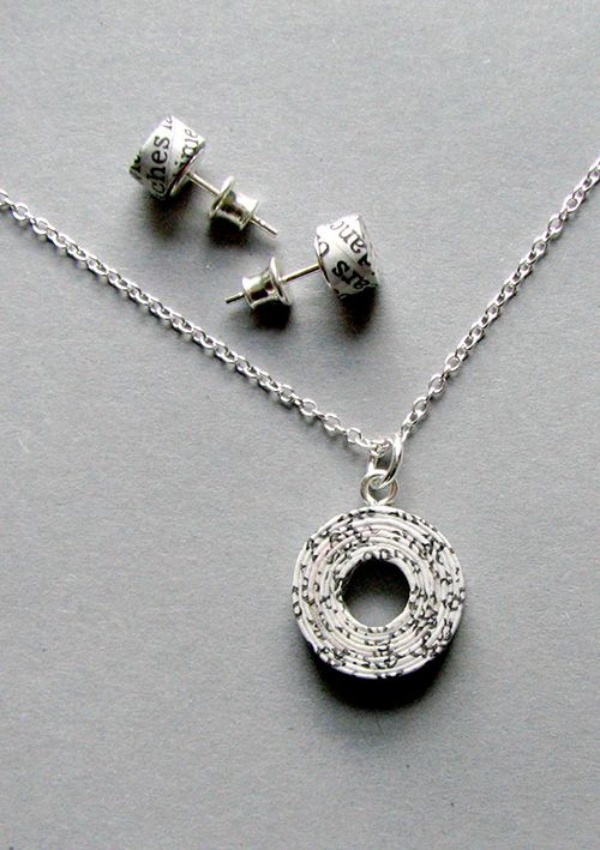 Image Source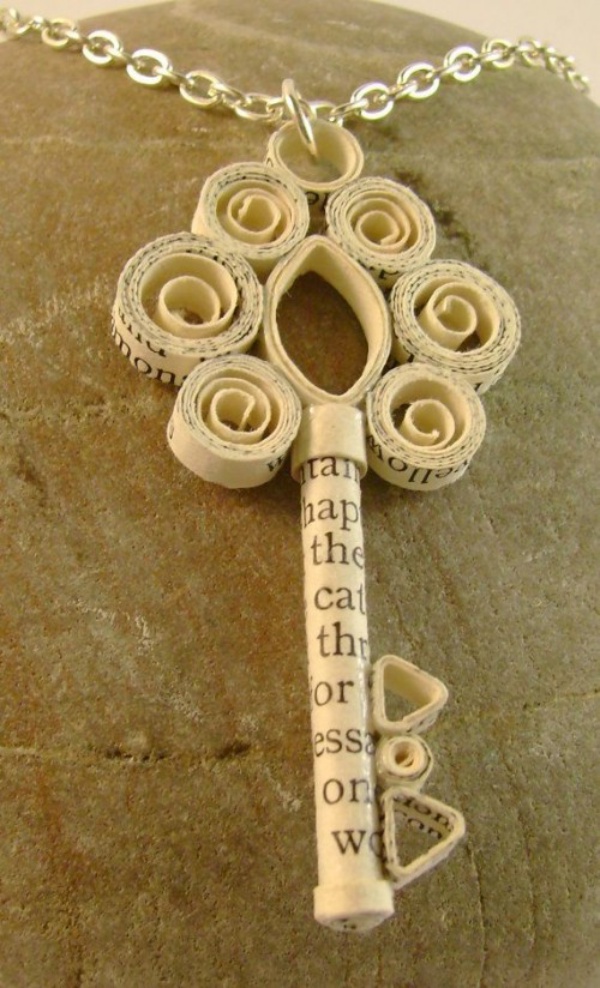 Image Source
Everyone loves wearing jewelry be it a necklace or a ring. We do spend a lot of our earning into buying jewelry which when worn will get a lot of compliment. So why not express your creativity by making some fun and quirky jewel pieces from the newspaper! Yes! You heard me right – from a newspaper.You can easily learn How to make and how to use paper beads for jewelry making. It's a fun art project to make jewelry that will definitely be a statement piece.
Wall Art Décor Newspaper Craft Ideas
Party Pom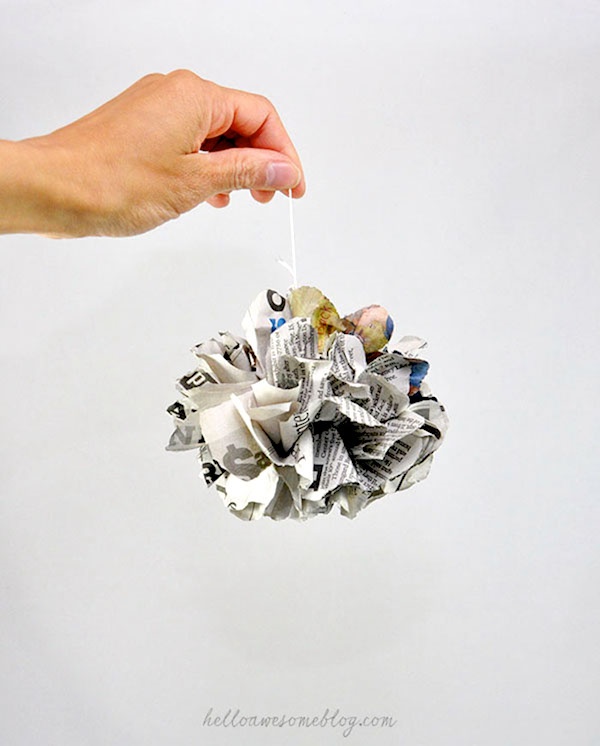 Image Source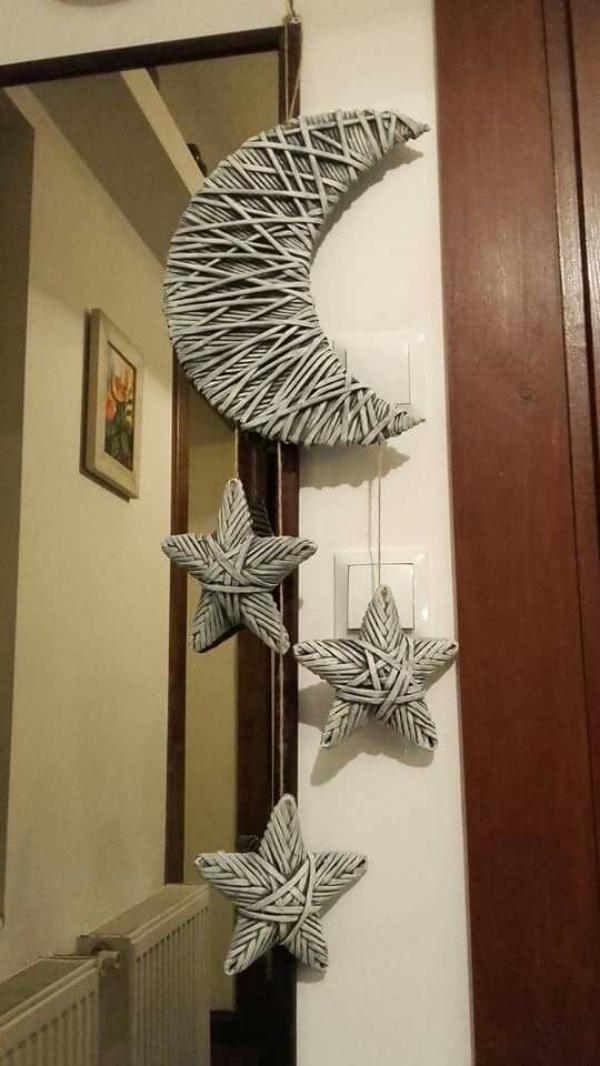 Image Source
Got a new place and need some statement and unique wall art pieces? Don't worry we got your back. Try out these newspaper arts that will be an attractive addition to modern décor at your home. Buying wall art from stores is really expensive nowadays so why not DIY them! Right? Here we show you some awesome pieces you could make from old newspapers. Just stick a newspaper to an old cardboard or wooden board and draw some branches to it. You could even make it more interesting by sticking some of those pretty Polaroid's to it! This one is also really simple to make. Just cut the thin newspaper sheets into strips and stick together and pinch on one end. Then glue it in desired design.
Lamps


Image Source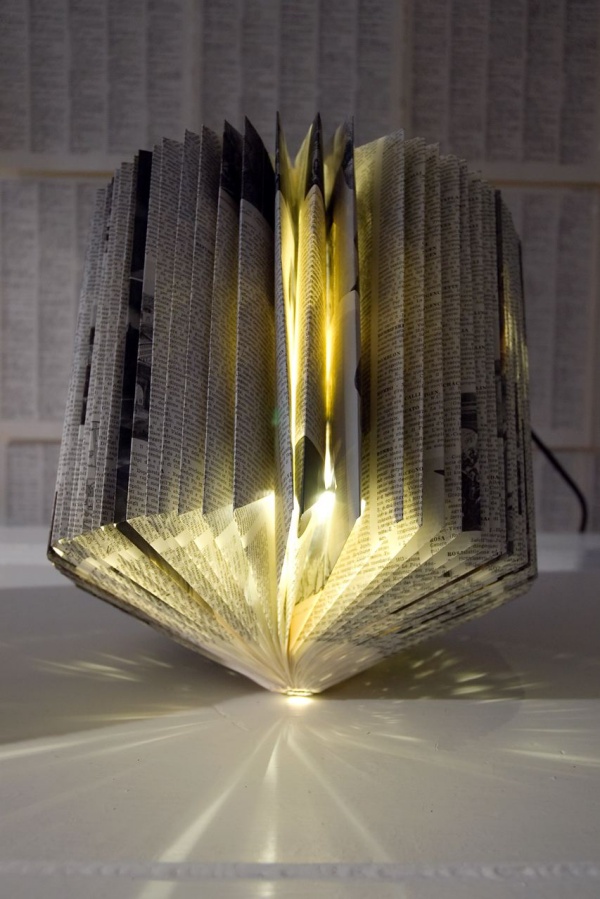 Image Source
Lamps and lanterns look very pretty in your bedroom side tables or hanging in the balcony. They will literally look damn beautiful. No you don't have to buy them, you can make them yourself! Yes, it's very easy to make and you just need some newspapers, glue, paint, and a bulb, of course! For this elegant Ombre, lantern makes small spirals and paint them in Ombre color of your choice and glue them up. Attach a bulb and hand it!
Newspaper Basket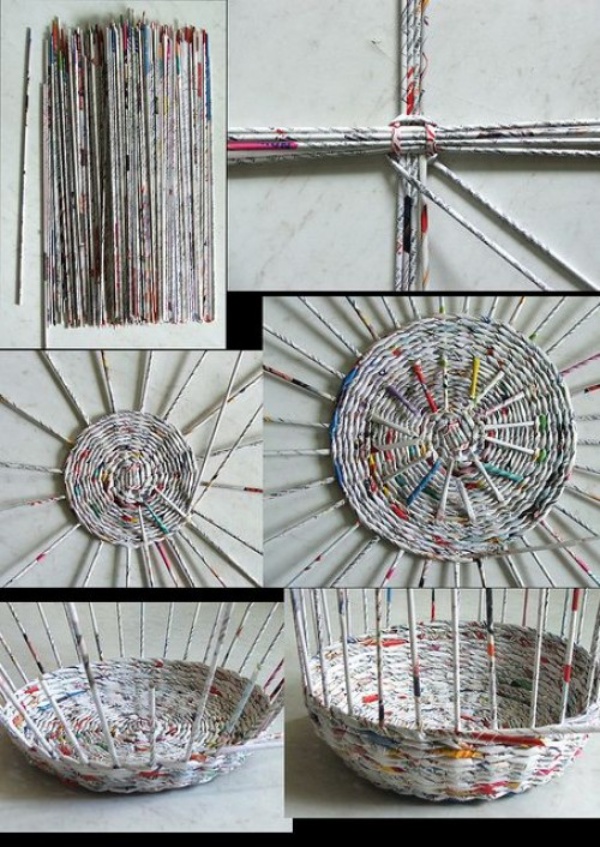 Image Source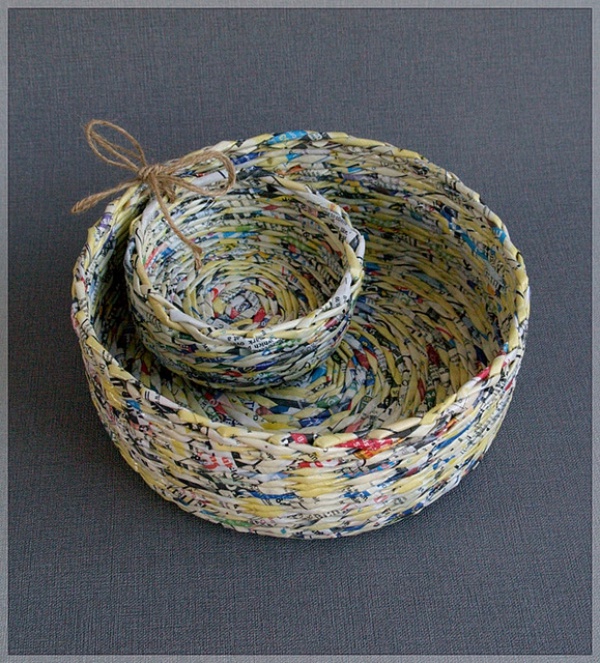 Image Source
This is an incredibly creative idea to use those newspapers to be disposed of. To make this easy and durable basket you just need newspaper, glue, some other materials (refer YouTube) and a little bit of patience! But believe me, the end result will all be worth it.
Paper Crft Ideas
Quirky Vase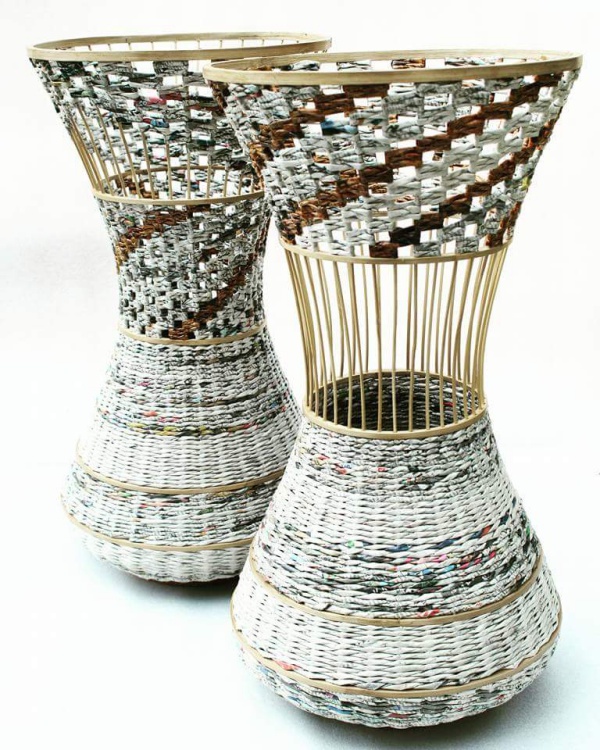 Image Source
Storage Box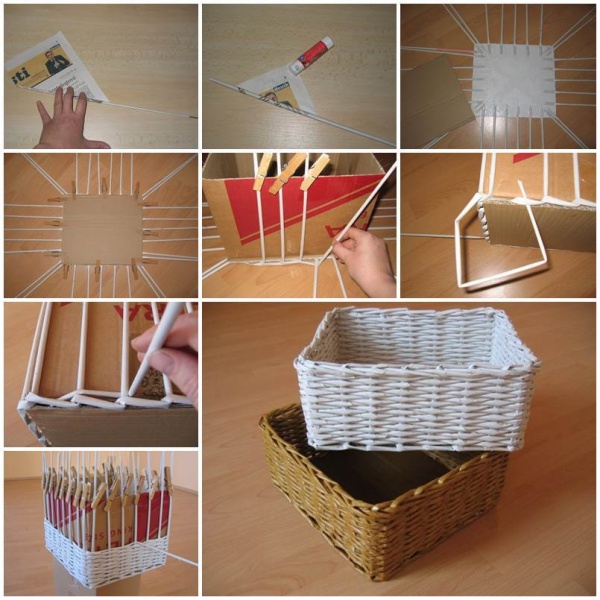 Image Source
Newspaper Easter Eggs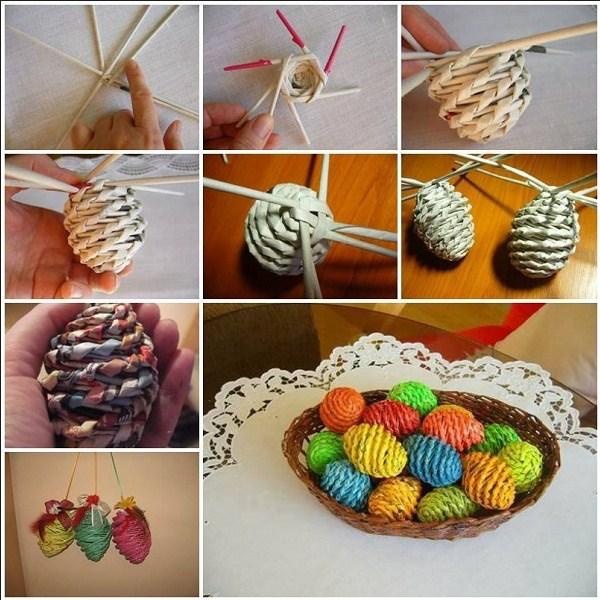 Image Source
Dancing lady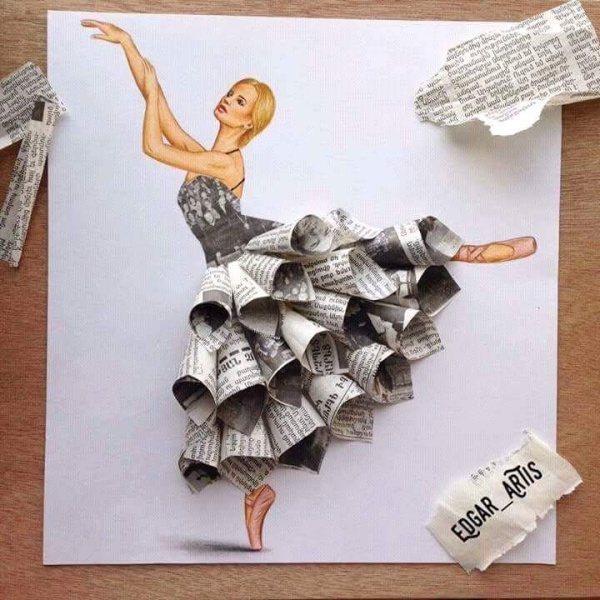 Image Source
Newspaper Table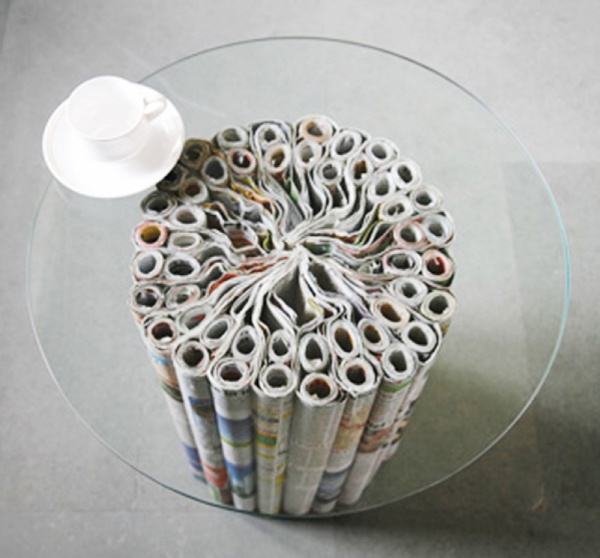 Image Source
Newspaper Furniture

Image Source
Easy Glittery Newspaper Tree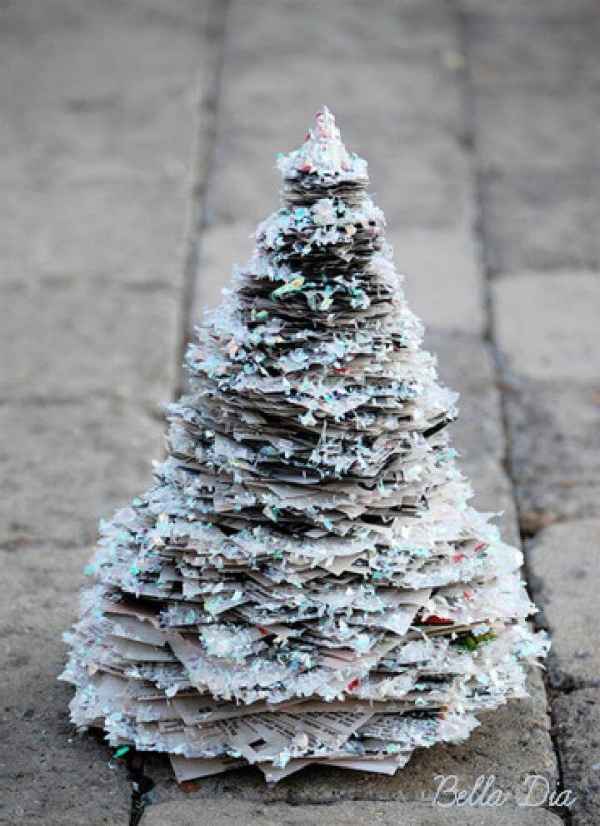 Image Source
Decorative objects Made with Newspaper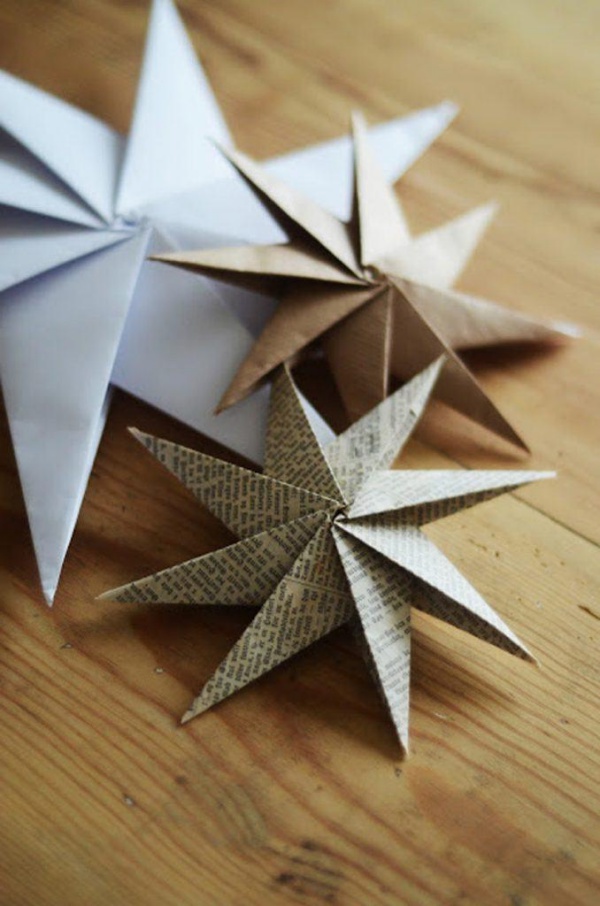 Image Source
Easy Paper Craft
Paper Owl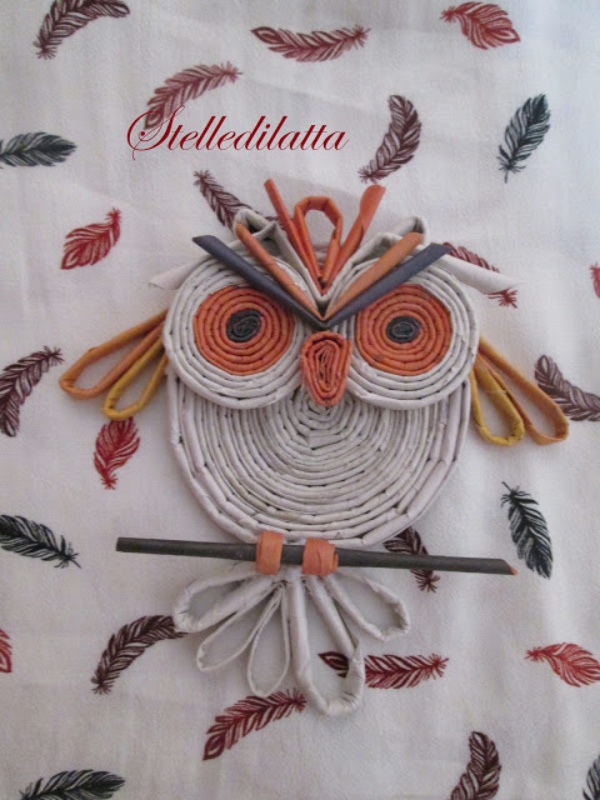 Image Source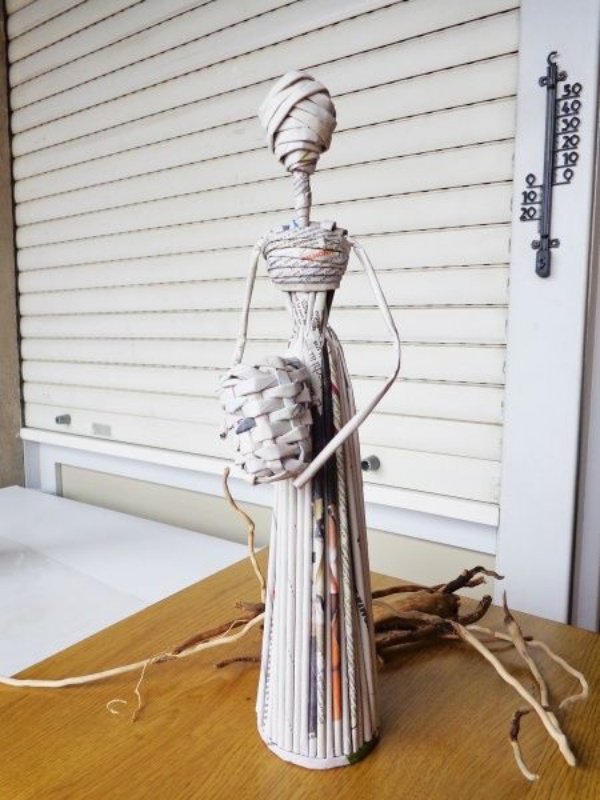 Image Source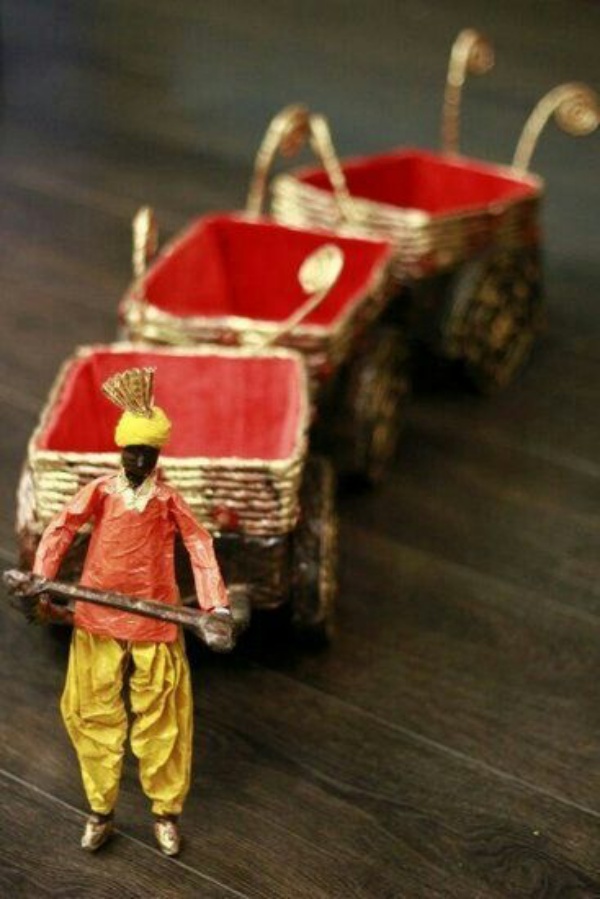 Image Source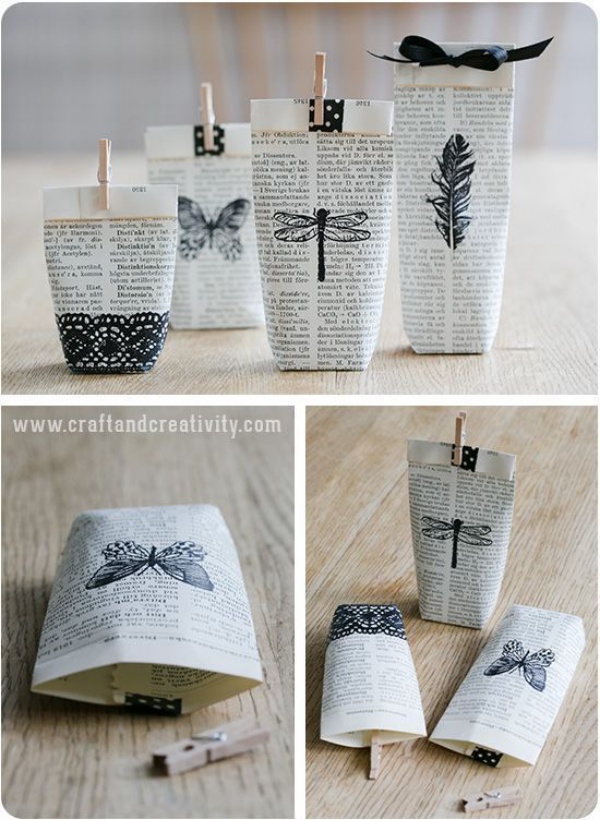 Image Source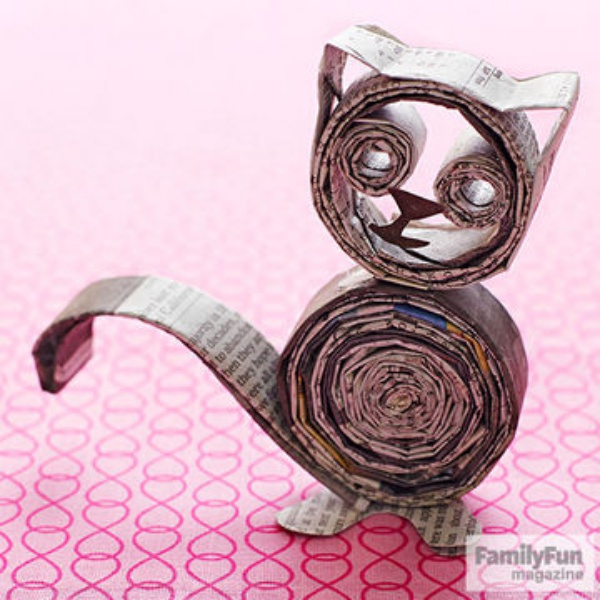 Image Source
This one is the easiest Paper Cutting Craft for Beginner.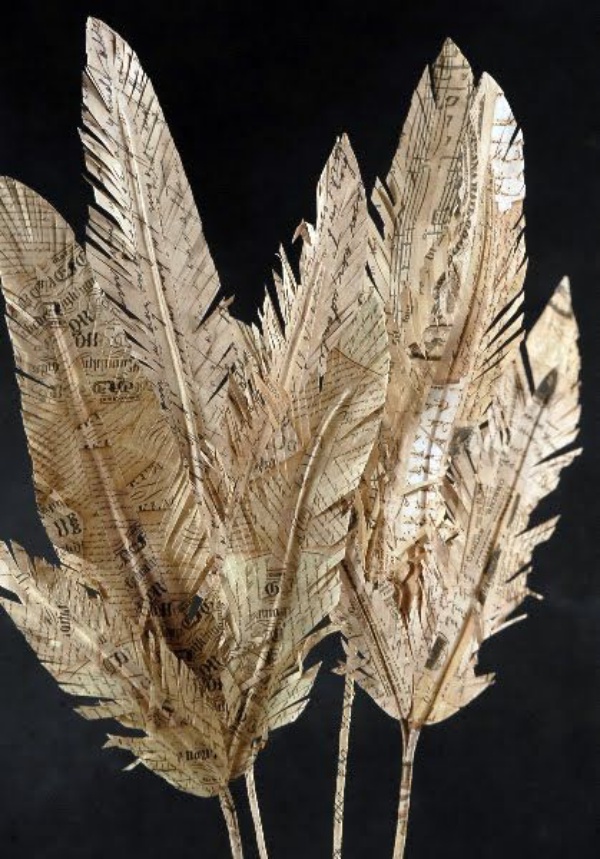 Image Source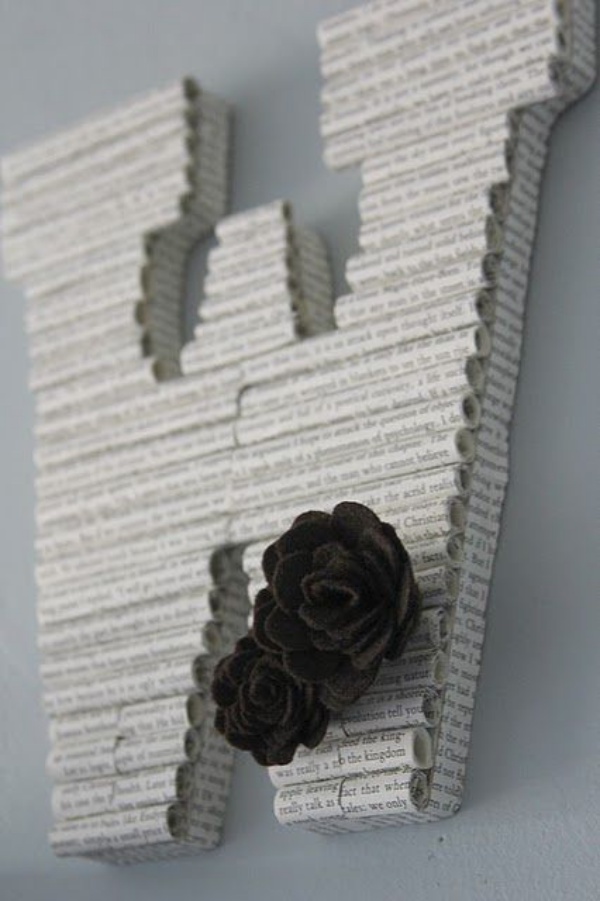 Image Source
Now you know Easy Newspaper Craft Ideas to reuse those Paper bundles stacked up in some corner. These are super easy to make and can be a fun weekend DIY project.