Mothers are very special in our life. And that's because a particular day has been dedicated to them in a year. It is almost impossible to fulfill all the liabilities that we have towards our mother but for that we can do something for them t keep them happy throughout the life. This is just an article we can make for our readers so that they can make a special thing for their mother on this day. This is a DIY wooden vase specially made by Grady Hill house and his wife for their moms. But a great thanks to them that they have posted the full making process as a tutorial on imgur.com. We found this article there and it was so beautiful that we decided to rewrite the tutorial for your readers in a new form.
Technically, we will not say that the project is very simple and easy to make but we will say that if you are used in making various DIY projects and have a lot of experience in this matter. Then obviously it will be very easy for you. Beginners should see the project minutely and after that if you are confident that you can make it, and then start making the project. Each and every DIY's needs a lot of self confidence to go through it.
So now when you have finalized that you are going to make this project for your lovely mother, then first of all you will have to know the list of things that you will need to make the project. The basic thing is that you will need some woods, wood glue, wood cutter, spinner machine to shape up the vase, wood polish materials, wood colors to design, sand paper to smooth the wood.
At first, take some square pieces of woods and then arrange it as shown in the picture below. Here the example is given with a ready product so that it helps you to understand the designing process and arranging the woods.
Homemade Wooden Vase for Mothers Day Gift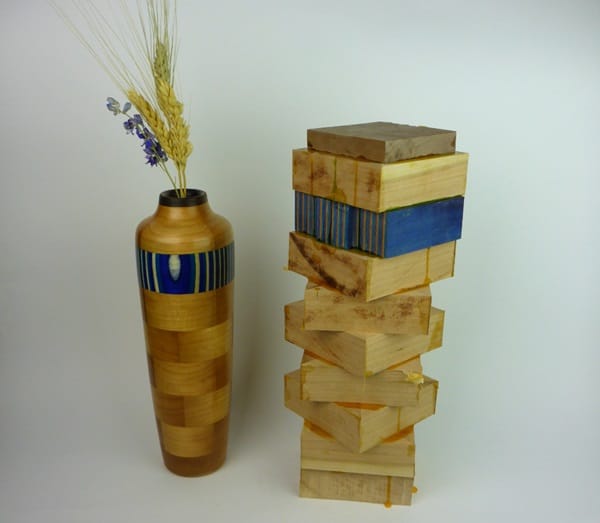 Now cut out all the trapezoids with a wood cutter. If you don't have a cutter at home, then try to arrange it from someone else. If even you can't do so, then look for a wood crafting shop or a furniture factory where they can help you out. If you have never worked with a wood cutter then for the first time you will face some problems.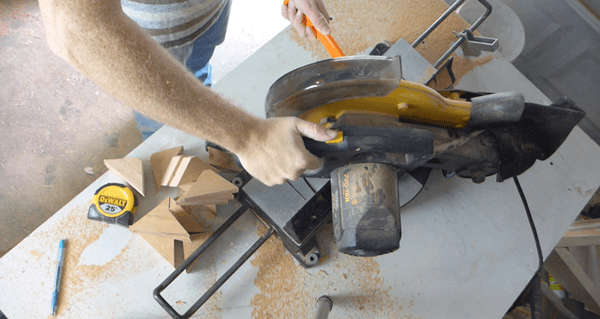 Spend the next two weeks gluing all the trapezoids back again like give in the picture. A glue takes about a week or two to dry up completely and don't be in a hurry. As if the glue doesn't dry up completely, the joints will open while spinning in a high speed.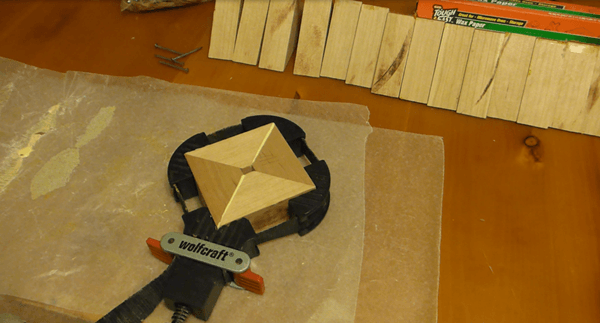 Now once you have made square pieces by joining all the trapezoids, again you will have to do some glue works to join all those squares. See the picture below how it is being glued with a force from upwards. Applying external force allows the pieces of woods to join straightly. Join the vase in two halves and keep it separate. In the picture you can see the other half kept aside.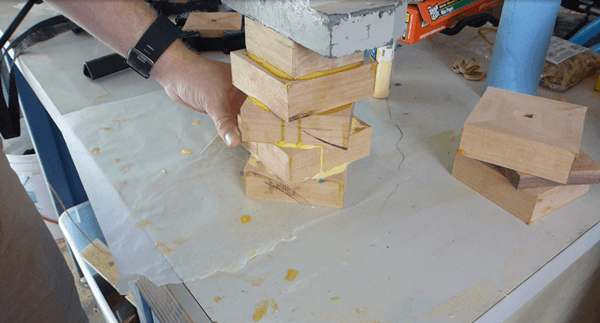 It's time for spinning the two halves separately. Spinning is done only to make the vase round. So to make it round, the corners should be knocked up and that's the reason to put it in a lathe spinning machine. Once it takes a round shape, take it out.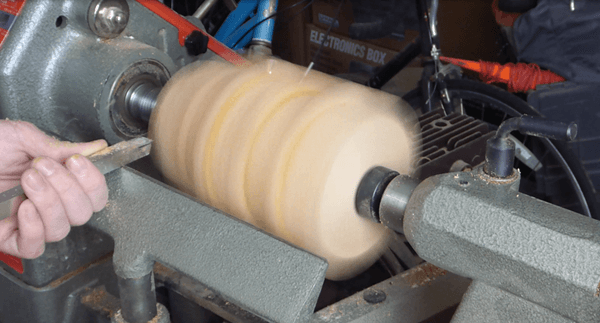 Here your duty comes to drill the centre inside so that the flowers can fit well in the vase. The drilling should be made on the two halves similarly. Remember not to make the vase boundary too thin so that it becomes weak.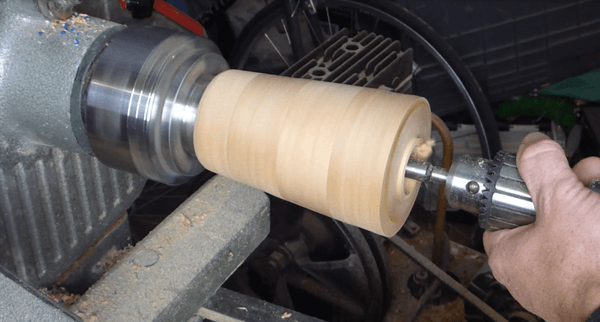 Now you have to glue the two halves of the vase to make it a single one. Keep it aside for at least a day or two.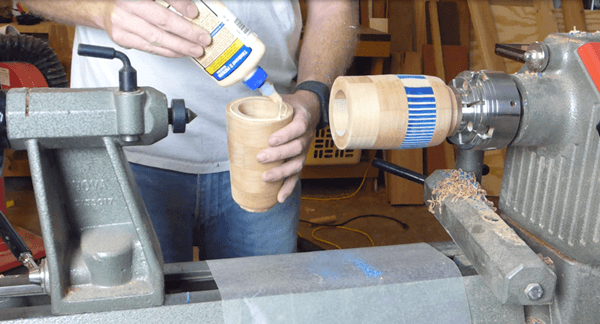 Drill out the top of the vase so that it becomes completely hollow from the top as show in the picture.
Now finally again take in on the lathe for the final shaping process. It should be shaped and given a smooth surface so that it looks professional.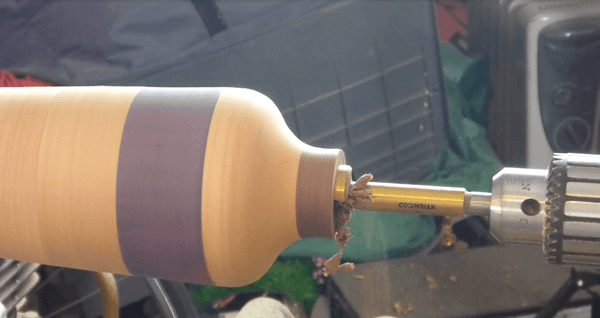 To make the vase more smooth use sand paper to sand the full vase. Finally add a friction polish with the help of paper towel when the vase is still spinning on the lathe.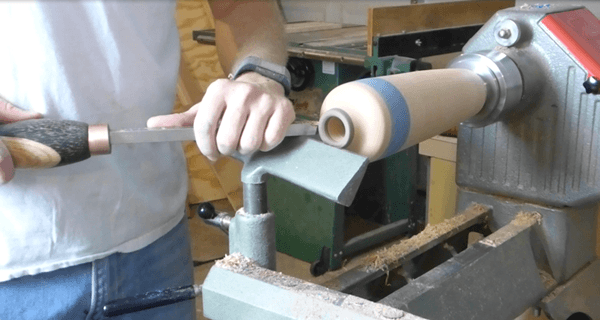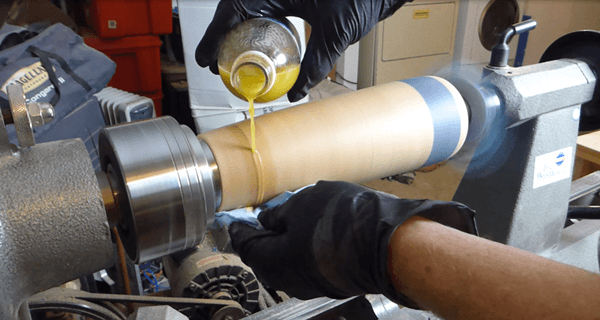 After the full process is done, let it dry out. The very next day you are going to get the full finished product as shown in the below picture. This is the final shot taken after making the vase.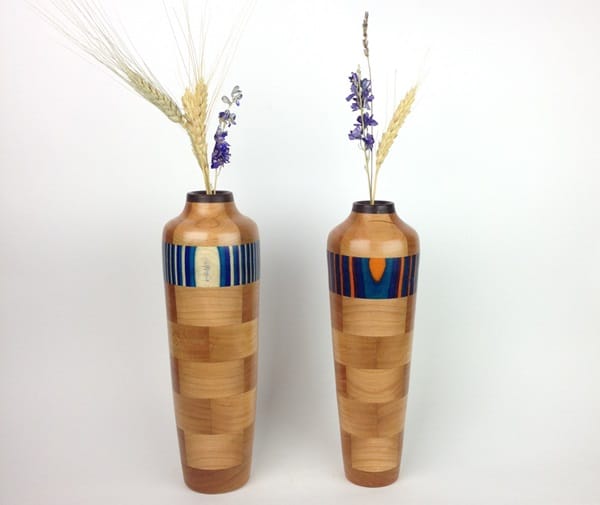 So you have completely made this article by seeing the tutorial. We tried our best to make the tutorial simple and easy to understand. Hope it worked well with you. If you want to be a more creative with the process you can be so according to your wish. This is just the basic making procedure. Give your thanks to the original author of the tutorial Grady Hill house at Imgur.com.