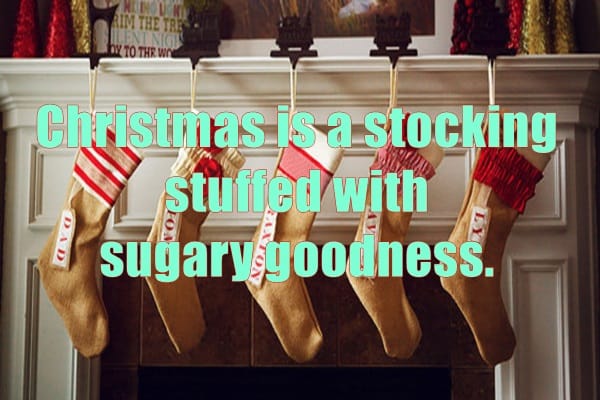 Christmas is always a very special occasion for us. Especially it is the birth of Jesus and so we celebrate it in a beautiful way. Children specially wait for this day all over the year to come because of some lovely reasons. They actually wake up in the morning after the Christmas Eve just only to get the gift from their favorite Santa. But you know what the real matter is. So to make this day more special you should go with some beautiful ideas for Christmas stockings. Here we have collected some tutorial for you all so that you can make special things with just some easy ways.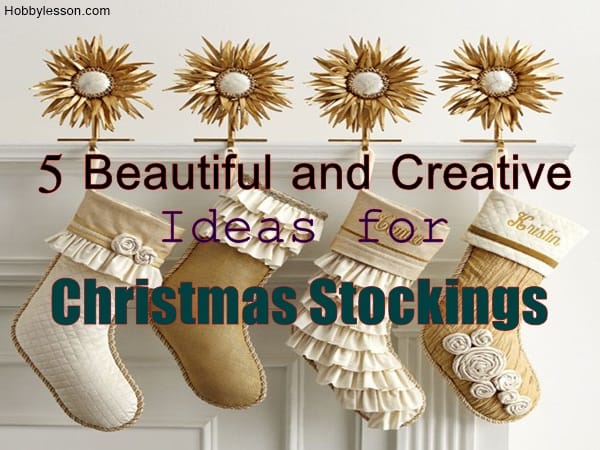 Beautiful and Creative Ideas for Christmas Stockings
1. Keepsake Stocking: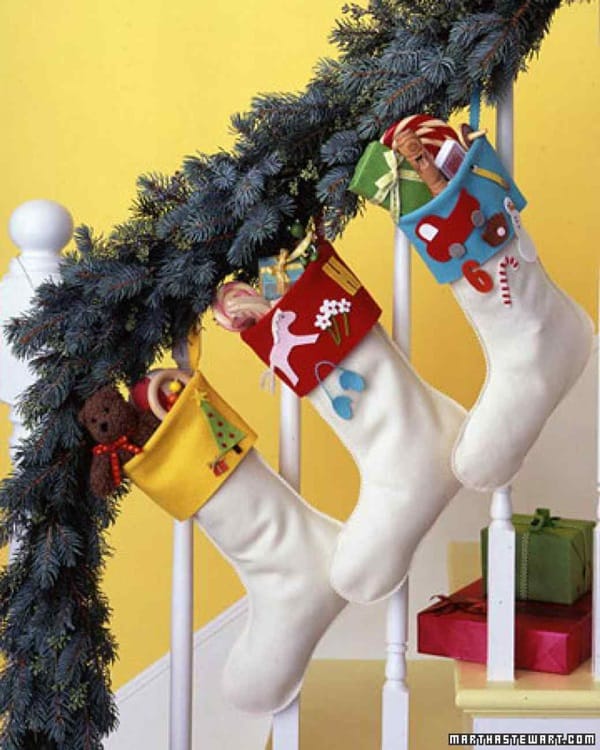 Materials: Stocking Templates, Felt Pieces, Pinking Shears and Sewing Kit.
Steps: At first pin a cuff to each stocking piece with lining up the top edges. Now slowly trim the long edges of loop with pinking shears. Fold and place it between one cuff and stocking pair. Sew along the top edges. Flip the cuffs up and stack the stocking pieces and sew around the stocking including sides of cuff; leave the top open. Fold the cuff down and iron to crease.
2. Rickrack Stocking: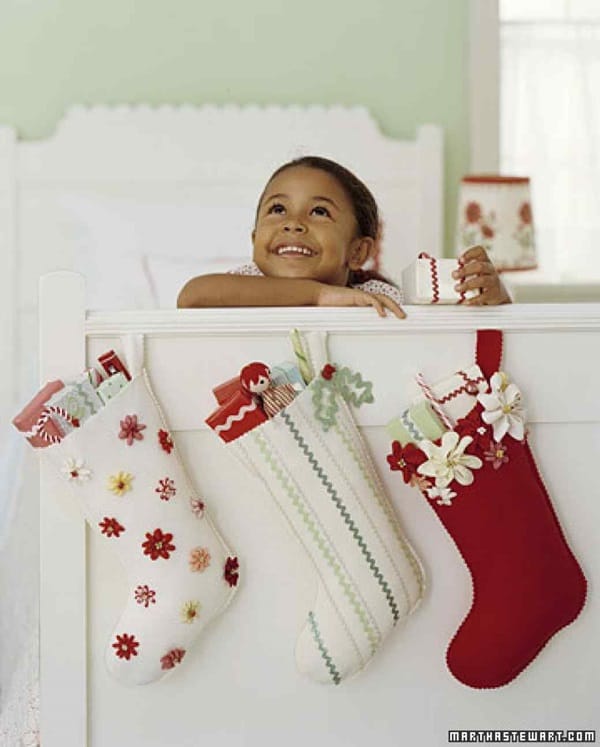 Materials: Felt, Fabric Glue, Rickrack zigzags or blooms, Ruler, Needle, Clear thread, Stocking template, Disappearing Ink Pen, Pin, Scallop Scissors.
Steps: Firstly you have to decorate the felt before you cut out the stocking. Gluing the rickrack in place makes it a snap to sew. Now you dot trim's point with fabric glue. Now using a ruler to keep a straight line lay rickrack on felt. Once the glue dries up sew rickrack onto felt with a clear thread. Now layer the decorated piece on plain and outline your stocking template with disappearing ink pen. Stitch the perimeter and cut out the stocking with scallop scissors leaving a ¼ inch border. Sew on felt loop and any other additional decorations.
3. Christmas Tree Stockings: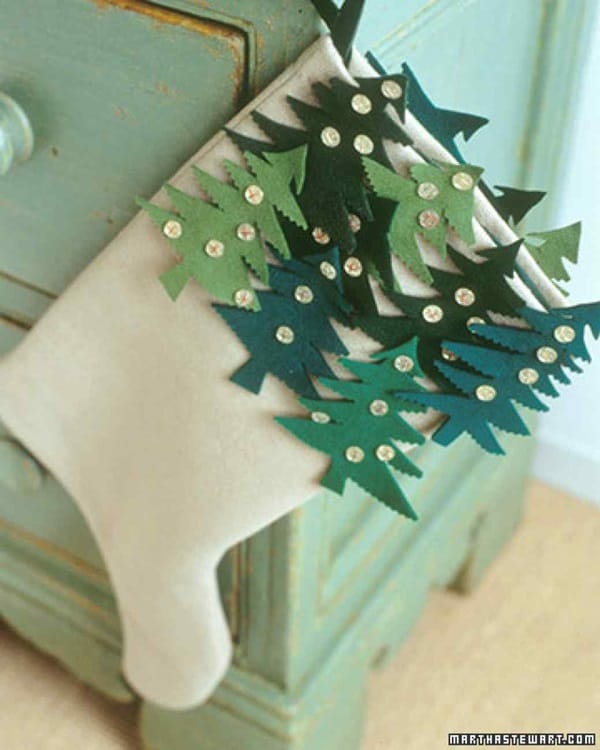 Materials: Stocking Template, Scissors, Ecru Felt, Disappearing Pen, Pin, Size Fourteen Needle, 100 % Polyester thread, Sewing machine, Pinking shears, Evergreen trees template, Vintage glass buttons, Ribbons.
Steps: Trace one of the stocking templates in two layers of ecru felt and pin the layers. Sew around the perimeter using a half inch seam allowance and leaving the top open. Trim seams with pinking shears. Now to make the trees, trace the evergreen trees template given above on several shades of green felt. Cut it out and trim edges with pinking shears. Decorate it with various vintage collections of buttons and sew it with thread of contrasting color. Add a ribbon or felt loop for handling.
4. Mini Stockings: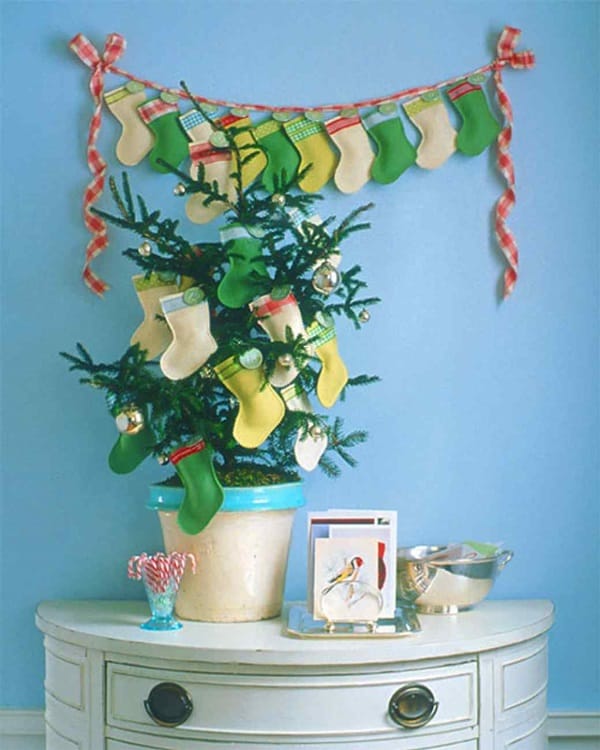 Materials: Felt, Ribbon, Marking Pencil, Sewing Scissors, Pinking Shears, Sewing Machines, Straight pins, Awl, Metal Rimmed Tags, Stocking template.
Steps: For a single stalking, trace template onto felt twice with a pencil. Now cut it out with scissors. Pin the two pieces of felt together at the toe, heel and instep. Cut a piece of ribbon just a bit longer than the width of the stocking's opening. Place it about ¼ inches from the top and pin in place. Machine stitch the back, front and ribbon together keeping the stocking's top open. Trim around the seam with pinking shears open. You can use the awl to make a hole in the right side of the stocking so that it can be hanged. Thread narrow ribbon through the holes and tie it on a metal rimmed tag.
5. Handkerchief Stockings: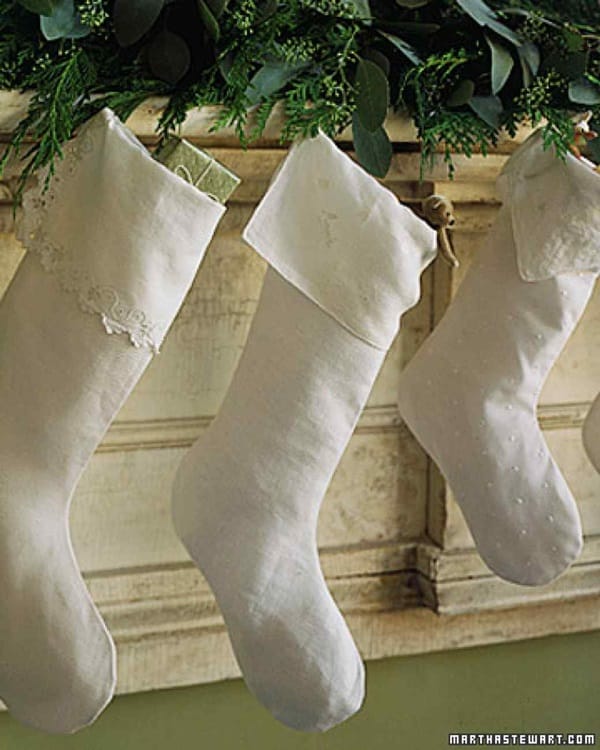 Materials: Handkerchief Stocking Template, Scissors, Pins, Sewing Machine,Handkerchief.
Steps: Using the template, cut out the two stocking shapes and pin it together. Now machine stitch it along the edges allowing a ¼ inch seam allowance. Then turn the fabric right side out and pin the bottom. So now you will see that only little of the edge of the handkerchief is exposed. Machine stitch the handkerchief in place around the whole top of the stocking as if you are sewing a sleeve. Pull the handkerchief out from the stocking and lastly drape it over the right sides of the fabric.
So now you can be quiet sure that this Christmas is going to be a really special one for your kid. All the tutorials and ideas given above are very easy and it will hardly take some hours to make out. So you can make almost each of the projects in a single day. Remember as it is a surprise product try to hide it from your kid so that they can make any idea over it. Have a great Christmas this year.