Actually it is hard to find any human being who doesn't want to decorate his or her own home. Home decoration is all about your taste and choice. The most important thing is that you will have to decide how you will decorate your indoors. As a result some people rely on do-it-yourself projects. The advantage of DIY project is that making anything for your own home decoration leaves a sign of your creativity. In addition, you can create and design an innovative thing on your own choice. There are bunch of DIY articles here in this blog that will seem interesting to you and mostly like the others here we came up with a tutorial of DIY Bead Chandelier Tutorial.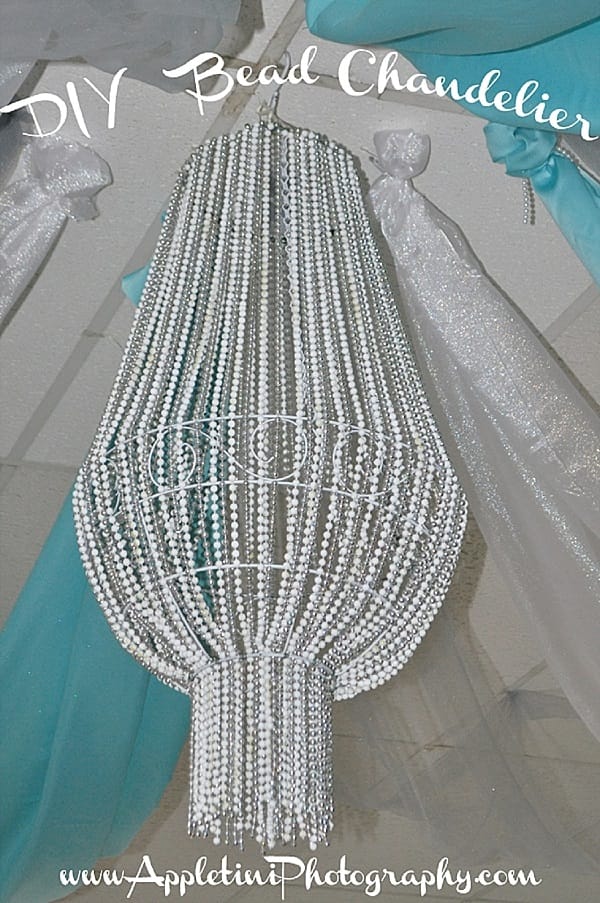 Before jumping into the steps of making the chandelier, first of all we are going to give you a list of materials needed to make this article. This will help you to arrange all the products before starting with the steps of making the article.
DIY Bead Chandelier Ideas For Decorating On a Budget
Materials:
Mardi Gras Beads, Hanging Planter Basket, Wire Cutters, Floral Wire, Spray Paint and Wire Hanger.
Steps:
1. Buy beads of any color from the craft store. If you get the color you wanted, then it is too god as you will not need to spray paint it again and if you don't get it, then here comes the role of spray paint. You can see that the spray paint is given in the list of materials so there is nothing to say about it.
2. Separate the beads by colors and break it from the end to make a long strand. Always try to break the necklaces from the end point because that is the only point where the joint is weak. Once you get it you will be able to find the meeting point of the beads. Now after it is done, let's move on to the next step.

3. Now if you want to spray paint any beads, set it apart so that it becomes easy to color. You can see in the image below how it is colored by the author. Take a newspaper and put all the beads above it. Now spray paint it to convert into different color. Normally you will have to paint 4-5 coats to bring the perfect color. For that approximately you will need about two cans of paint. Remember
after each and every coat, shuffle them and keep applying coats until and unless they are evenly painted.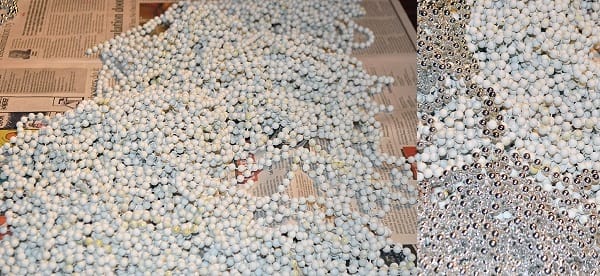 4. After you are done with the painting procedure, now it's time to do something different. Get your Hanging Planter basket ready for the project. Normally you will have to disassemble the basket and add a ring at the top so that you can hang the beads from it.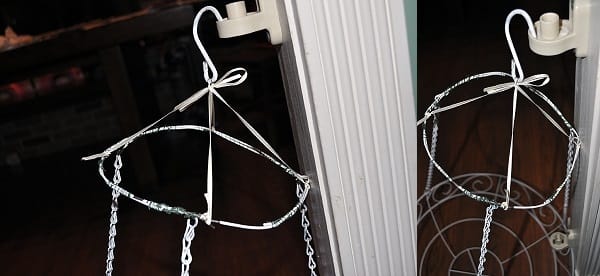 5. If you are thinking about how to make a ring, here's an idea for you. Look at the list above and you will find a wire hanger mentioned there. Yes you will have to use a wire hanger to make out a ring from it. It's quiet tough to make a complete circle but if you try you can make out an average ring from it. The structure will fully depend on the shape of the basket you are using.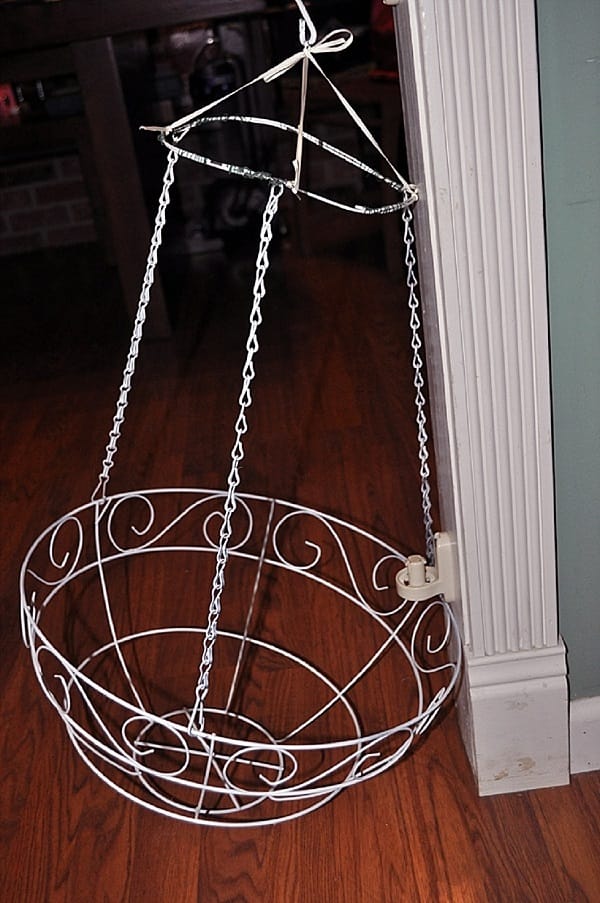 6. Now comes the funniest part as it is the time to hand the beads from the top ring. Start attaching each strand with floral wire. This is the first step from where you can get the idea of how your project is going to be. Even you will get excited to see the basic structure of your DIY project.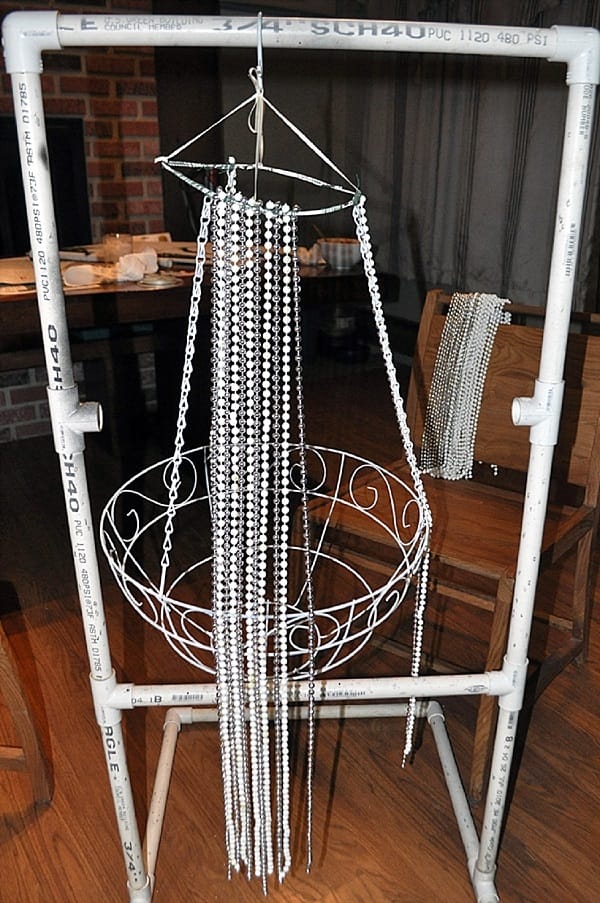 7. Now once your beads cover the top ring completely, start wiring it till the bottom in a very systematic manner that means a regular measurement between every bead. The wiring procedure is one of the toughest parts of this project. So keep it in mind that you will have to do it very consciously. So after wiring the complete chandelier, proceed to the next and final step.
8. Congo! The project is completely made and now you have decided finally where you want to hand such a beautiful thing. Maybe it's a drawing room or a dining room wherever you want it to be, hand it on the right place and remember very carefully.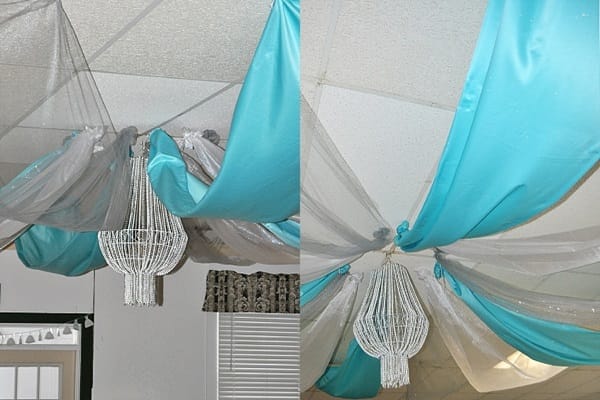 We think that the project is easy enough to make and we also believe that if any one tries out they can make this project within a day or two. The most important feature of this project is that it will hardly cost you money if compared to the price of a chandelier. You have made it and realize how much crafty you are. Lastly we want to thanks the original author of this tutorial which we got in this link. Look out for other interesting DIY articles in this blog.