Paper art, which has its roots in Japan, is an overwhelming art form lesser known to the world. It's not just limited to origami or simple collage but is a mix of beautiful, complicated and intricate illustrations with paper. Art always makes me curious. Curious about how in a million ways it can be portrayed. And I bet, like me even you must have never thought, that by just cutting, sticking and gluing a stunning 3D paper art can be created. Well not so simple sometimes artists take hours and hours to create a masterpiece with finesse.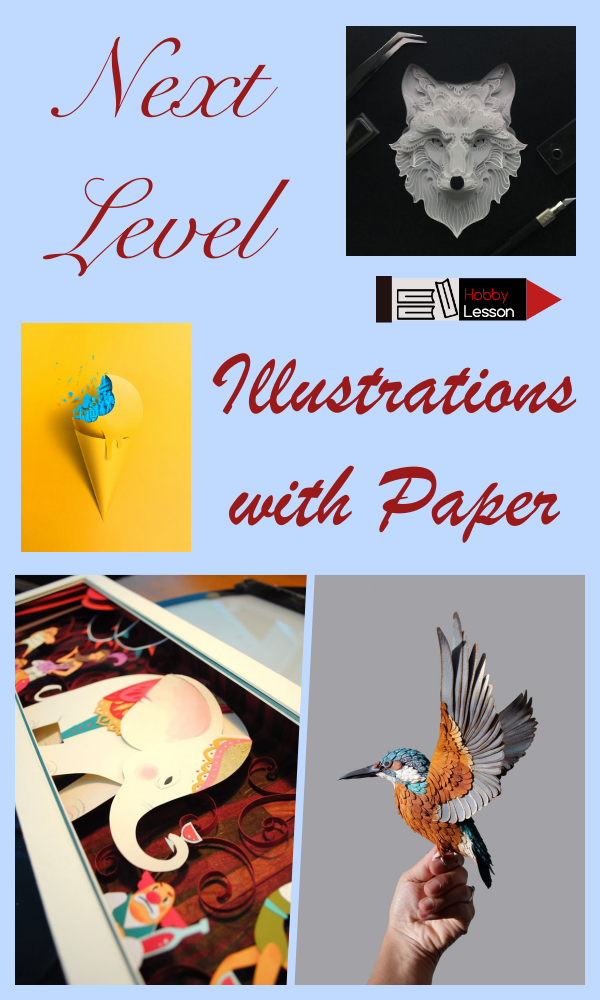 So today we share with you some Next Level illustrations with Paper to Witness at least once in a lifetime and appreciate the art. And maybe try one for yourself!
Illustrations with Paper
A Beautiful Scenic White Illustrations with Paper

As you all can see this intricate paper design is made up of just white paper. There are very precise and minute cuttings done, to show branches and a man. Not to forget the depth shown by placing paper one over the other. This type of illustration needs a lot of dedication.We have got Easy Newspaper Craft Ideas to reuse those Paper bundles. So squeeze out all the creative juices and make some fabulous craft pieces for yourself, family and friends. Imagine-Create-Repeat!
A Modern Art Showcasing A Man

Feast your eyes on this modern art, showing what young generation portrays nowadays. The artist here is trying to get it all in one picture and tell to the world, that how in today's modern era everyone wants to be the best at everything and wants to multitask. It's a wonderful creation made of colourful paper making it look really interesting.
The Beauty Of A Woman

Showcasing the beauty of a woman in such an elegant way is really appreciable. The minute cuts describing the windblown hair is an art in itself. Here the artist has used profession cutting tools to focus on each strand of hair and the facial expressions. you can also make and use paper for jewelry making so you can make your illustration looks more classy.
An Incredible Paper Bird

This wonderfully detailed paper bird looks incredibly realistic. The level of attention the artist has given to every detail like of the features and the texture is commendable. This type of art work takes many days and a lot of patience and dedication.As a beginner, you can try these easy paper cutting craft ideas to make your hands expertise.
Paper Man With Curls

When it comes to making the most realistic of faces this artist must have magic in his hands. The way he has created curls by sticking the paper is specific angles in awesome. Also concentrating on the details of the face like jawline and eyebrows he has done a great job altogether.
A Majestic Lion Illustrations with Paper

Art is a way of grasping the world in your own personal style. We cannot help but notice the minute details this majestic lion has. The artist has used different stripes of paper of varying length and breadth to give depth to the creation and make it look more realistic.
The Story Telling Art By Paper

Look at this stunning piece of art, it's made by carefully cutting several layers of paper, and then sticking it onto vibrate and colour backgrounds. This type of illustration actually depicts a story. This art shows real-life activities of people, their lifestyle, basically the story of life.
A Disney Character Illustration

Everyone like Disney characters so why not illustrates it in the form of paper? This artist transforms popular Disney charters into glorious paper art. These come to life when made with such precision.
An In-Depth Creation

A man once said," Art has something to do with the achievement of stillness in the midst of chaos." This artistic piece of craft shoes the chaos going on in the mind of ma. The different shades of pink depict how deep our thoughts can be.
Delicate Feather Illustrations with Paper

No doubt the skills involved in making this genius piece is overwhelming to us. The way the artist has worked with such polish and expertise is hats off. When you observe closely every little detail of a feather has been made with tools. A lot of dedication and hard work goes into making something like this.
An Impressive Flower Illustrations with Paper

This, as you can see, is an extraordinary illustration of paper art. A creation like this is mastery in paper art. Some of these kinds of exotic art pieces grace some of the very well known art museums and exhibitions. Made up of minimal tools but giving a very rich look is its specialty.You can learn how to make giant tissue paper flower If you are not a crafty you don't have to think about that. Once you see the flower in this tutorial.
A Book Illustration

Book carving is not everyone's cup of tea. This eye-catching artistic piece is made up paper butterflies looking as if they are emerging from the book. A 3D art not very popular is illustrated. People even use real books in carving and making some amazing art pieces nowadays. Who knew we could this with a book!
Paper Illustration
Paper Artwork
I bet! You all must be surprised and inspired by witnessing these astonishing paper art illustrations. Well we hope, that you now know something about these outstanding abstract art, so why not try it out yourself and create some beautiful paper illustrations, and give wings to your thoughts and ideas. Who knows you can also create something sumptuous!