Do you have that old ladder in your house, you're too scared to climb upon? What do you intend to do with it, throw it away or let it rust in your backyard? What if I tell you, that you can upcycle the old ladder in the smartest way possible, will you believe me?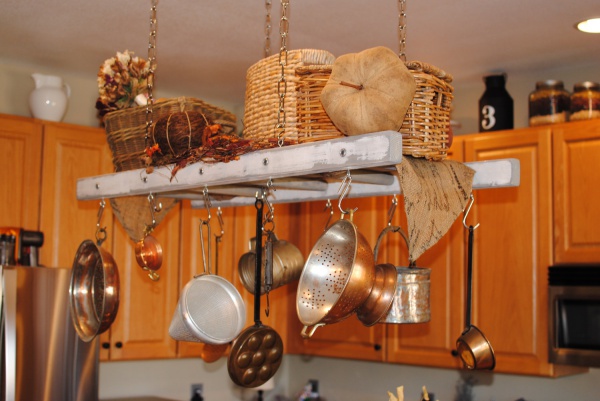 "One man's trash is another man's treasure", it's time to put this in action. Some of the best things can be made from the old junk which we don't really use now, we can use them to spice up our home just a little bit. These are Smart Ways to Reuse Old Wooden Ladders and turn it in something beautiful and functional.
Smart Ways to Reuse Old Ladders
Climbing Plants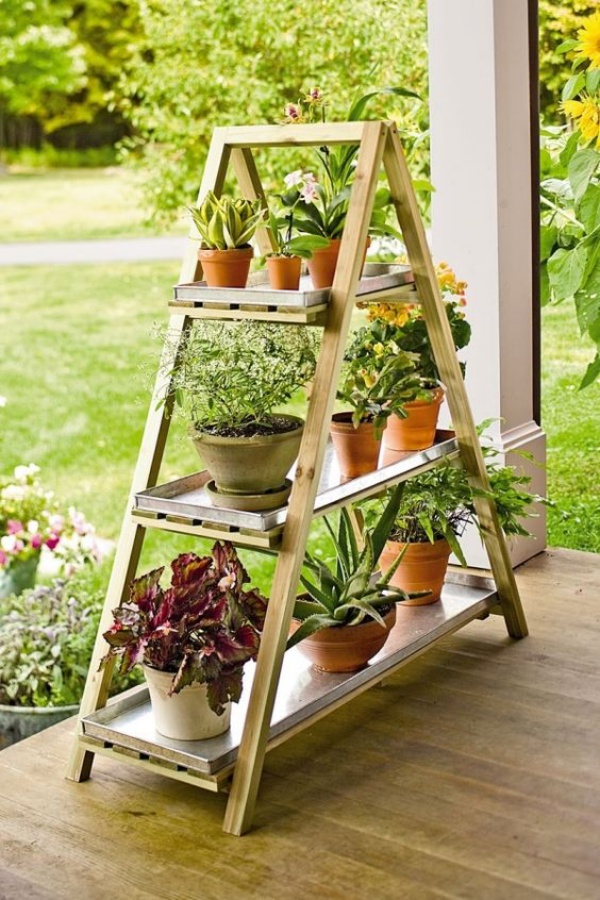 Image Source
Ladder decor is in trend right now, as retro style home decor never goes out of fashion. Use old ladder in the garden and create a small climber plant garden which everyone will admire. It is such a great way to display all the indoor plants, keeping your favorite herbs close at hand. Its reaaly Great if these plants really helpful for our health So let's have a look in some plants that repel mosquitoes out from your home.
Corner Book Shelf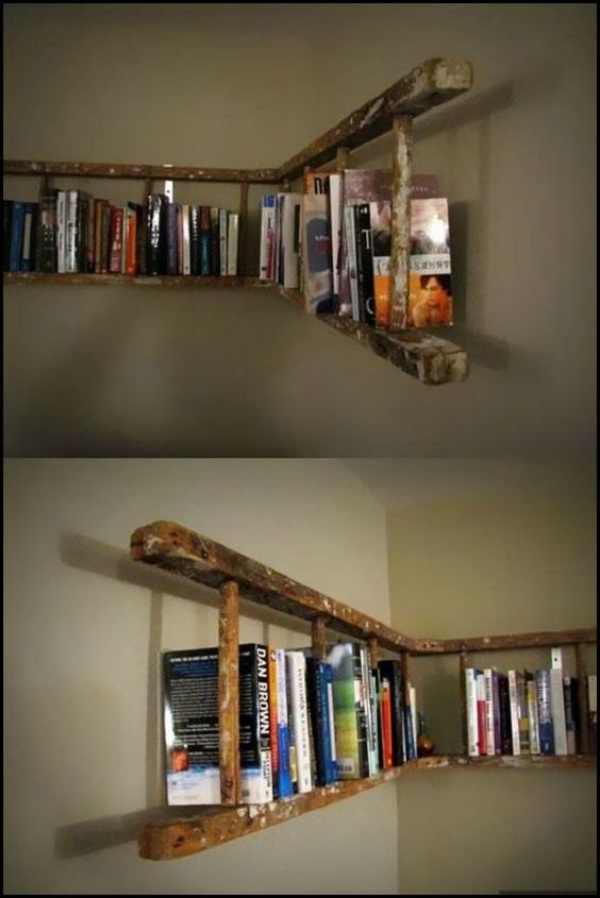 Image Source
If you really love the rustic look, you are going to love this bookshelf and its a great idea for small livingroom bookshelf design. Just add flat boards for holding the books in place. If you have bibliophiles running around your house, this ladder is going to be the hot spot.
Leaning Ladder Near TV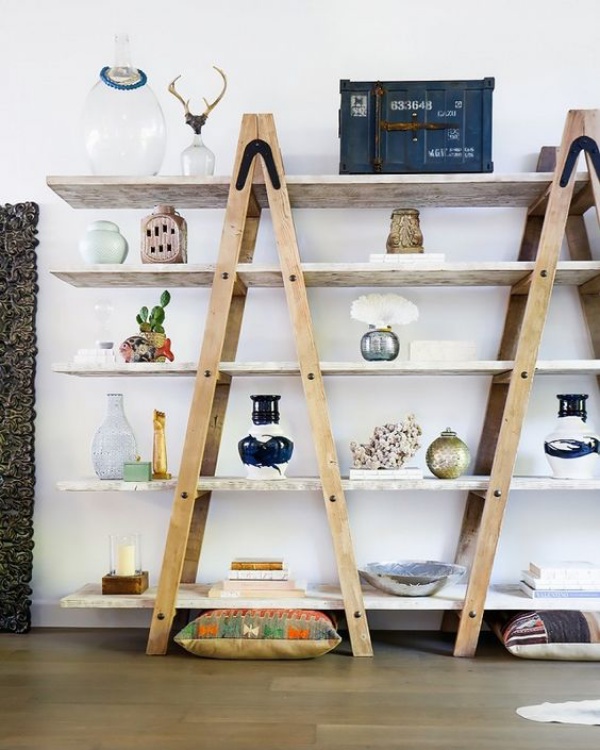 Image Source
Two leaning ladder on either sides of the TV dresser makes the entertainment section of your house more attractive. Paint your stand matching the interior, place family pictures, DVD's,CD's and video games. This is such a great and not to say the easiest way to charm in your living room.
Magazine Rack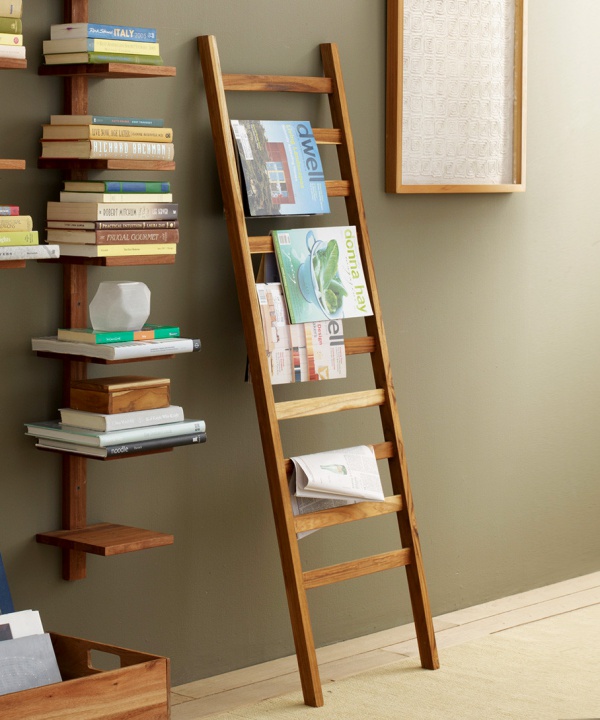 Image Source
This is a great way to organize fashion, technical and garden magazines if you're a daily/monthly subscriber, display elegant cover pages on the ladder, and to know what page you were on, hang it on the ladder.
Shoe Rack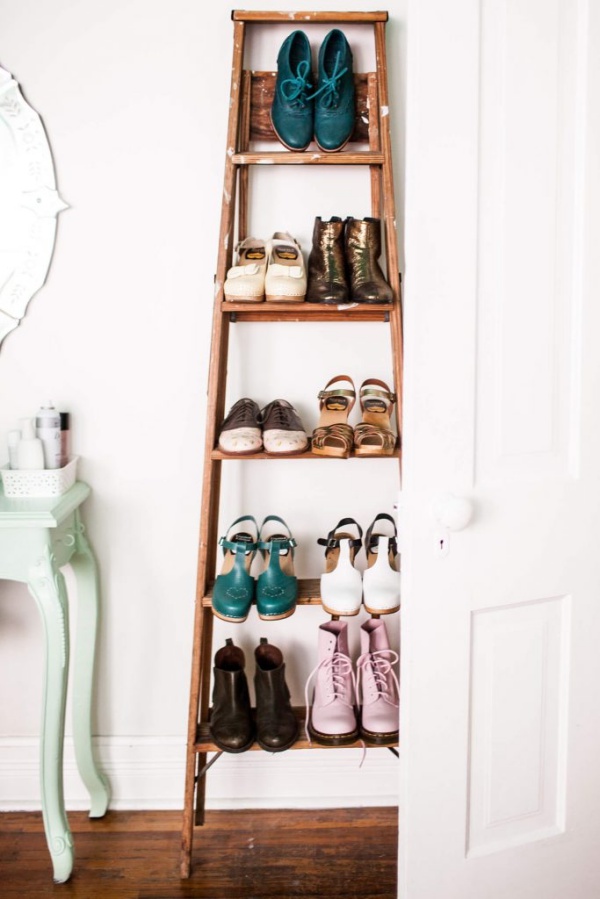 Image Source
If your shoe collection is pretty, do not let it stick to closets, arrange your shoes, scarf and other accessories on your personalized ladder. This one is the great idea to use your empty vertical space. For smaller accessories and craft supplies, attach wire baskets on the rungs of the ladder. A bold paint colour will make this ladder stand out.
Bathroom Organiser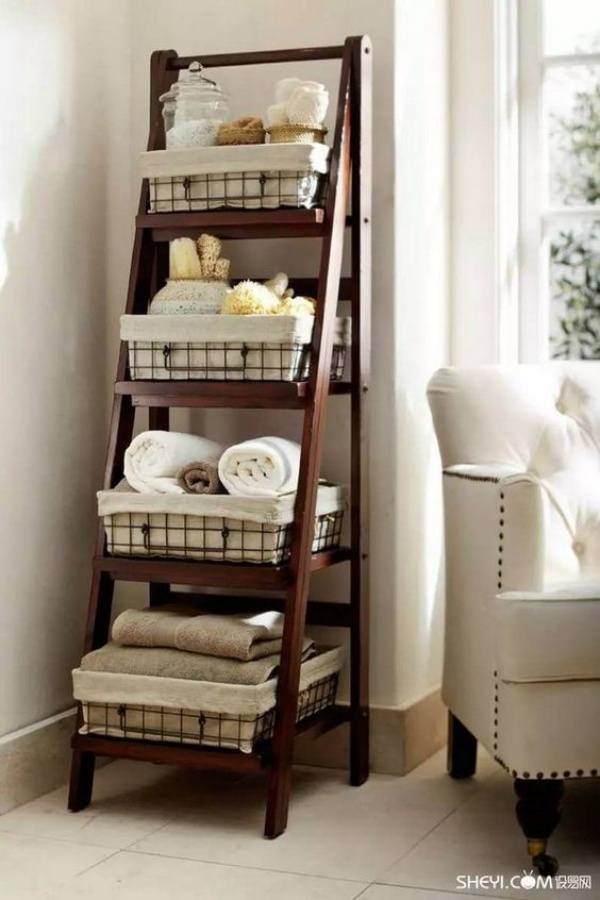 Image Source
Add some S hooks to the old ladder to hold the laundry baskets. It is the most efficient bathroom shelving idea that would not take much of a space, also it is multifunctional. You can stack toiletries, laundry baskets and towels. Like this, you can also create your own toilet paper holder by yourself.
Kitchen Rack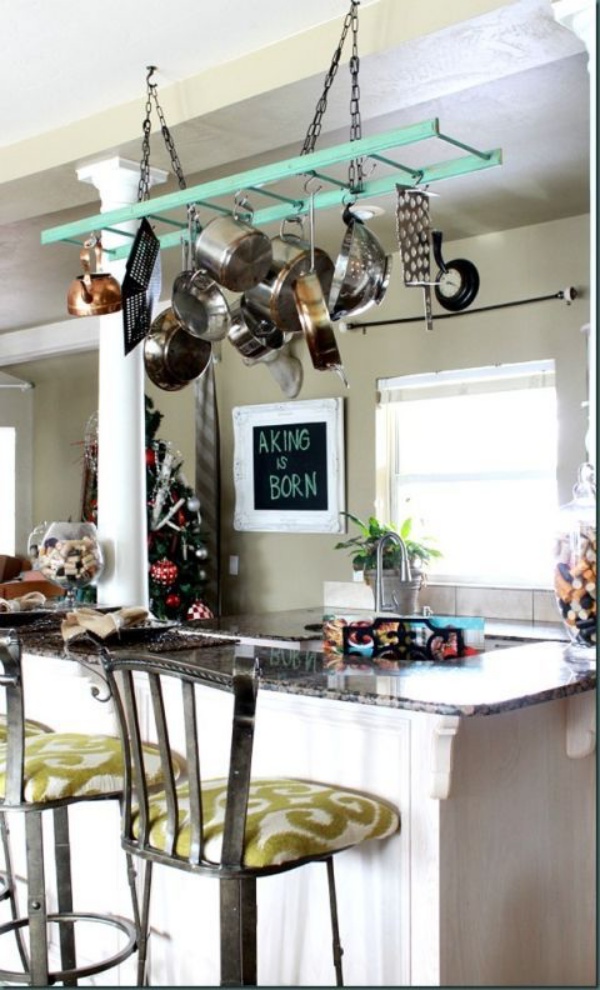 Image Source
Have your personalized kitchen utensil storage unit, by hanging the ladder up from the ceiling, in such a way that it won't take up the needed floor space. You can hang pots and pans, with the help of hooks attached to the ladder. This makes your cupboard free from the utensil space, does it means more snacks?
Outfit Holder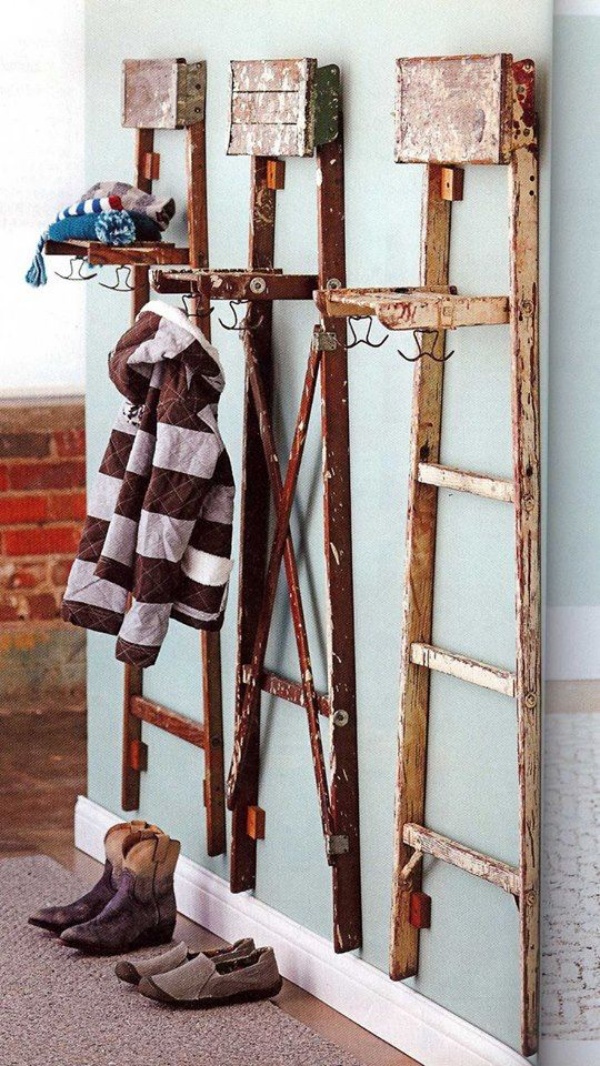 If you're the organized sort of person, you may decide tomorrow's ensemble a night before, which is a good thing BTW! Repurpose your old ladder to a wardrobe so that your outfits are no longer laying aanymore String up some fancy lights and there you have it, no less than a fancy wardrobe!
Lantern Hanger/Suspender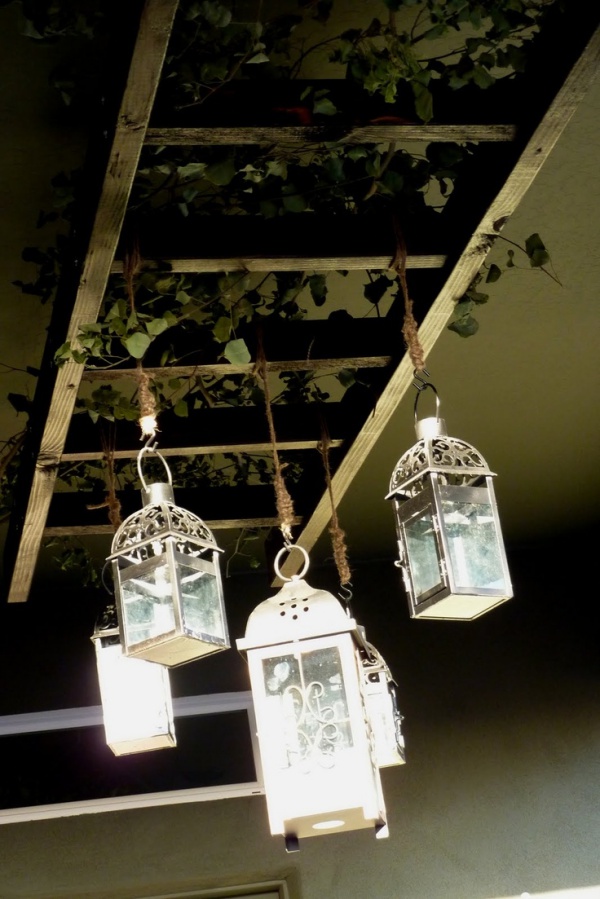 Image Source
I love lanterns, everywhere! Old ladders can be hanged from the ceiling to hang cute lanterns or chandeliers. This would make such a nice diy for your patio deck or porch, imagine having a dinner with family at your back porch under these gorgeous lighting. Don't worry, if lanterns are out of your budget, you can still rock it with mason jars.This is one of the best and cheap indoor wall lamp idea.
Rustic Ladder Nightstand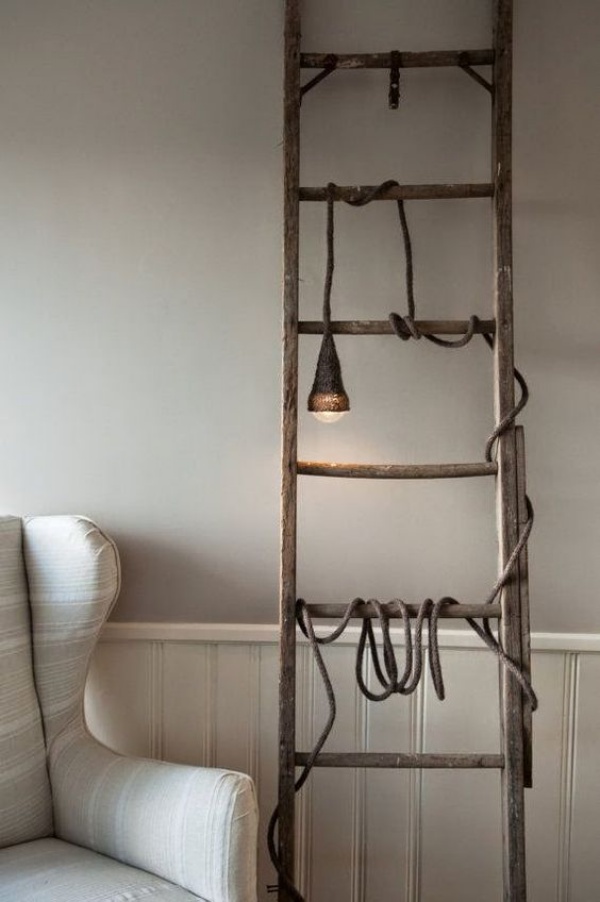 Image Source
A small step size ladder can be a great nightstand, paint it with a dark stain for more rustic look. For a tight space, this nightstand is going to be savage, to hold your bedtime book, cosmetics and even folded blankets effortlessly.
Wooden step ladder Redo
Image Source
Use As Bedside Storage Table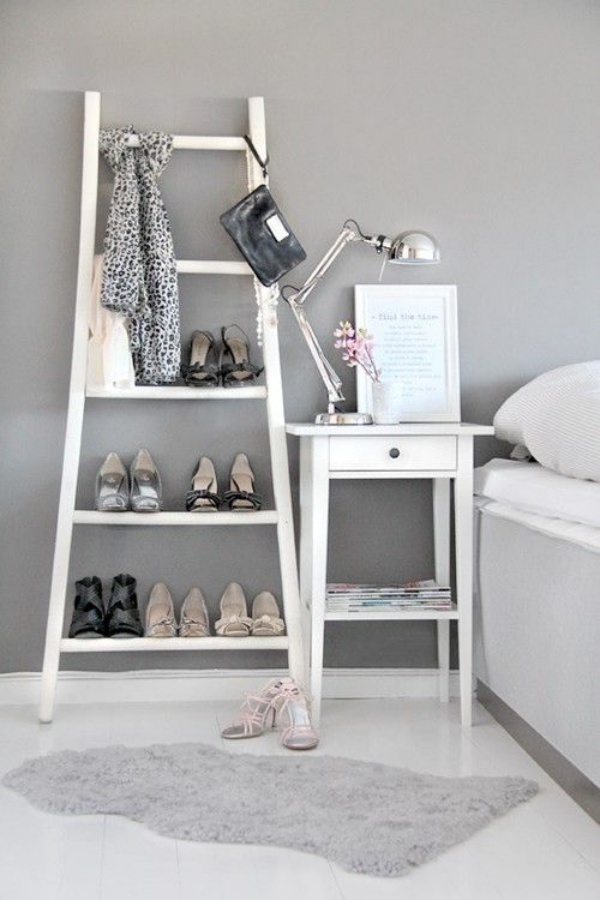 Image Source
Consumes space with Ladder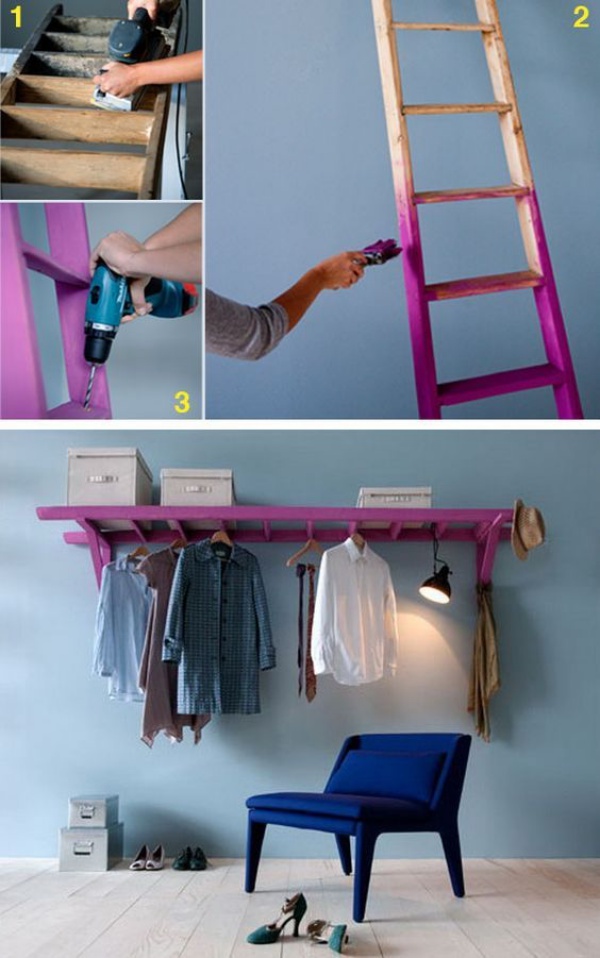 Image Source
Old Wooden Ladder Bookshelf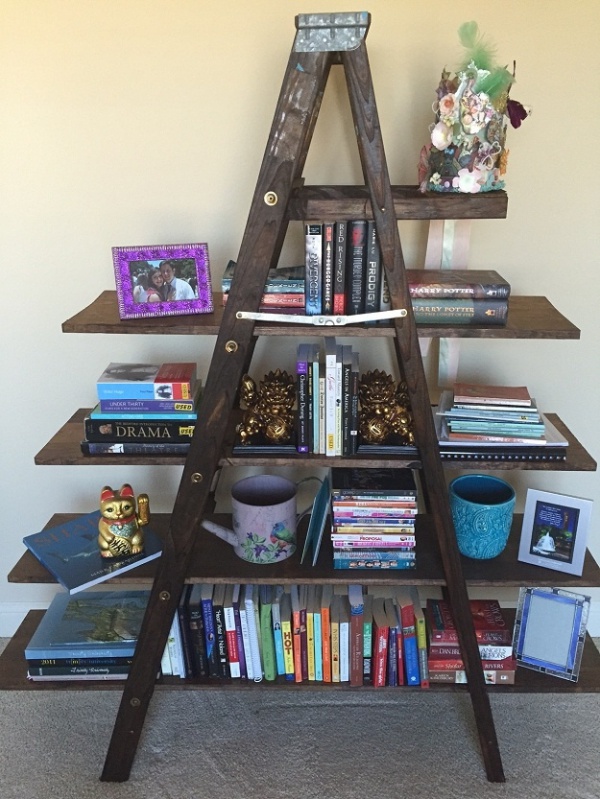 Image Source
Ladder Shelving Unit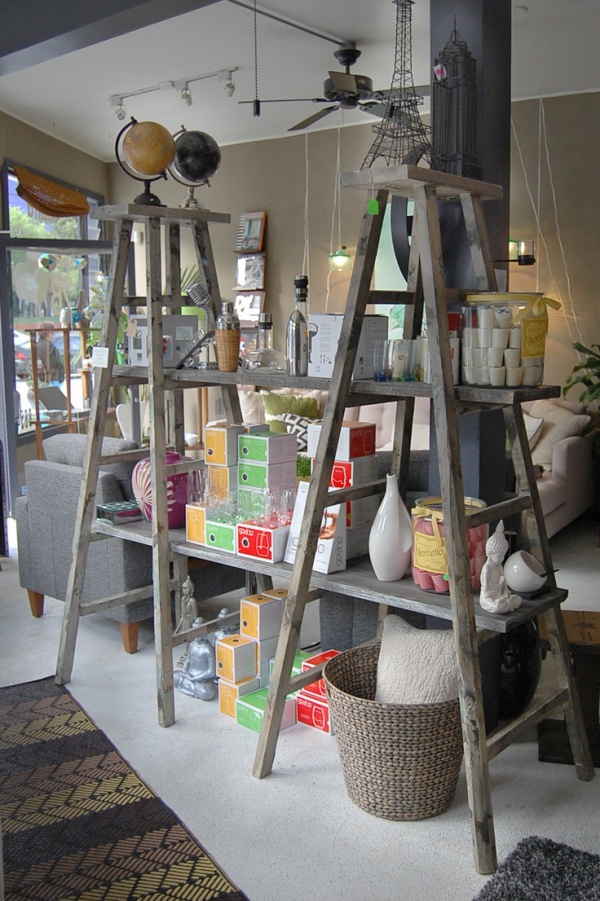 Image Source
Stairway Picture On Ladders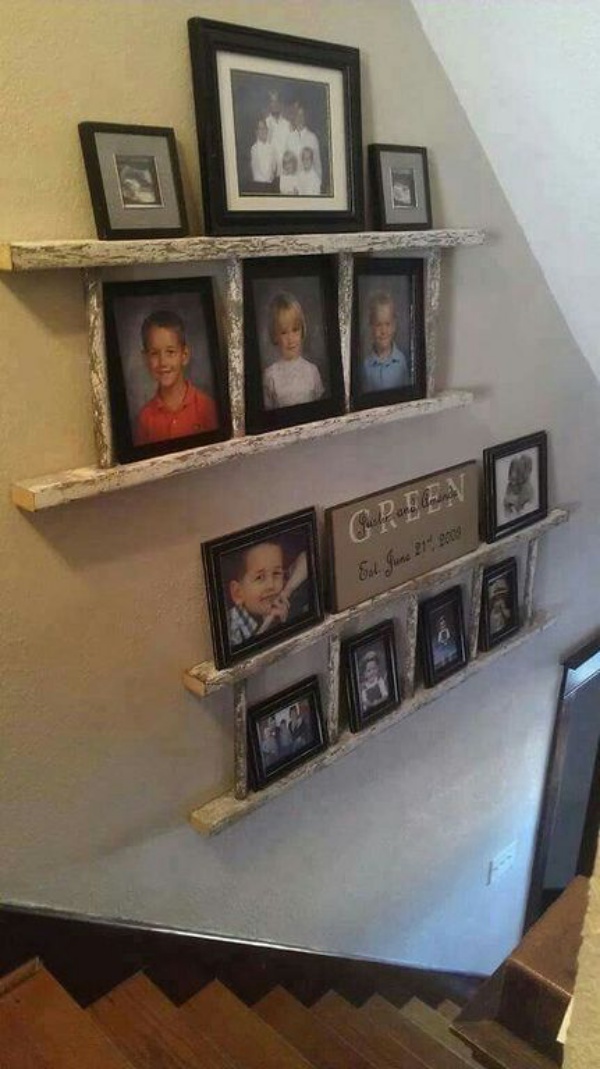 Image Source
Made from old Bunk-bed Ladders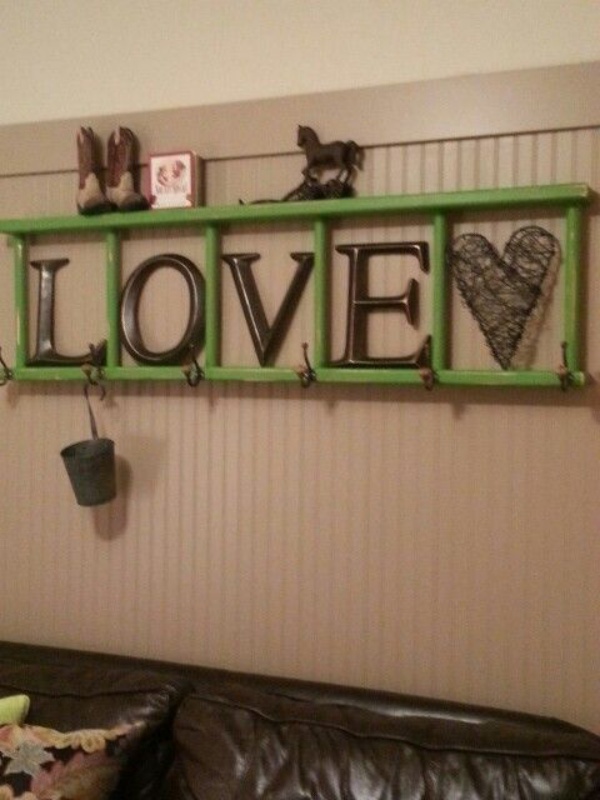 Image Source
Bottles Wine Rack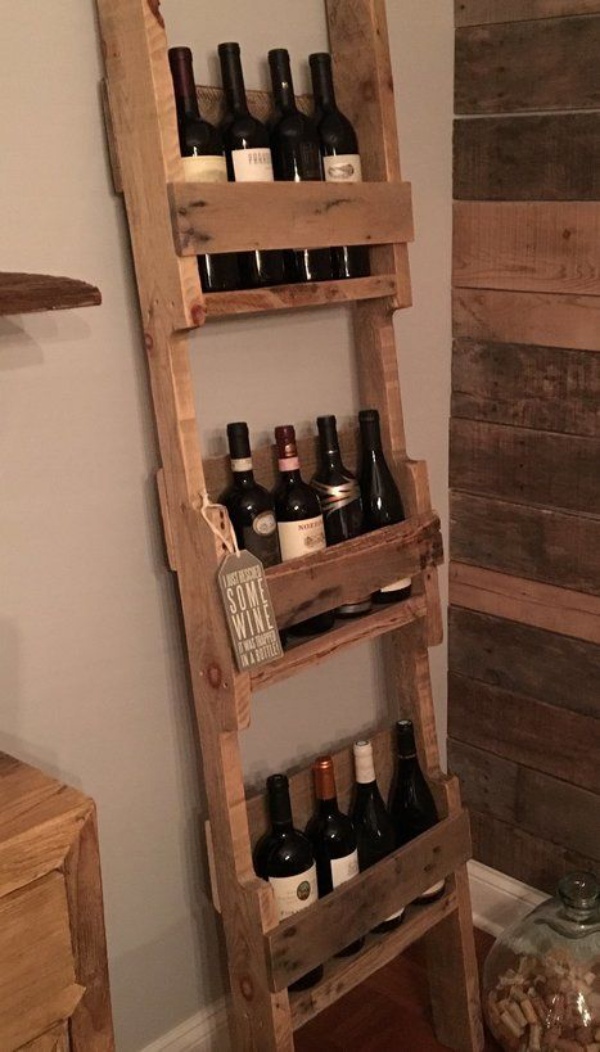 Image Source
Neutral rustic Christmas Decor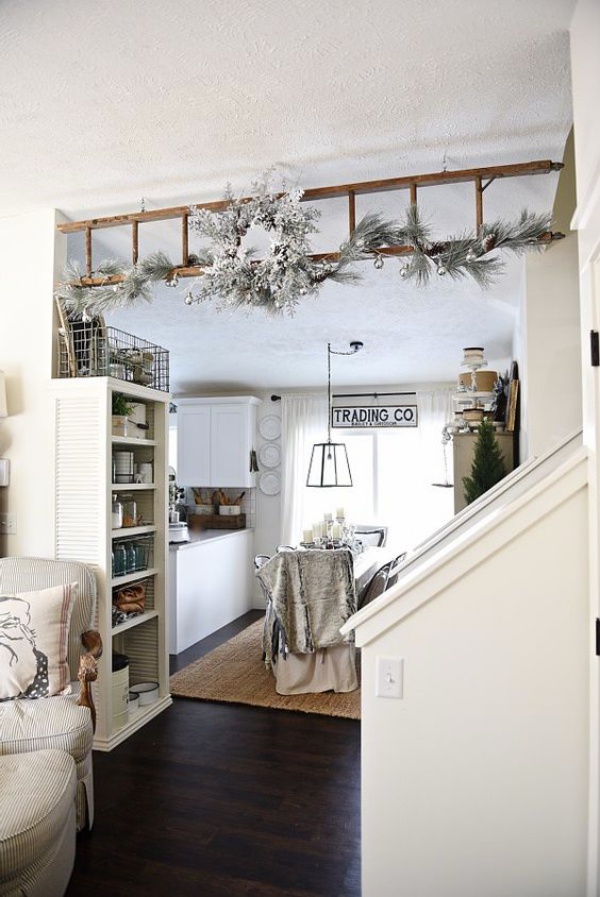 Image Source
Ladder Canopy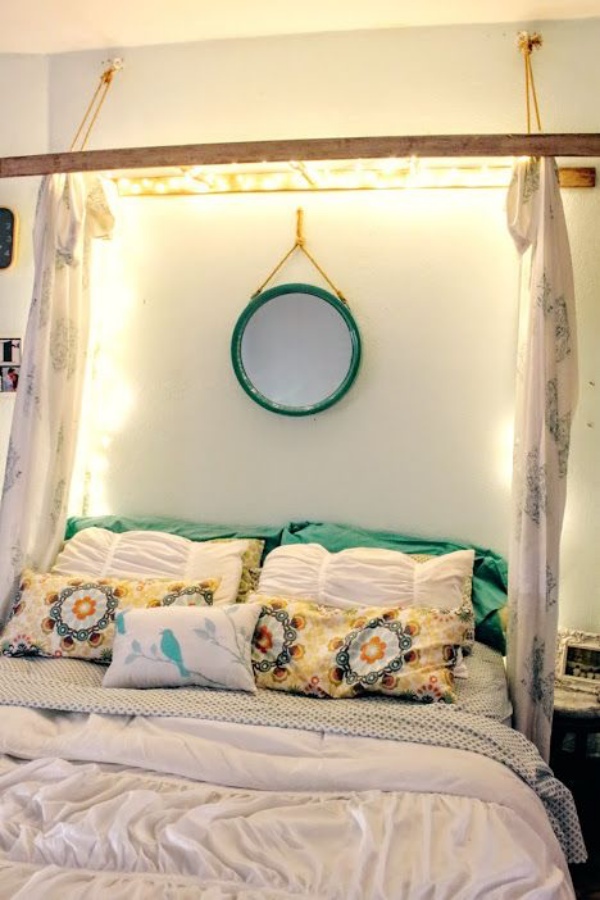 Image Source
Stairway to Heaven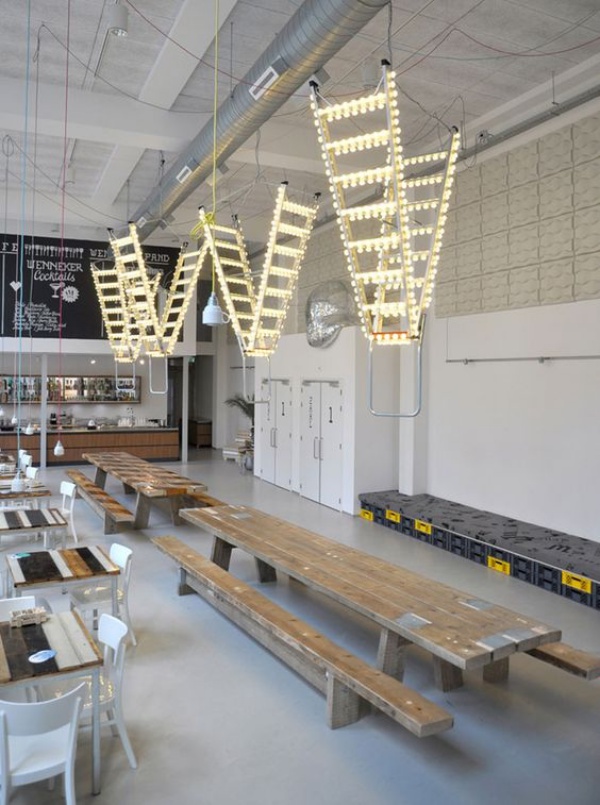 Image Source
Christmas Village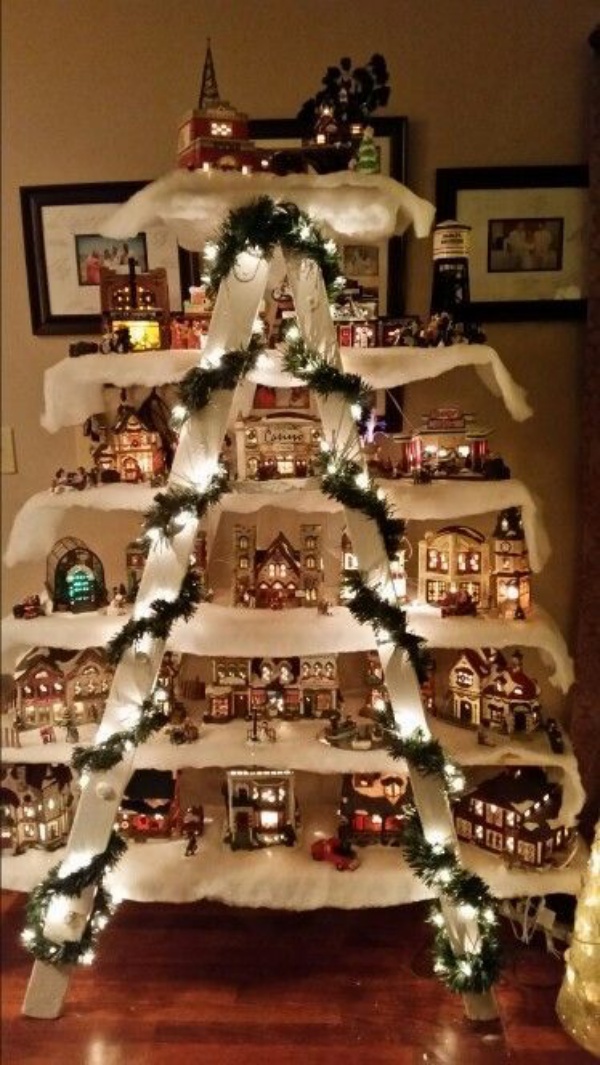 Image Source
Blooming Hanging Ladder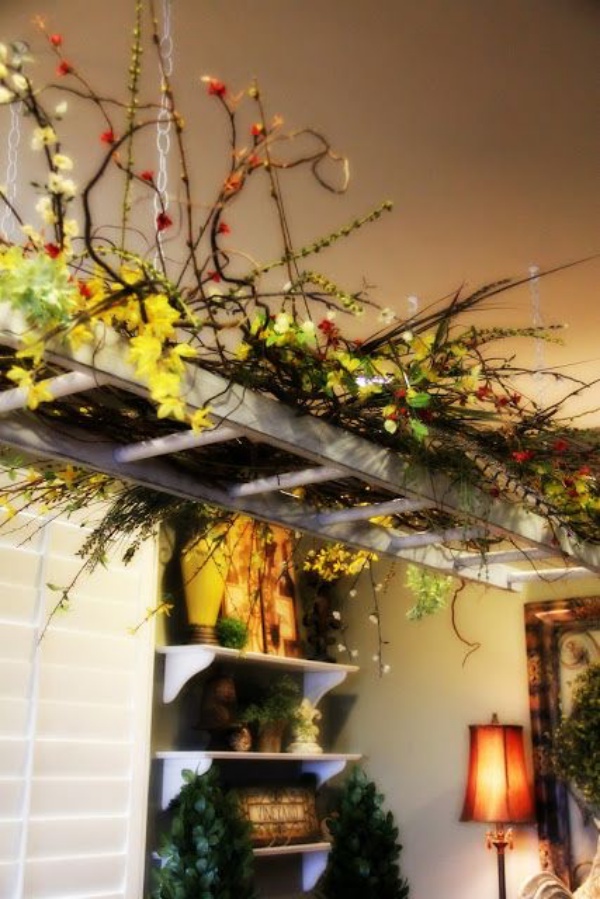 Image Source
Old ladder plus cast-off Drawers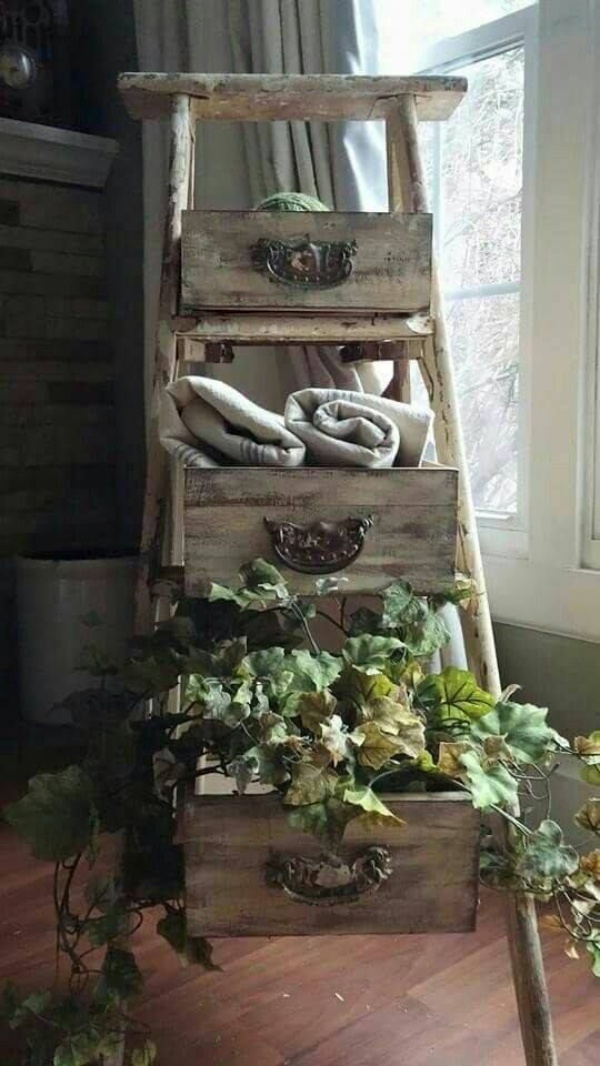 Image Source
Dual Purpose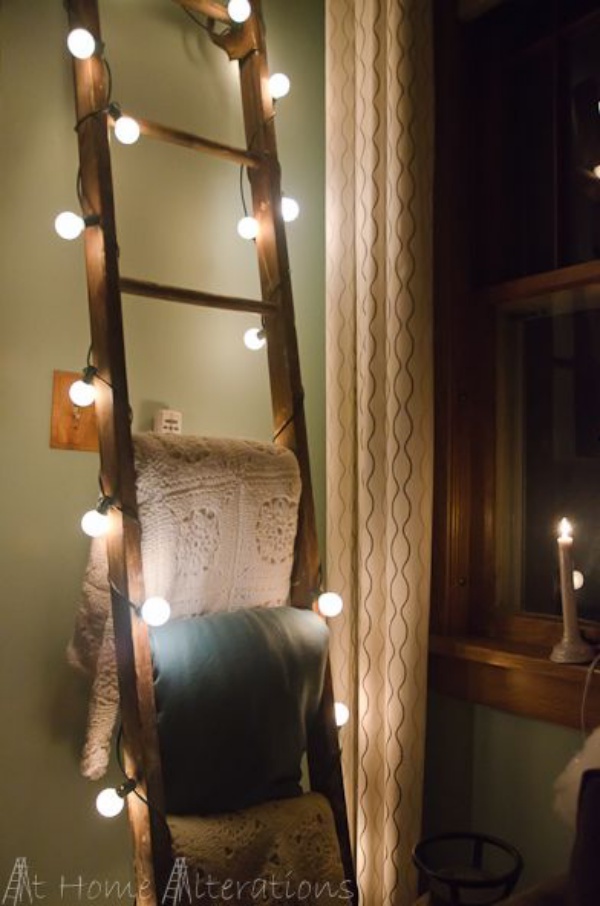 Image Source
Use it as a Scarf Display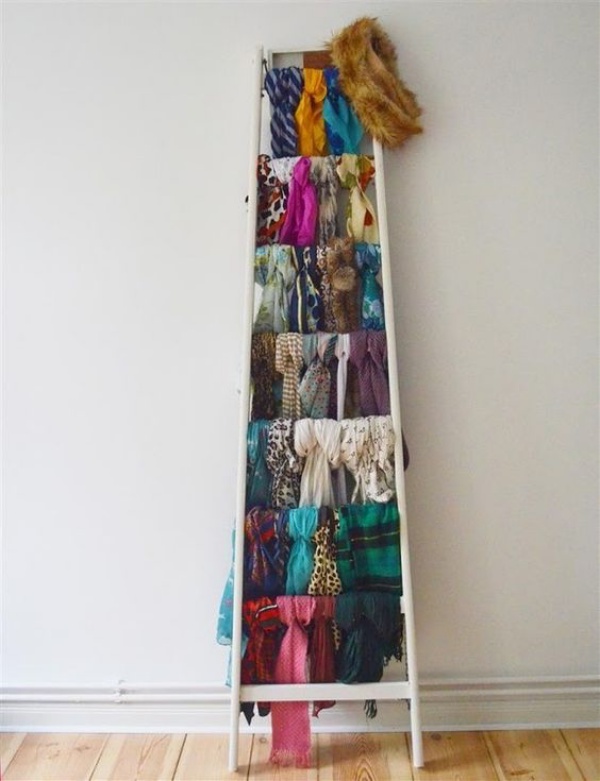 Image Source
Cool Organization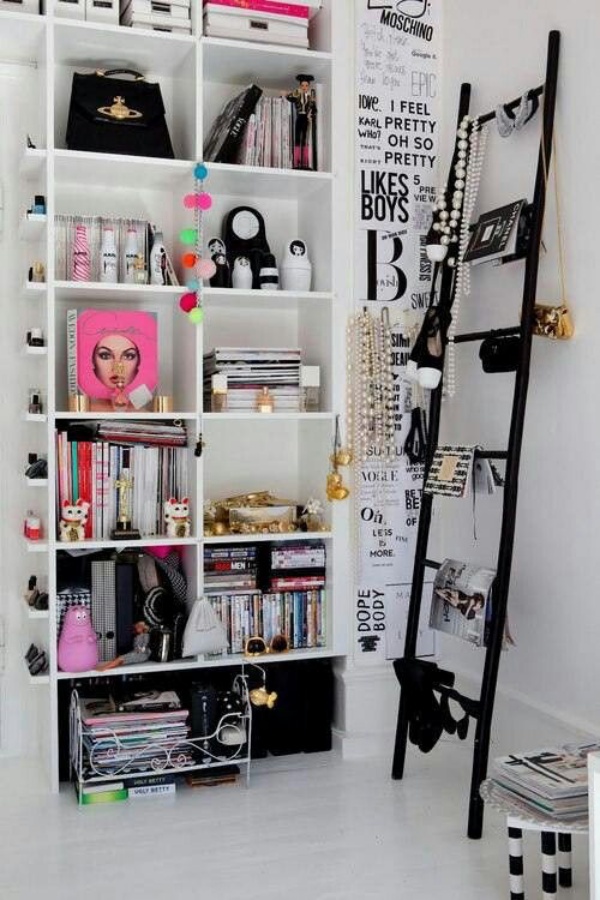 Image Source
Unique Jewelry Display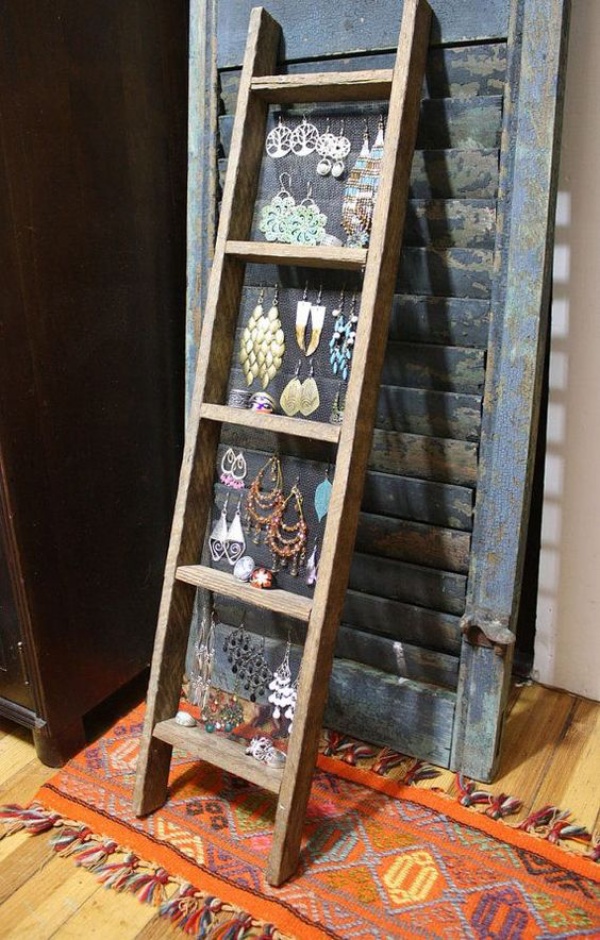 Image Source
Tobacco Stick Ladder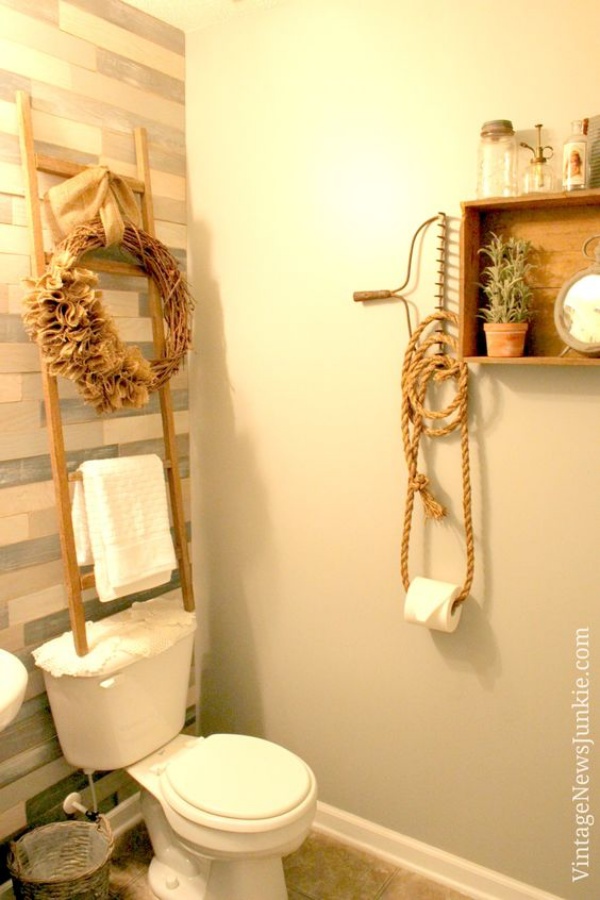 Image Source
Stocking Holder out of an Old Ladder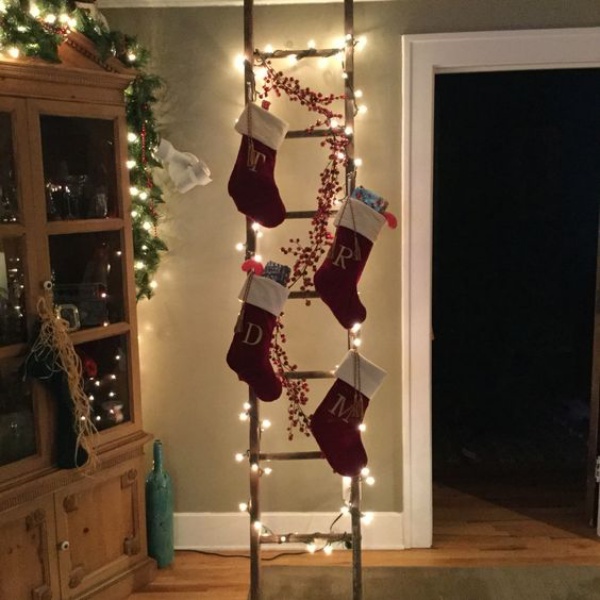 Image Source
DIY Spice Rack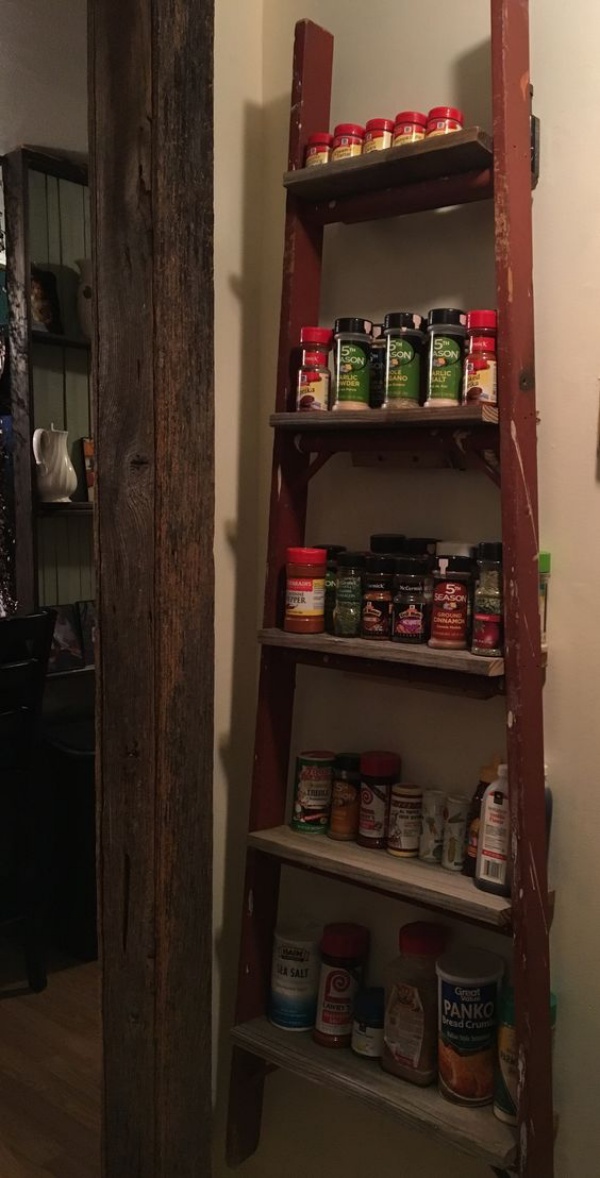 Image Source
Rustic Tables and Candlelight all Elegantly Planned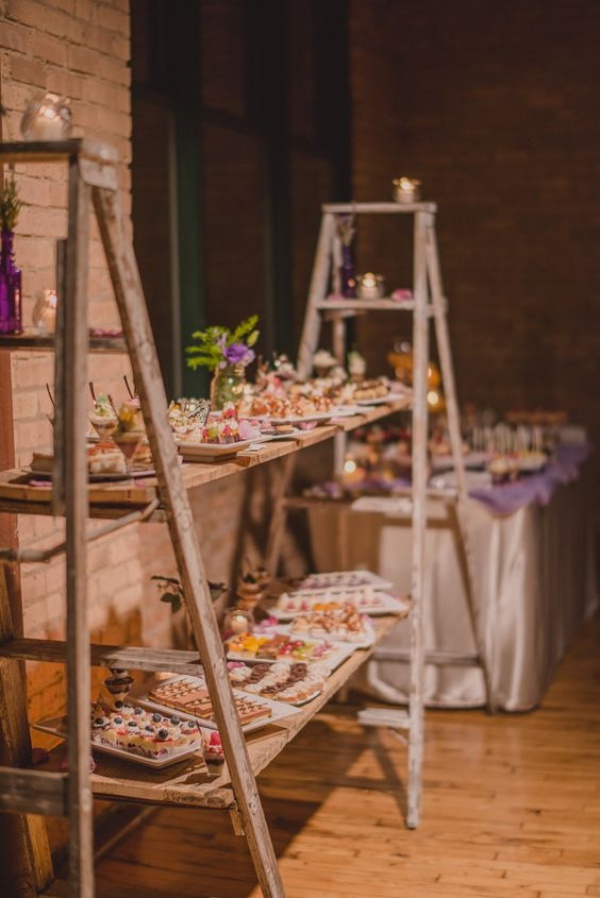 Image Source
Christmas Advent Calendar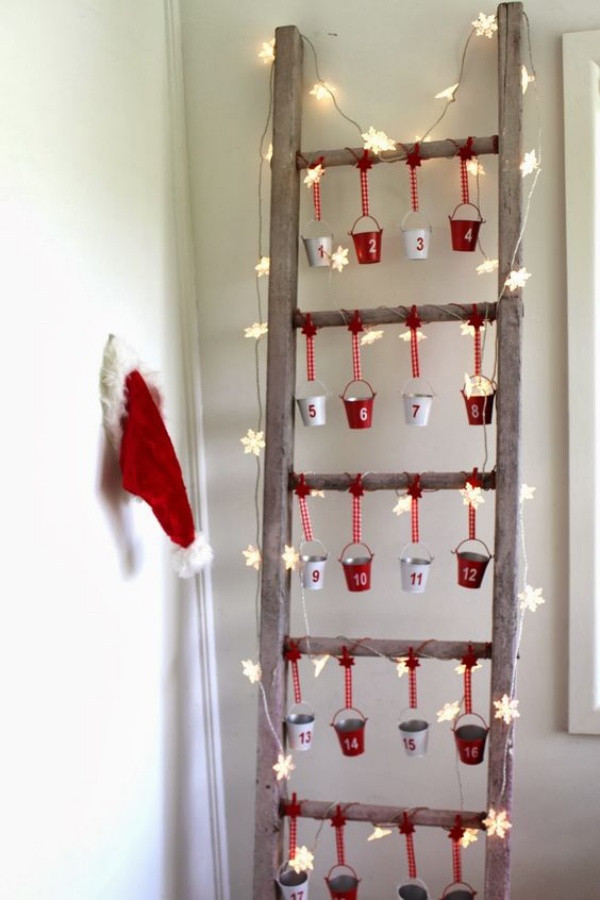 Image Source
Wedding Decor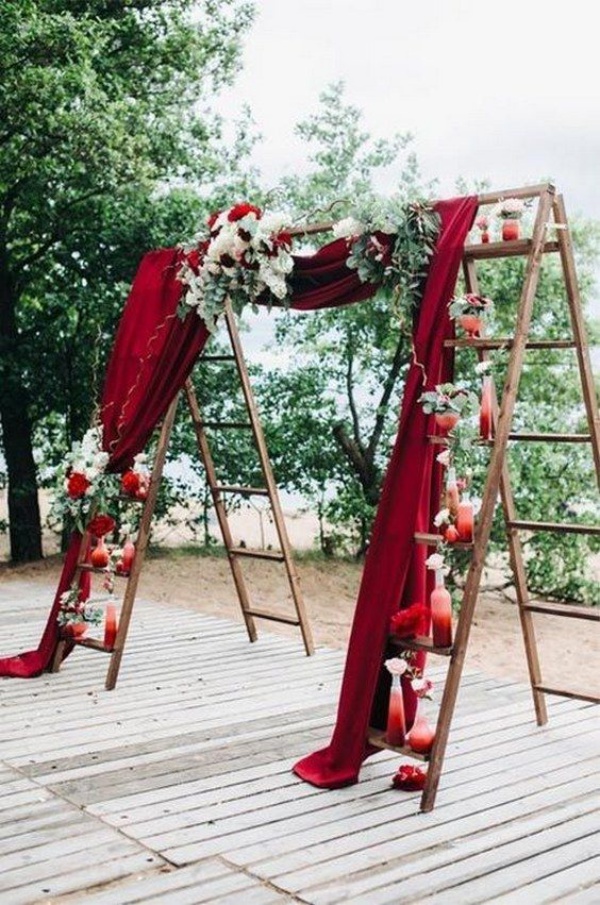 Image Source
Wooden ladder is cheap, and will not burden your budget anymore. Be creative and smart, even the old things which you do not use anymore can serve you the best.