Do you stay in a hostel? And you are looking for an occasion to gift your roommate? You have ultimately come to the right place. Being a college student, we don't have enough money with us and that's the reason we look for some good gift ideas in a low budget. Nowadays buying a gift from the market needs a lot of money and so it is better to make something on your own and that will obviously be more special to your roommates because you have made it for him or her with lots of love and dedication. There are various types of things that you can gift your roommate but here we will be showing you 5 DIY Christmas present ideas that you can make for your roommate. Let's have a look into it.
DIY Christmas Present Ideas for your Roommates:
Hot Chocolate Snowman: This is something very creative and you can easily make that thing if you have a lot of creativity in your mind. You will have to collect some tiny mason jars and some hot chocolate ingredients to create this beautiful festive present. As you can see the picture below how beautiful, it looks when made completely. Now you will have to put the jars together using glue and then create a beautiful snowman out of that. Decorate it according to your wish and of course think about your roommate's choice, as you will know that better. What can be the best apart from this if your roommate really has a love for chocolate?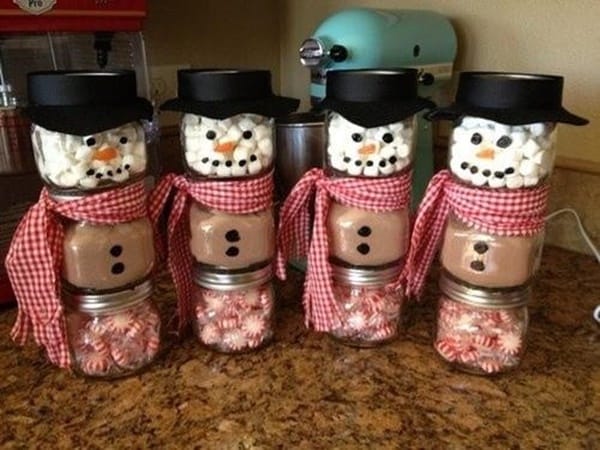 Personalized Mugs: Nowadays, personalized mugs are easily available at gift shops or even you can get it sitting at your home but ordering online. But think that of you can make it on your own it's going to be a bit special. Some people have love for tea and coffee, so this is the best ever gift for them. But if you are thinking that how you will make it out, just look for a tutorial to make out personalized mug and the process will be too much easier for you. you can make a design of your own and make it according to your creativity. The more you will work on it, the more you beautiful the product will be.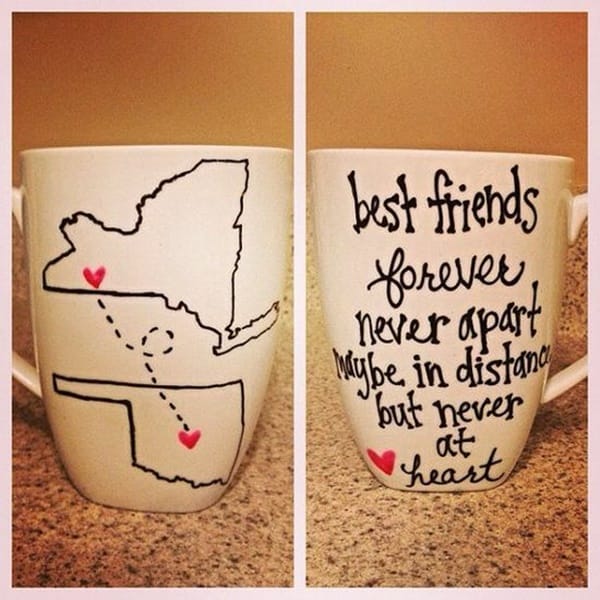 Manicure / Pedicure Kit: Reading the name you can easily assume that this gift is for the girls and yes, they will fall in a love with it. If you are a DIY lover, you probably know that mason jars are really useful for DIY projects and it is a must have one for every DIY lover. Yes, we are telling this because this project will also need a mason jar and in addition, you will need a cute nail kit, which includes nail polish, nail clippers, a mini nail polish remover, and anything else you think necessary for your roommate. But yes remember to make the kit look feminine. It's great and you can easily make it out. It will not cost much of your money and your roomie will love it.
Matching T-Shirts: This is a kind of more easy from the other if you have some craft skills. Go to the market and buy a pair of same plain t-shirt that looks absolutely similar. Yes now we will proceed to make couple shirts. You can write anything in the t-shirts as shown in the picture below. Now that you will have to think a bit, which one will suit you the best. Yes, select the one that will work best for you and your roommate. It's really cute and interesting.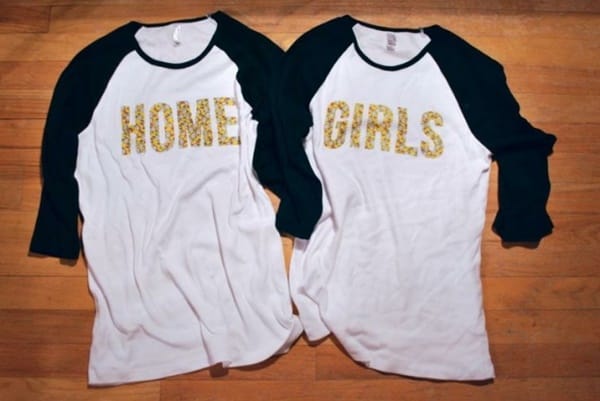 Candy Card: If you think, you are too creative and your roommate have a sweet tooth, just know about all his favorite candies and chocolates and then write a simple which you will have to write in a big card. See the below picture as an example and then make your one. As you can see that this one is for a birthday but you can easily make one for the Christmas. It's really a great and unique idea to gift your roommate.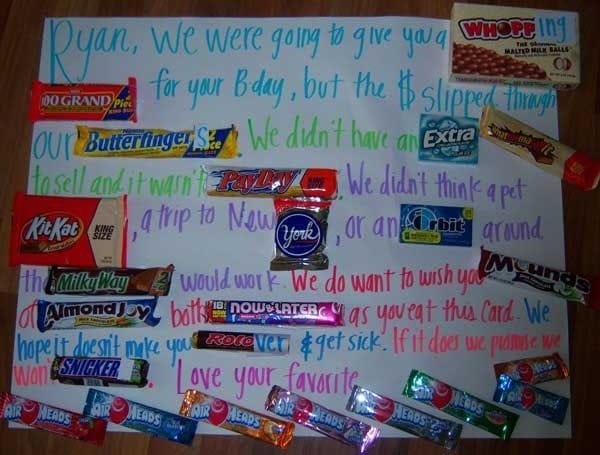 Making DIY things include a lot of love and care and that's the main thing that attracts the heart. So when you are really making such a thing please don't forget to make it with a lot of care. So it's time for the selection and you can easily make one in just a few days.