If you are thinking of redecorating your garden because the look of it has become quite old and boring, then fret not people! Because after the next 20 minutes, you are going to find yourself super charged with energy and loads of DIY Outdoor wooden planter Box ideas! Gear up –
*P.S: To be able to master all these DIY Outdoor wooden planter Box ideas you will just need few items – wood (of your choice and pattern), color pallet, paint brushes, flowers to decorate the box and a long weekend to complete them! To make levels, you might need rulers, pencils, cutters and drill machine. Decorating your household with plants of all kinds might seem easy and relaxing at first, but caring for a household plant requires utmost care, attention and of course, hacks, tricks, and tips that can help them survive a lot longer.
DIY Outdoor Wooden Planter Box Ideas
The Window Wooden Planter box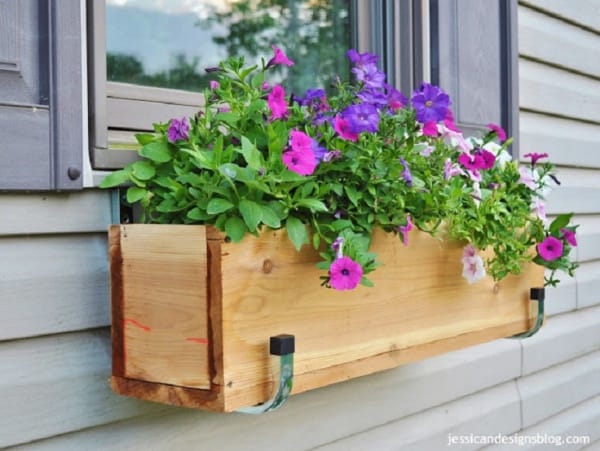 Image Source
If you have small spaces to fill, then what is better than having adorable window planter boxes? You can make them of the size you want so that it fits perfectly in the windowsill. I have seen people sharing ideas of tucking the window planters at the inside of their fences too. Well, you must look at that rain-boot planter inspiration to fetch some eyeballs to it.
The Mounted Planter Boxes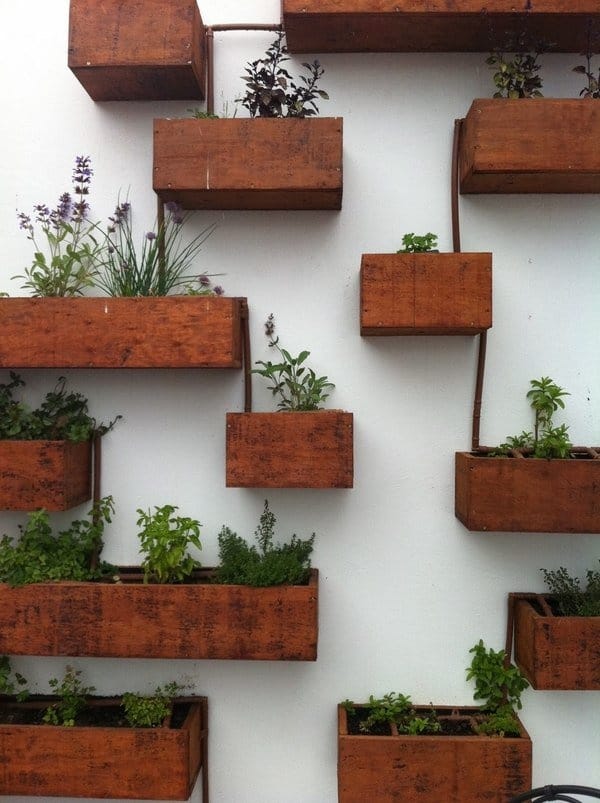 Image Source
These are for those huge spaces that can be filled with lots of colorful flowers. For this, you might want to take proper measurements, cut them in different sizes and then hang them in a particular pattern before filling them with plants and flowers. Painting cute icons like ladybugs climbing up the planter boxes or so is a must try.
Hose Boxes


Image Source
Looking for some dual purposes out of the wooden planter box? Then, why not convert a hose box into a wooden planter box? Isn't this a cool DIY Outdoor wooden planter Box ideas? To get this, all you need to do is carefully cut a hole into the cap of the hose box. Store the hose in the box while the lid makes a great planter box.
Monogram Style Planter box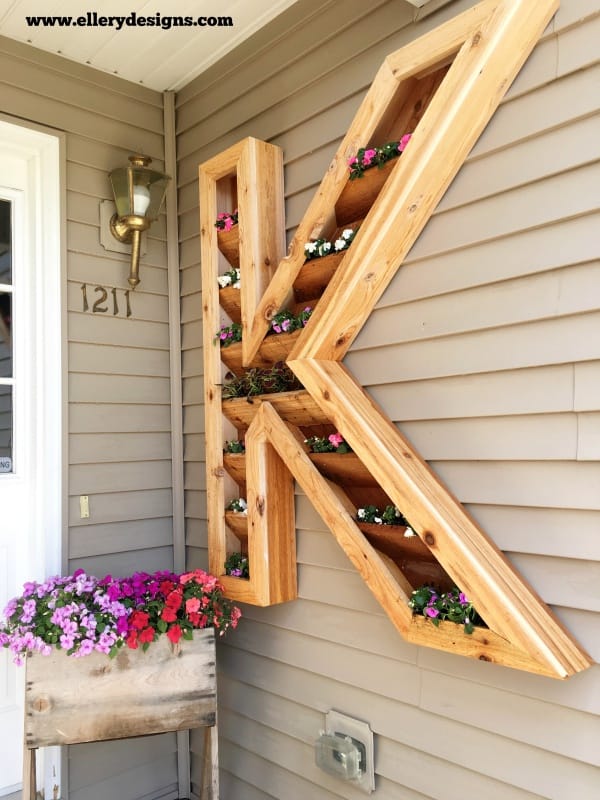 Image Source
You and your family are obsessed of a single letter or a single date? Make the wooden planks into the shape of that particular monogram and make steps into it, so that it can be used as an amazing wooden planter box. For instance, If your cognomen is "Mikaelson", you may get a monogram of "M" imprinted on your personalized planter box.
The Tiered Wooden Planter Box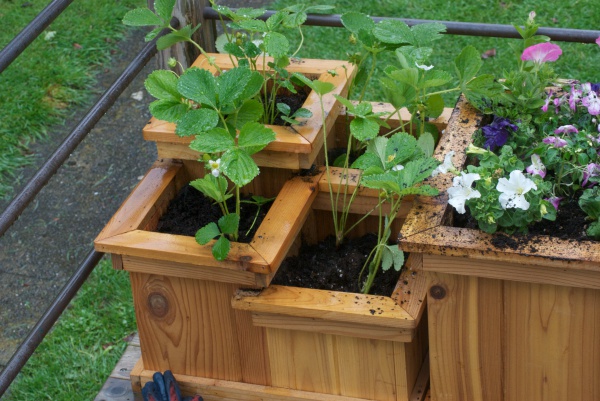 Image Source
If you have a large wall to cover, then there is nothing better than using a planter box to make the best use of it. Use lots of wooden planks to make different levels and tiers of the planter box. This is an amazing DIY Outdoor wooden planter Box ideas, that allows you to use less space with having as many plants as possible.
Use the Dark Wood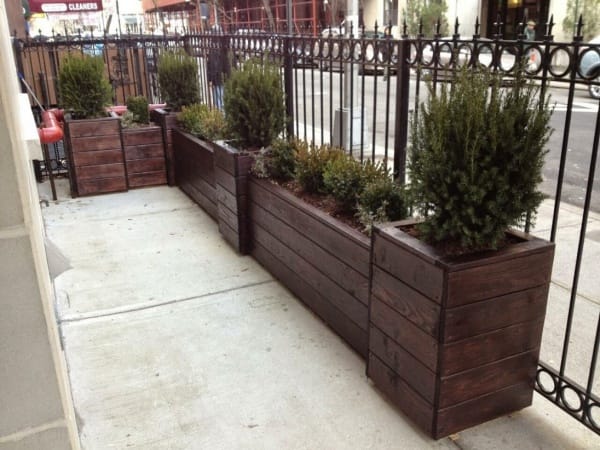 Image Source
A dark stained wooden planter box is a trending DIY Outdoor wooden planter Box ideas. It brings a nice rugged look to your garden. To enhance the look of this box, use bright color flowers and plants in it.
The Cascading Outdoor Wooden Planter Box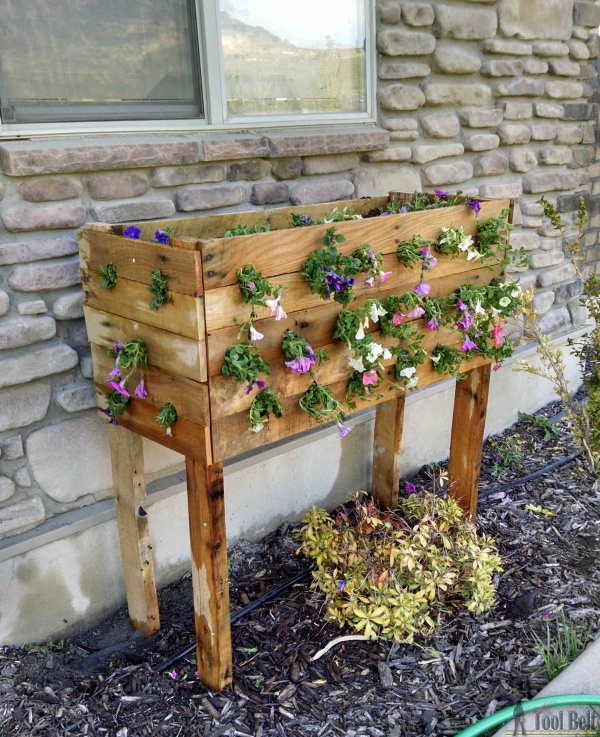 Image Source
If you are the one who likes it all a little messy, then this is one of the ideas you MUST surely try. This cascading planter box will have holes in the middle of the box from which you can let some colorful creepers grow. So, have bright flowers on the top of the box, while some other colored flowers and plants oozing out.
The Painted Tall Wooden Planter Box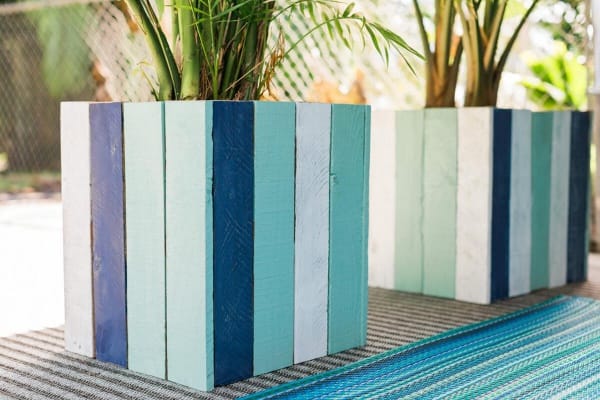 Image Source
If you are bored of the same old color of the wood, then make your own colors rule! You can make the wooden planter box and then give it the color you desire. To bring out the best look of this, use contrasting colors of plants and flowers in it.
The Planter box with potholder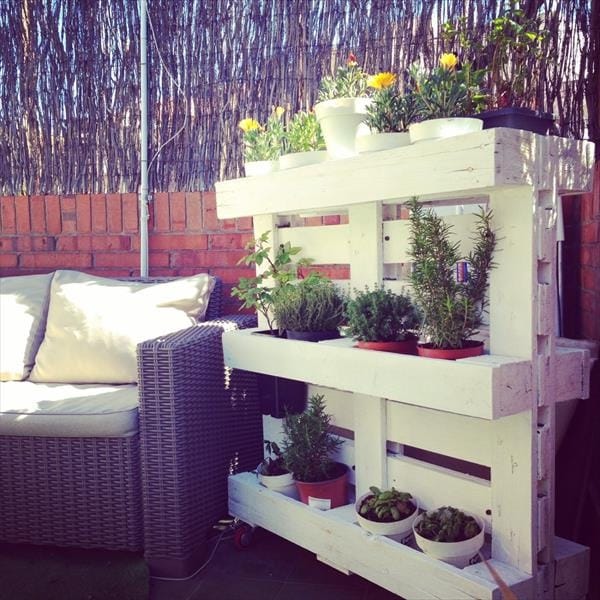 Image Source
This is one of the cutest DIY Outdoor wooden planter Box ideas. It is easy to make too – you just need a long wooden panel and make some potholders in it. Hang small flowerpots in it and decorate it with different kinds of plants.
The Outdoor Bench With Planter Box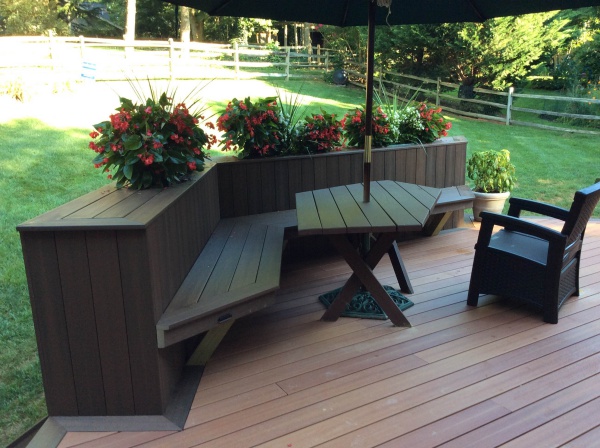 Image Source
Make a wooden bench and at the ends, make big holes that can accommodate plants. This is a great DIY outdoor wooden planter Box ideas, which serves dual purposes. This inspiration not only just adds the planter thingummy but also gives a unique look to your bench.
Hanging planter boxes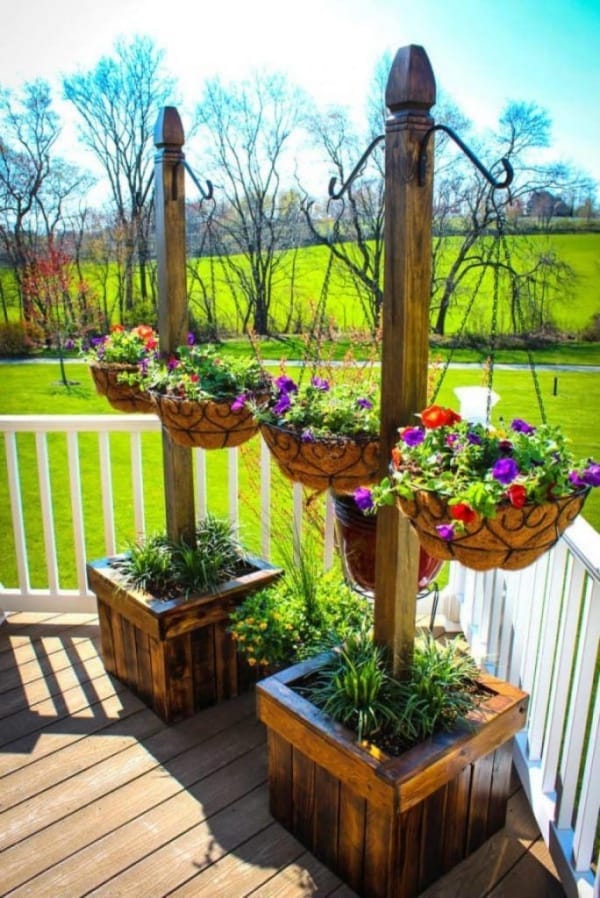 Image Source
This is a normal planter box, with an extra addition of strings attached to it so that you can let it hang in your garden. Paint it with bright colors and fill it with contrasting colored flowers and plants to make it look attractive.
Striped Planter Boxes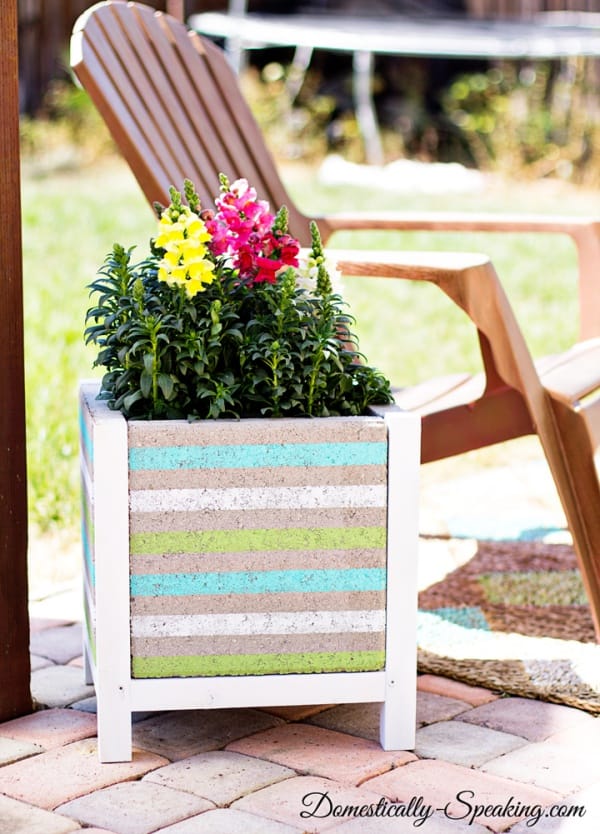 Image Source
This is a trending DIY Outdoor wooden planter Box ideas. This is also a normal planter box with your imaginational touch to it. If you like two colors, why not create stripes of those colors on this wooden planter box?
Get going people! Now, do not waste your weekend lazing around inside when you have so much to do outside. Make these yourself and soon you will be a DIY expert in wooden planter boxes.