Are you scouting for Indian minimalist pooja room decoration ideas? Ranging from traditional wooden jail designs to contemporary marble and sleek panels, there's a lot to explore when designing the most auspicious corner of your house. Keep synced to know about various options to ornate the mandir space tastefully!
Significance of Pooja Room
Pooja spaces are an integral part of Indian culture as it's the corner from where your day begins! Achieving a perfect blissful appearance for this divine corner takes a lot of juggling with ideas and concepts to arrive at the right pick.
With the recent spree of minimalism, everyone wishes to opt for a compact, flawless, and yet appealing design. The stunning creations of these divine places landed us with top alternatives that could add a touch of spectacular décor to your Pooja Rooms.
Indian Minimalist Pooja Room Decoration Ideas
Wooden Mandir- Wall Mounted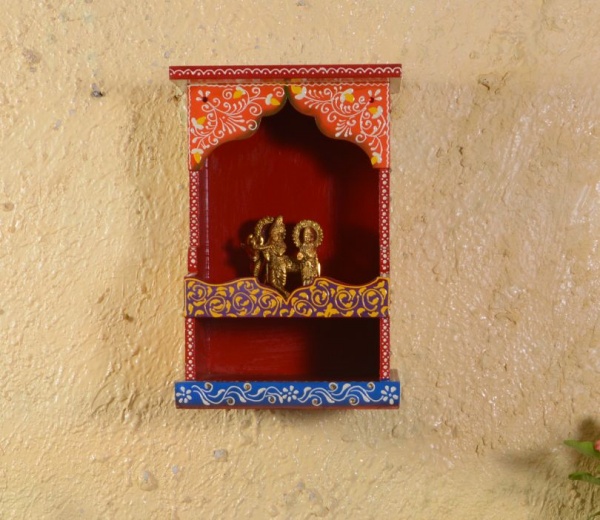 How about creating a spectacular wooden pooja unit on the wall? It could be a space-saving, minimalistic and unique addition to your pooja space. This works as a perfect option for people who prefer wooden lamination, and you can prepare it either in white or natural wooden shades. Adding the jail gates to its sides further enhances the overall grandeur of this corner without much expenditure. Opt for the temples with small drawers that work perfectly for storing pooja samagri inside them.
2. Sleek Pooja Space in The Living Room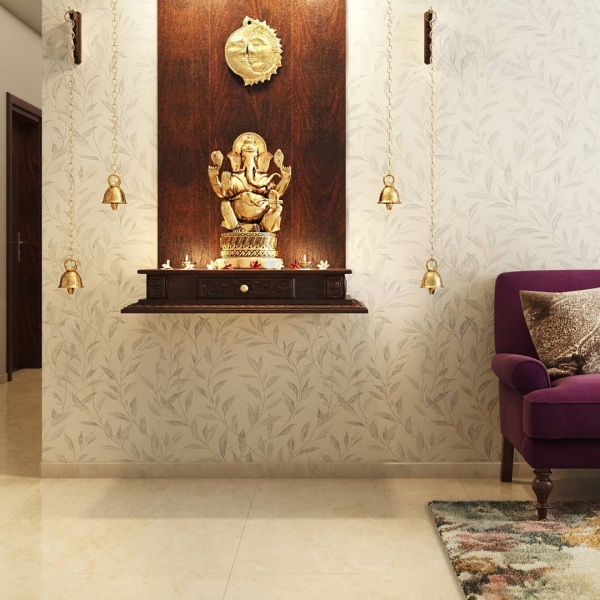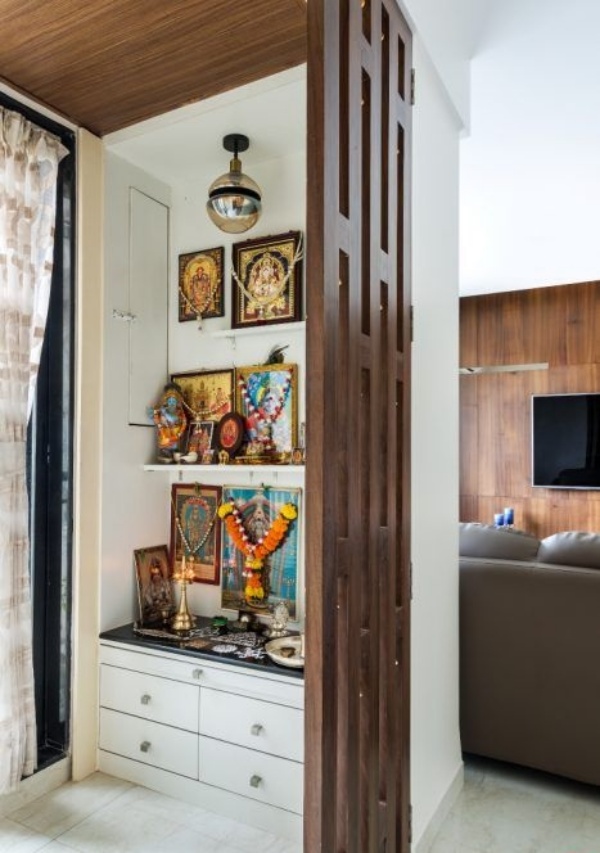 Using neutral shades like white and beige can amp up the overall look while keeping your pooja room minimalistic. Most Indian homes have space constraints, and dedicating a small corner in the living room serves as a common practice. Modern concepts highlight Scandinavian design, followed by sleek furniture that gives a futuristic look to your space. Adding small hanging lights above the temple further extends an aesthetic look. Complement the white, sky blue, and other neutral shades with clean lines to avail a perfect look!
3. Corner Based Compact Mandir on Walls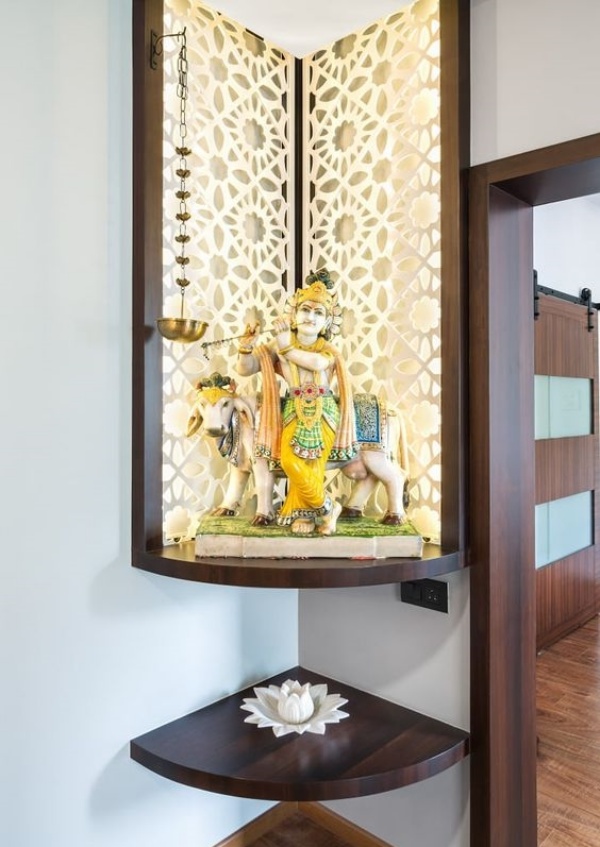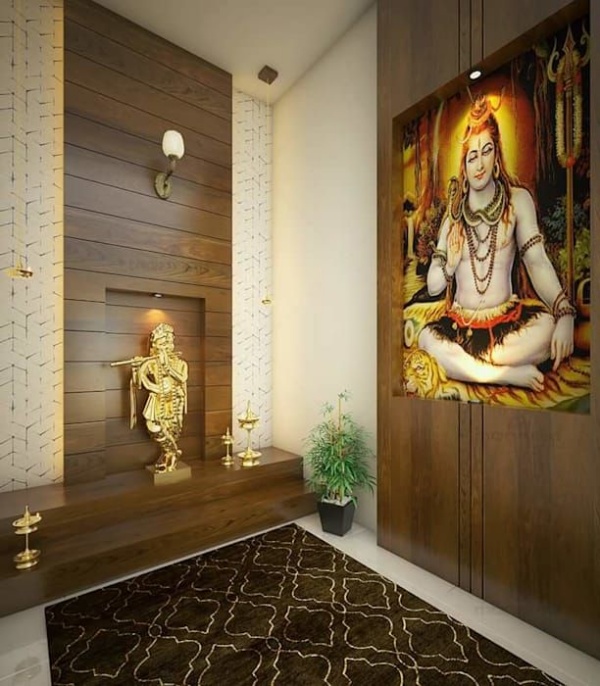 The idea of Indian minimalist Pooja room decoration ideas perpetuates further by using the free corners of your house. There's a small spot on the walls that could attract positive vibrations from the Universe, and placing a hanging temple over there is a good idea.
Opt for an exquisite, low-height, simplistic and neat pooja mandir with its bells. This can be a miniature mandir in curved designs, preferably carved in marble stones. Open designs work miracles in adding a gist to your rooms as they enhance the artistic appeals!
4. Stick to the Traditional Wooden Puja Unit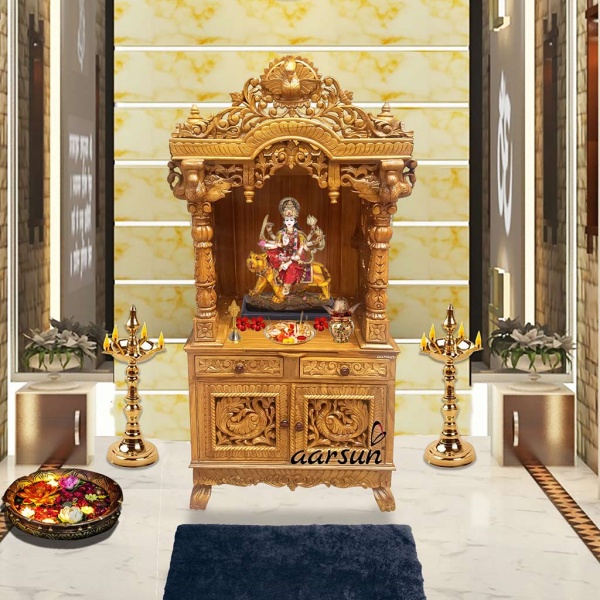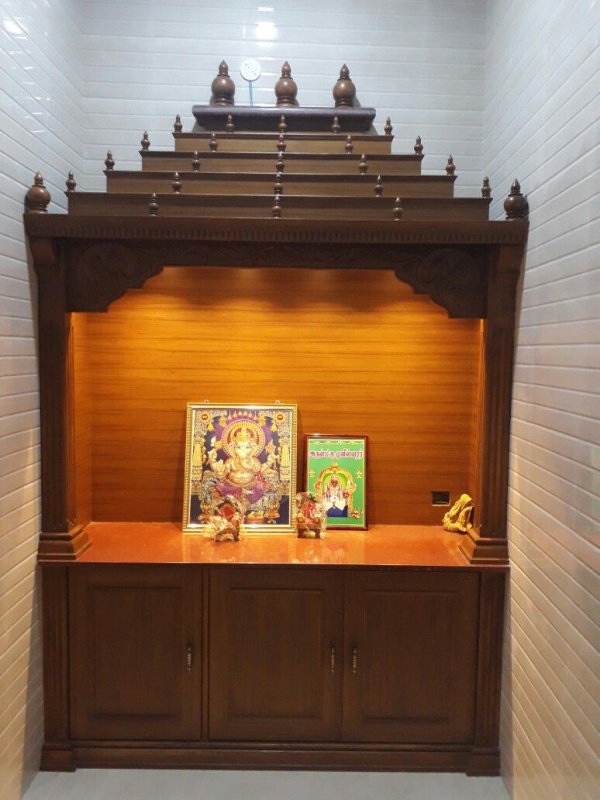 As we observe in most ancient Indian temples, wood stays the most preferred choice for God idols as it is considered an auspicious space for them to dwell. If you wish to revive the cultural roots in your home, adorning the wooden pooja unit could be the right catch.
Brass bells and décor could further accentuate the overall look, and lovely knick-knacks can pour in further divinity to the whole idea. Don't be surprised if guests coming in get mesmerized by this minimalistic yet conventional temple design.
5. Dramatic yet Simple Marble Temple Design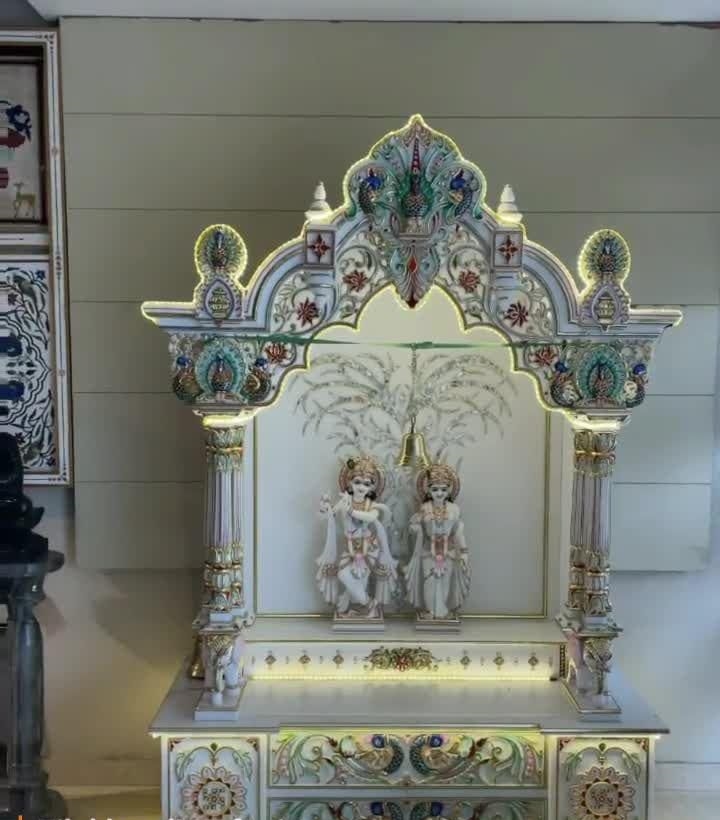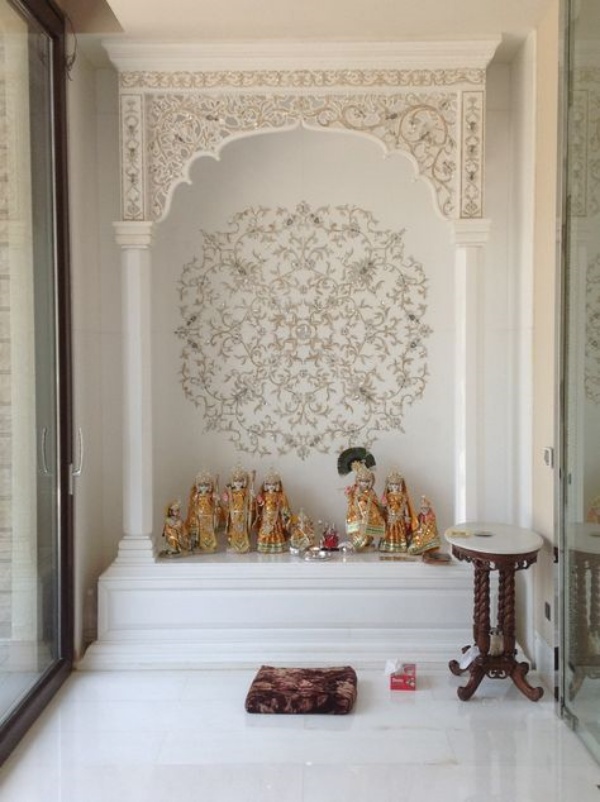 A plain wall white pristine white marble mandir is a perfect imagination for the minimalistic design. Do not stuff it with a lot of storage or curtains and accessories. Just a couple of lamps and a striking background of veneer panel could do enough for the required magic. Marble signifies grandeur, and when you light small candles aside, it can create an effect of divinity that's incomparable. Deck up your pooja room with elegant and serene décor to grab an impressive look on the whole.
6. Half-Open Mandir Designs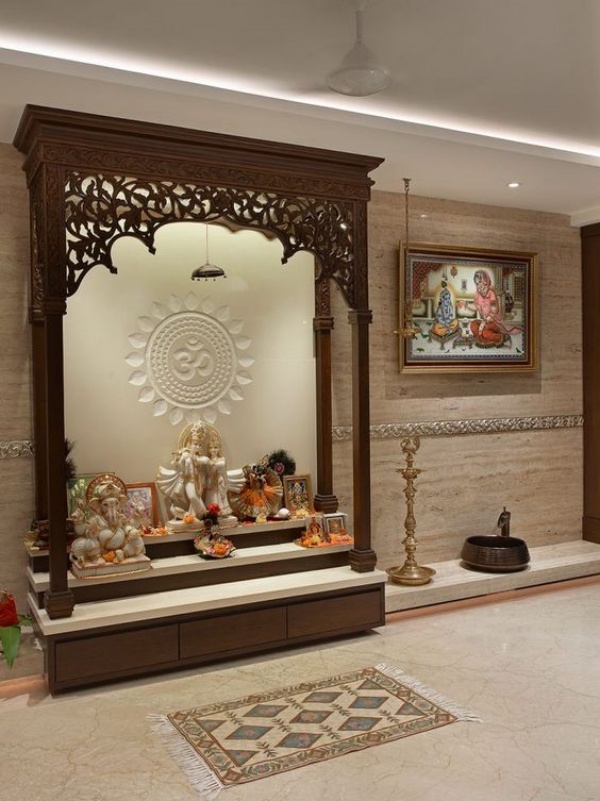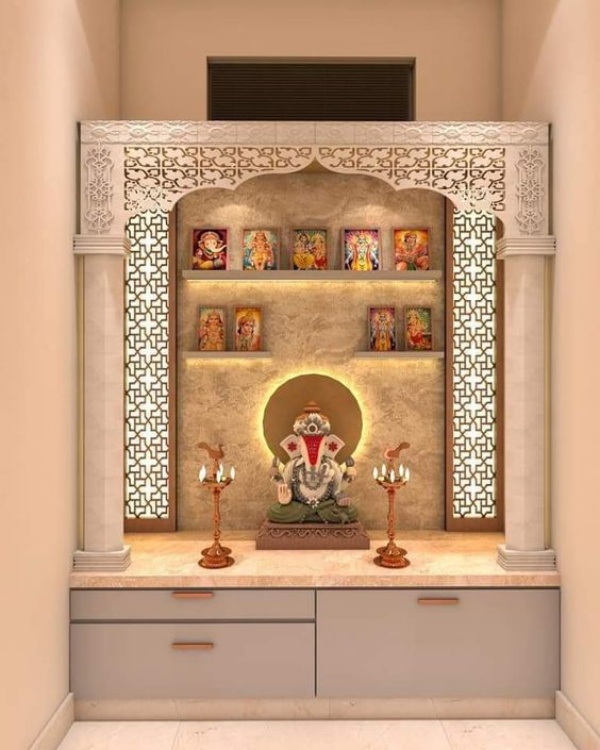 A completed closed pooja room is a big 'NO' as it restricts the spread of divinity to your home and surroundings. Having a half gate to elaborate the temple design and keep it visible can be blissful. Adding colourful glass doors or a wooden jaali gate with bells can give a complete look. It appears very pragmatic and yet creates a privacy curtain as that's imperative for the worshipping space.
7. Adding Mandir alongside Display Unit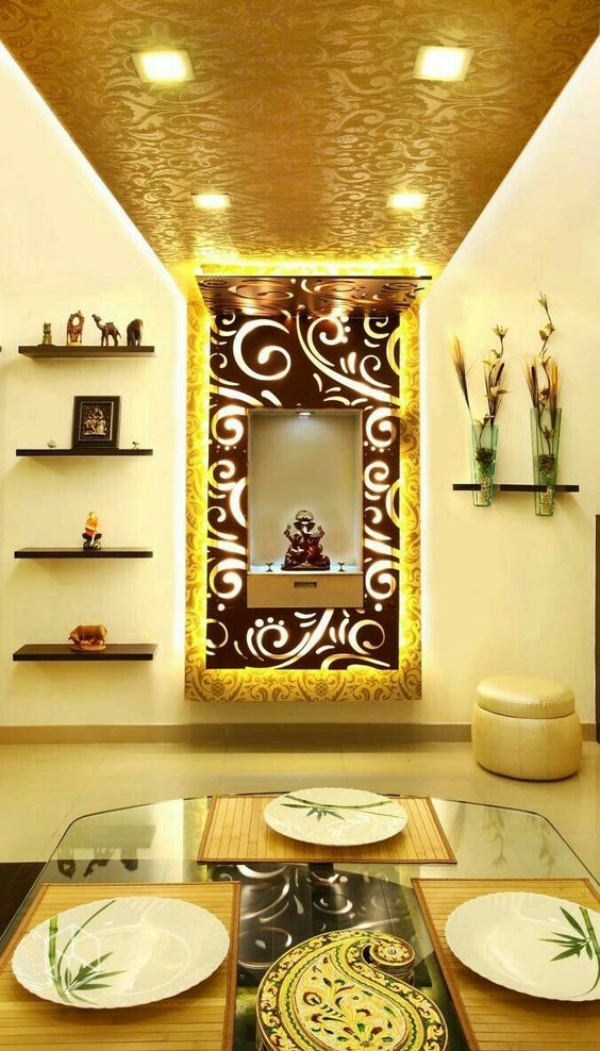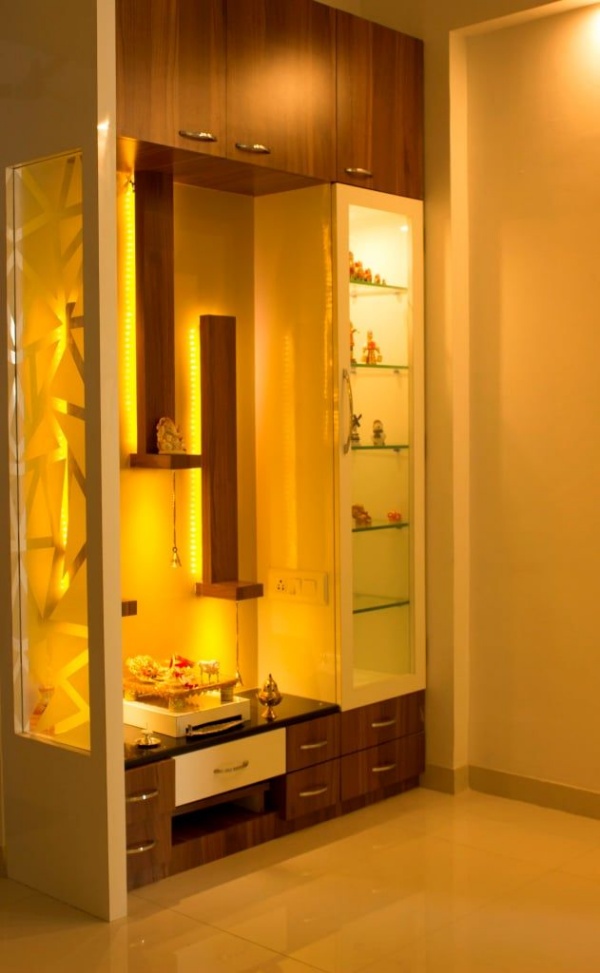 People who don't have a religious side but wish to dedicate a divine corner in their living room to bring good luck and prosperity opt for this temple design. It's like keeping a display-cum-pooja unit where you can locate this beautiful god idol along with other decorative items near it. This sounds quite a cool concept for those who favour minimalism.
8. Laser-Cut Acrylic partition for Puja Mandir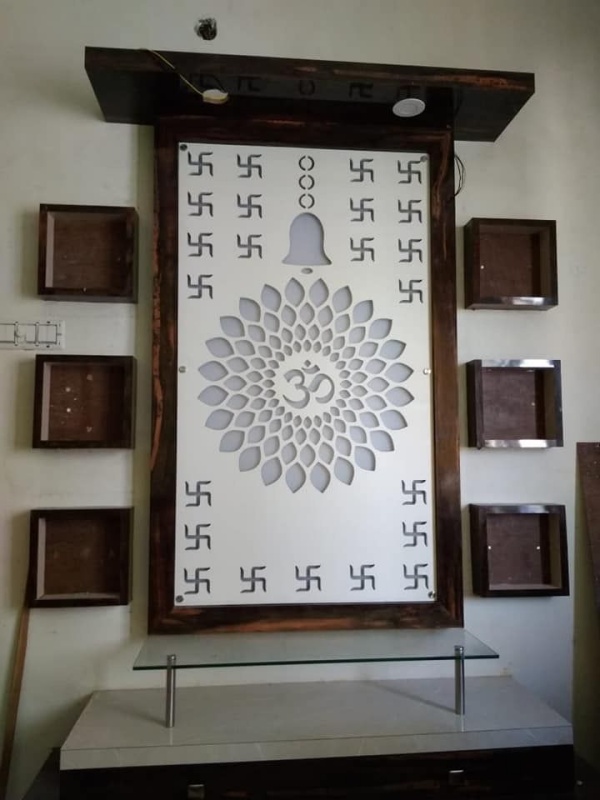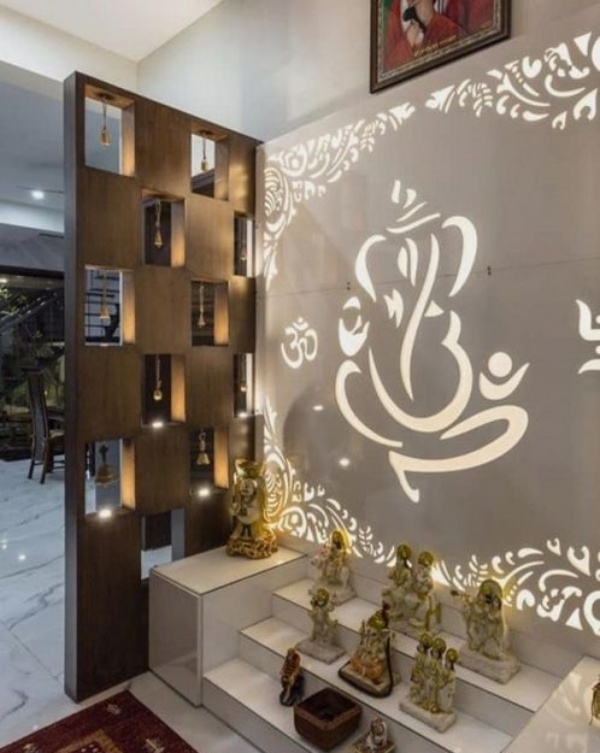 Indian minimalist pooja room decoration ideas step up by adding a modern vibe to it. Modular pooja temple in white colour with laser-cut attractive acrylic panel pop-ups is a great idea to create smart partitions. It is more about utilizing every corner effectively, and opting for designs like 'OM' could further elaborate the entire effect.
Final Say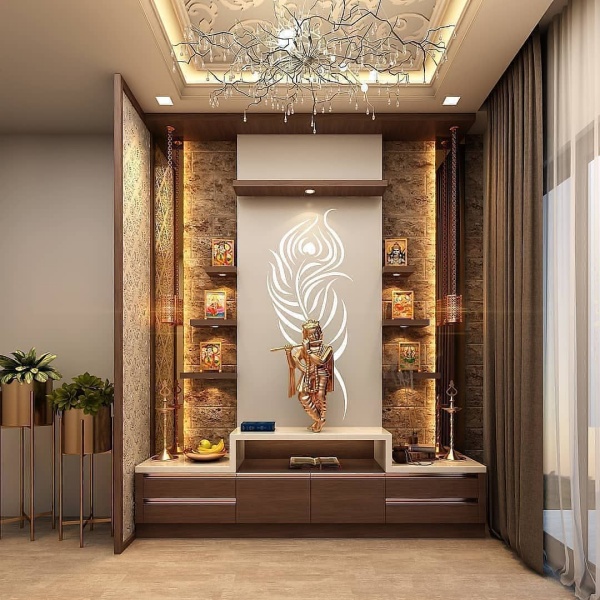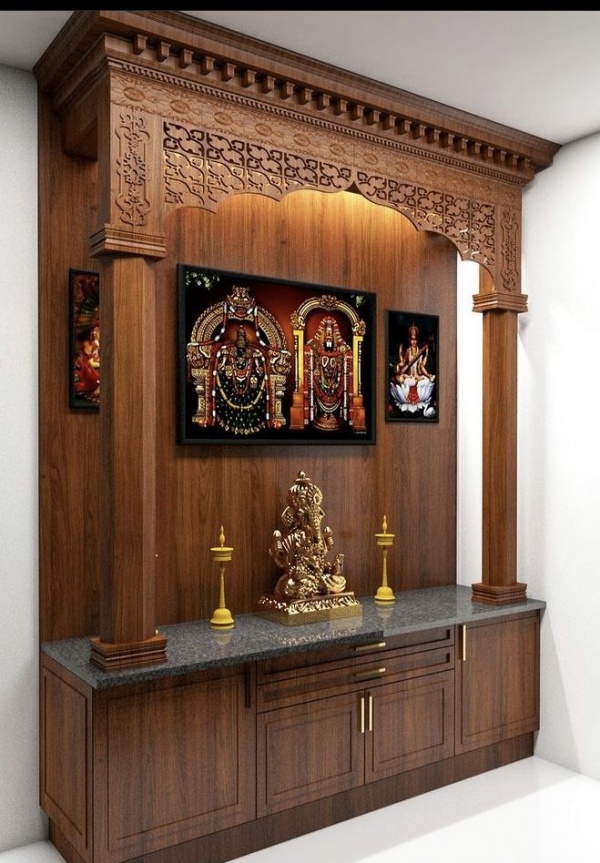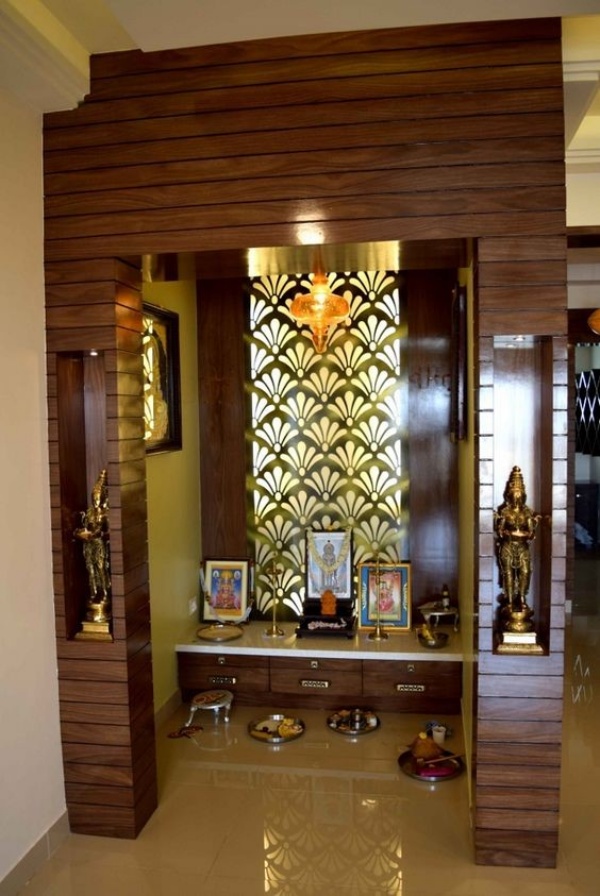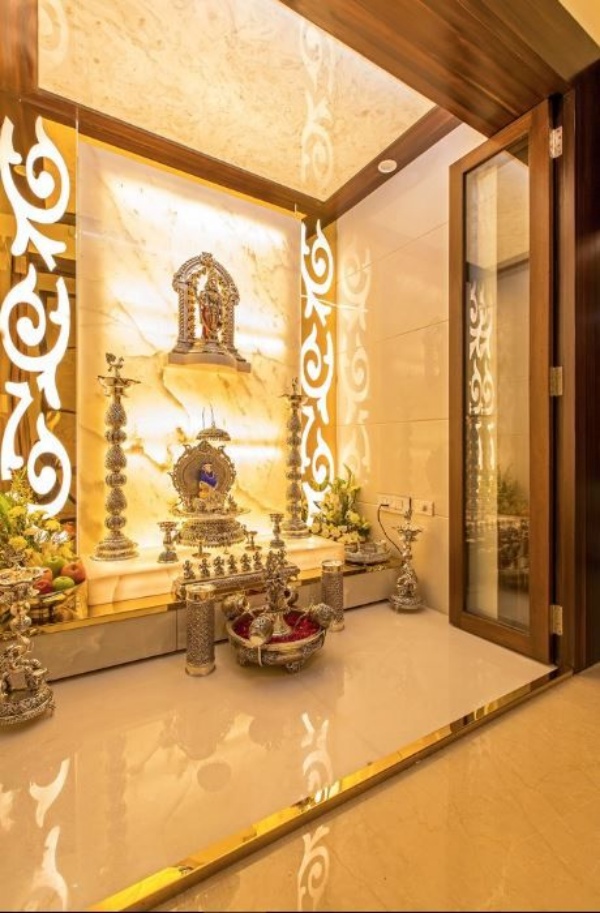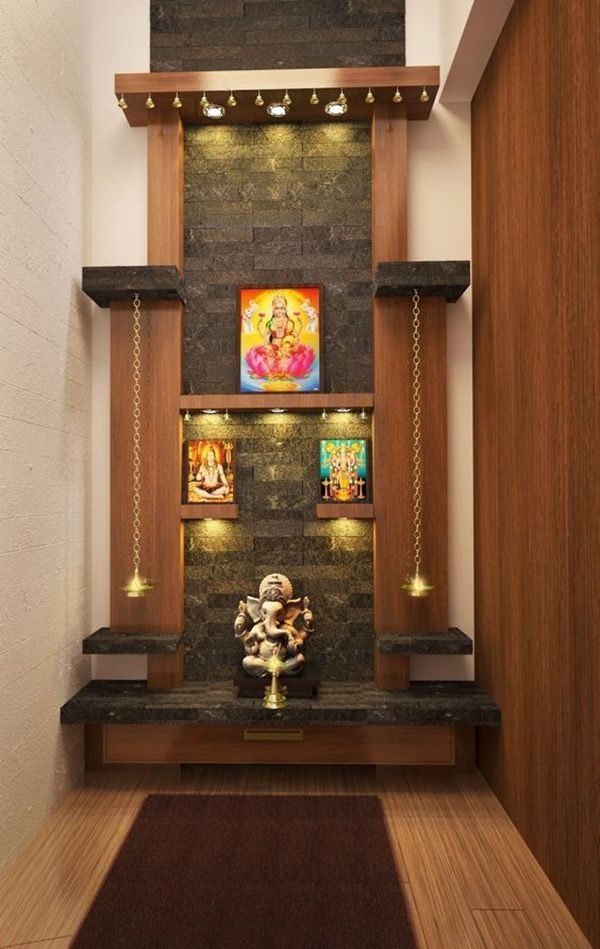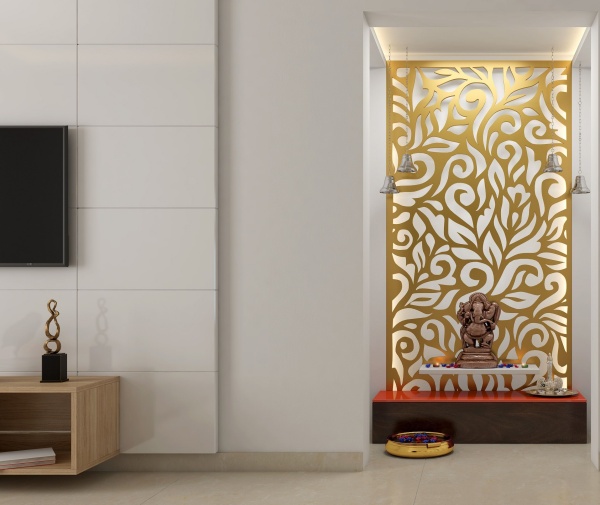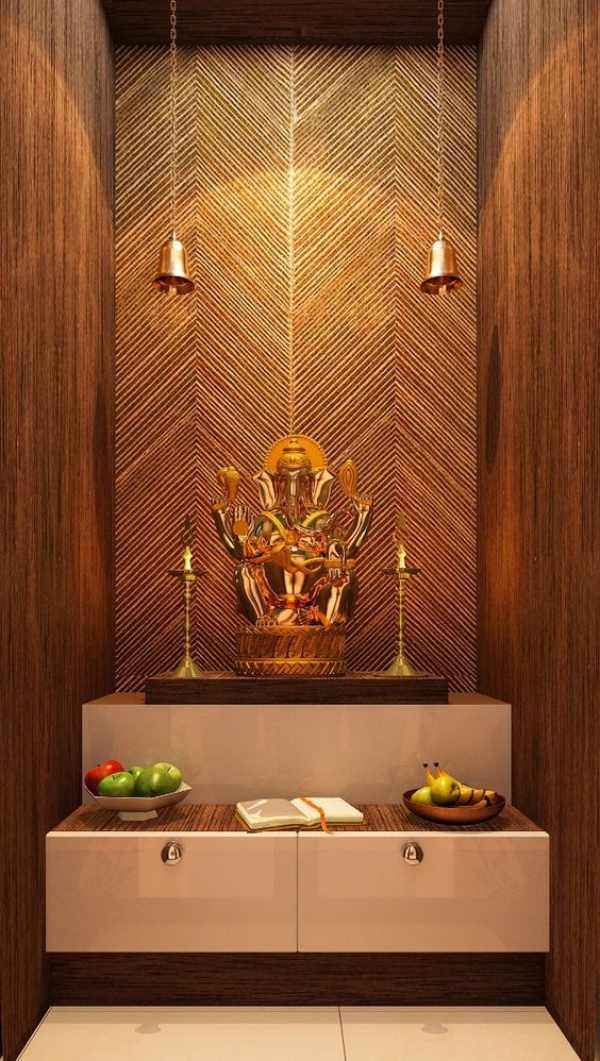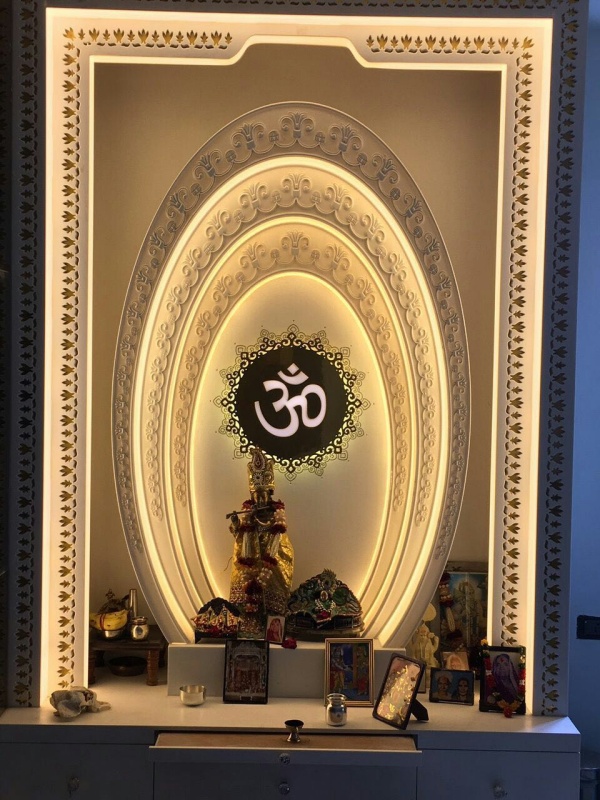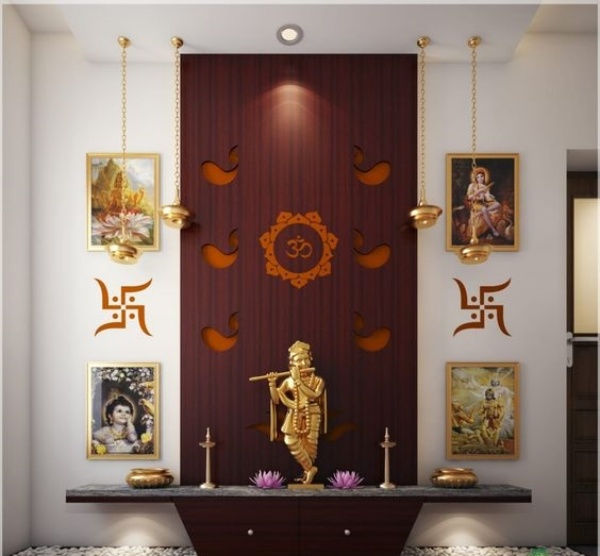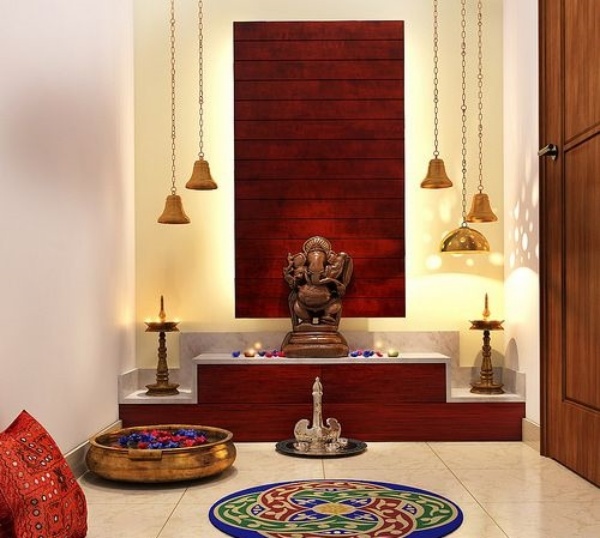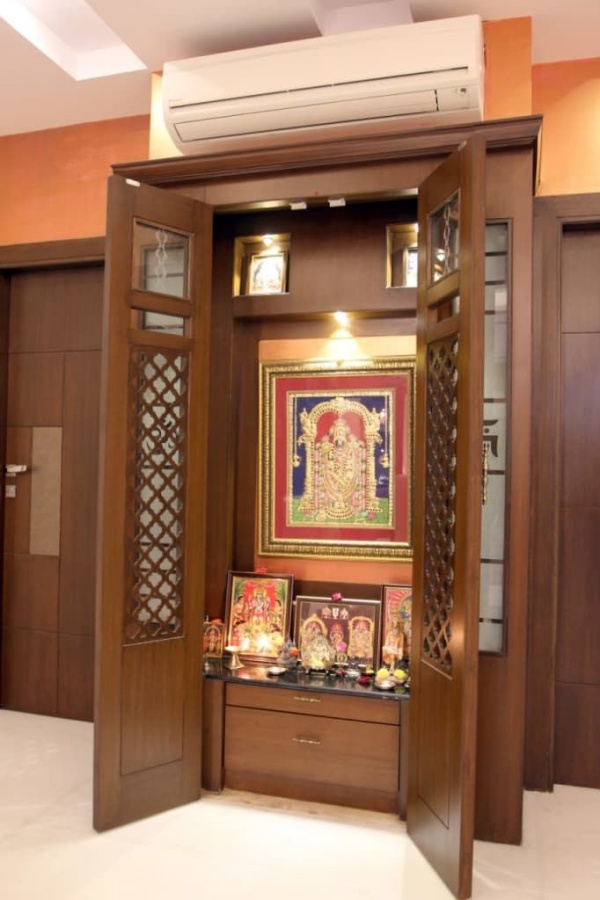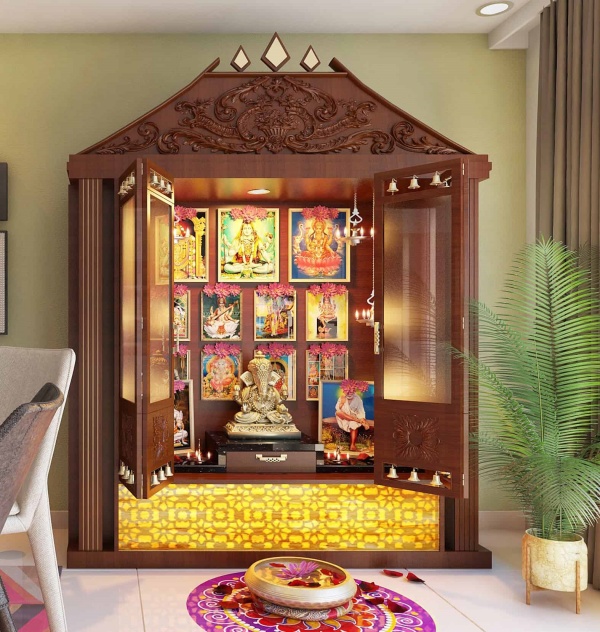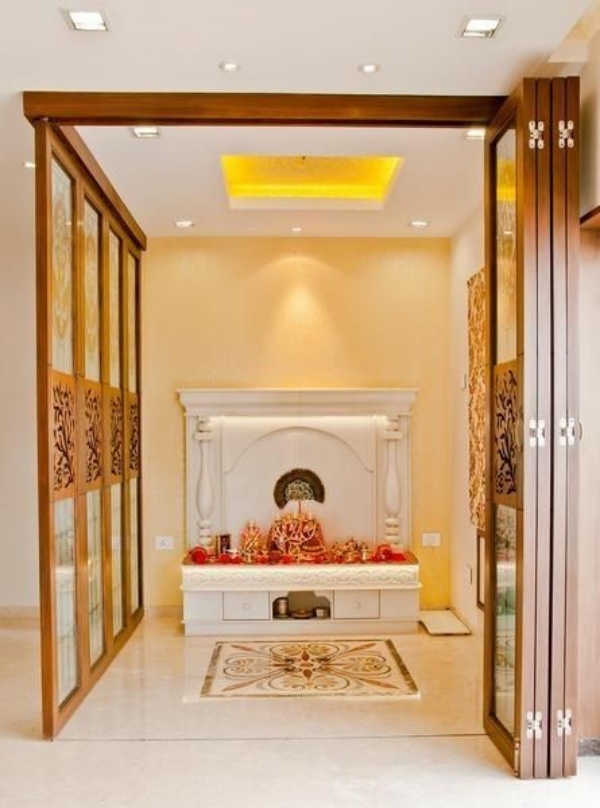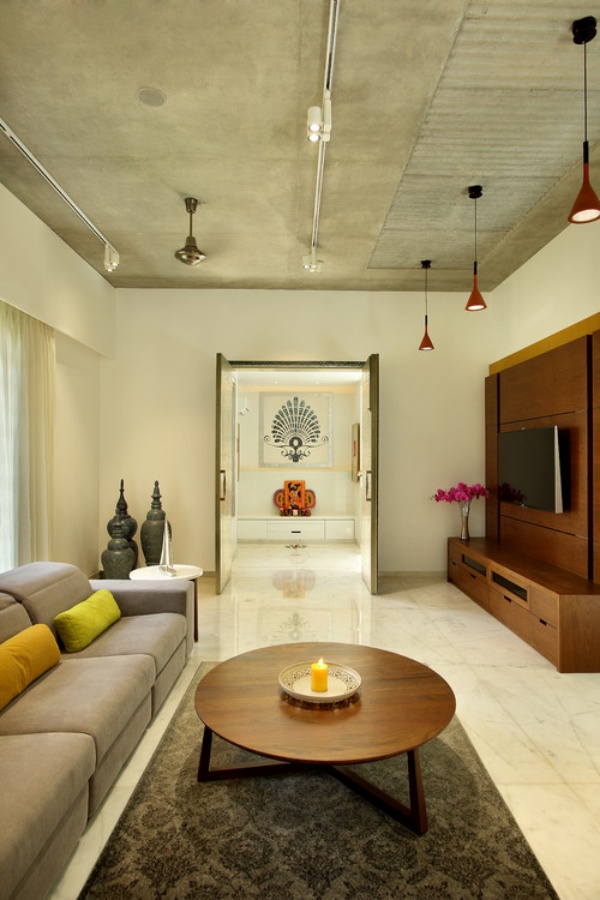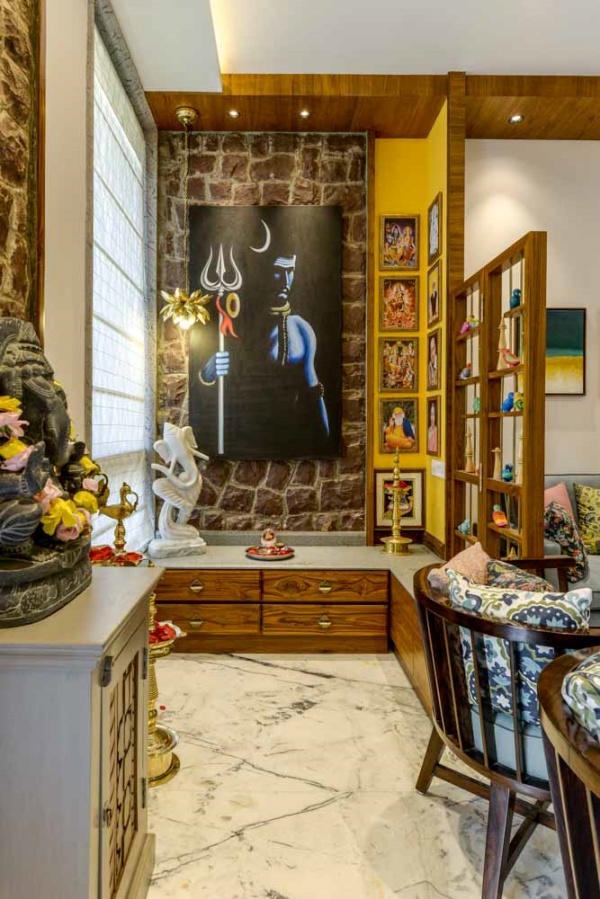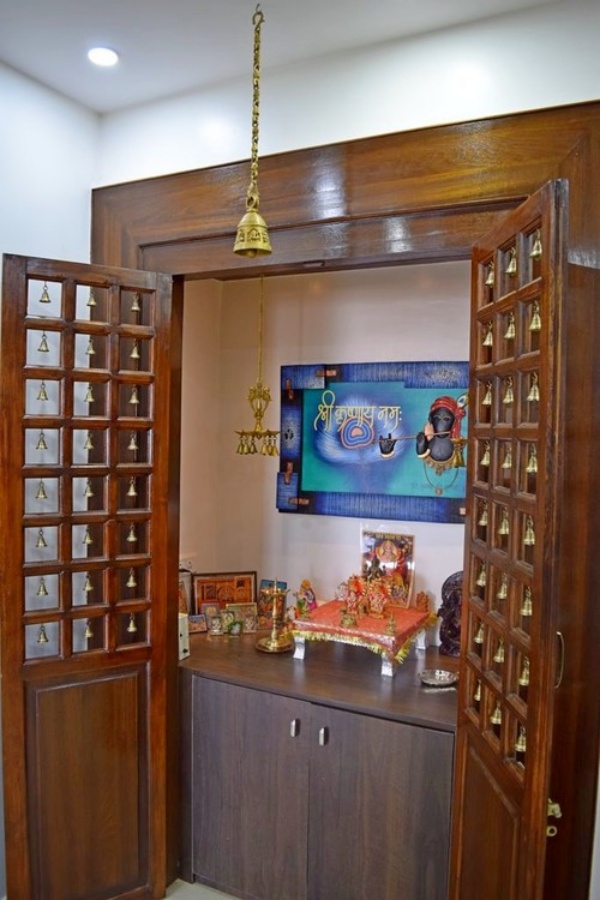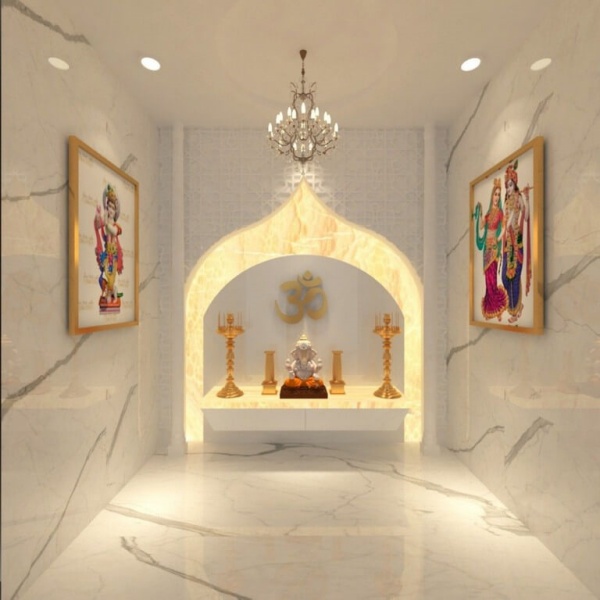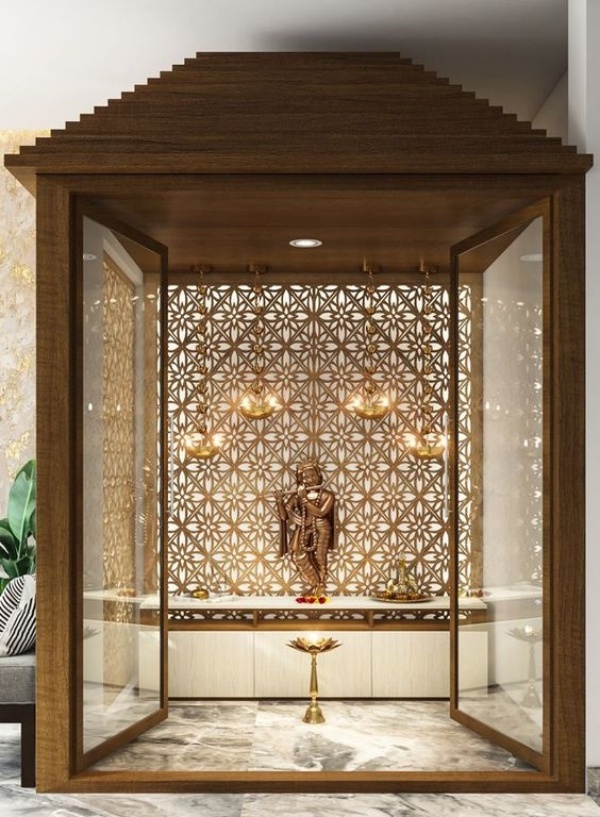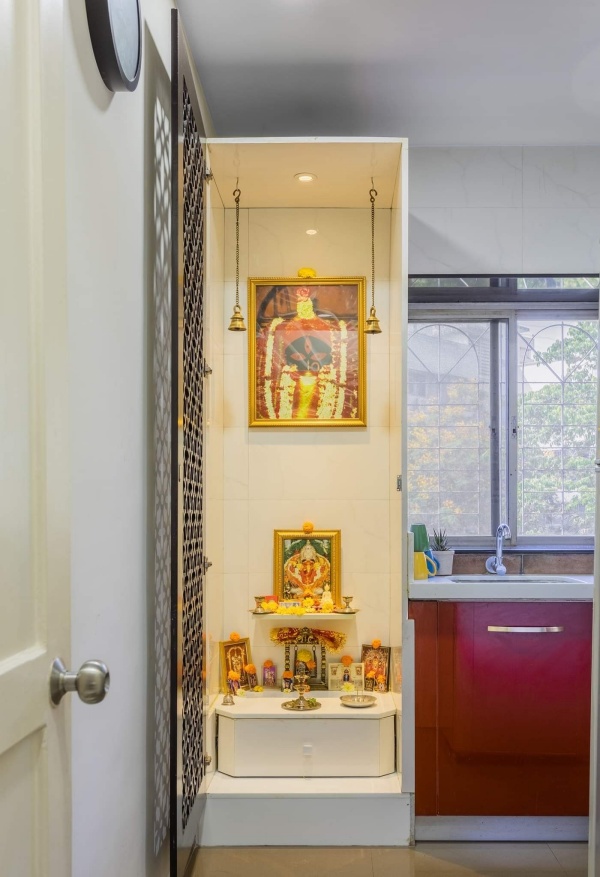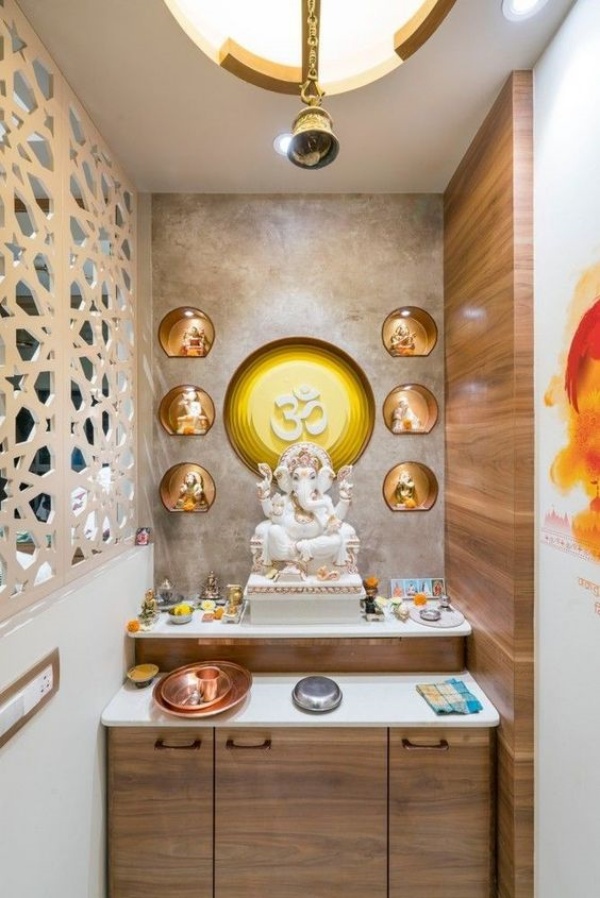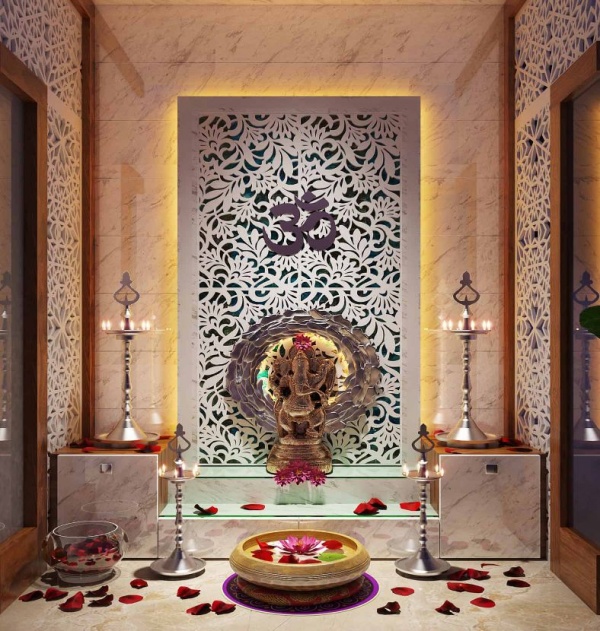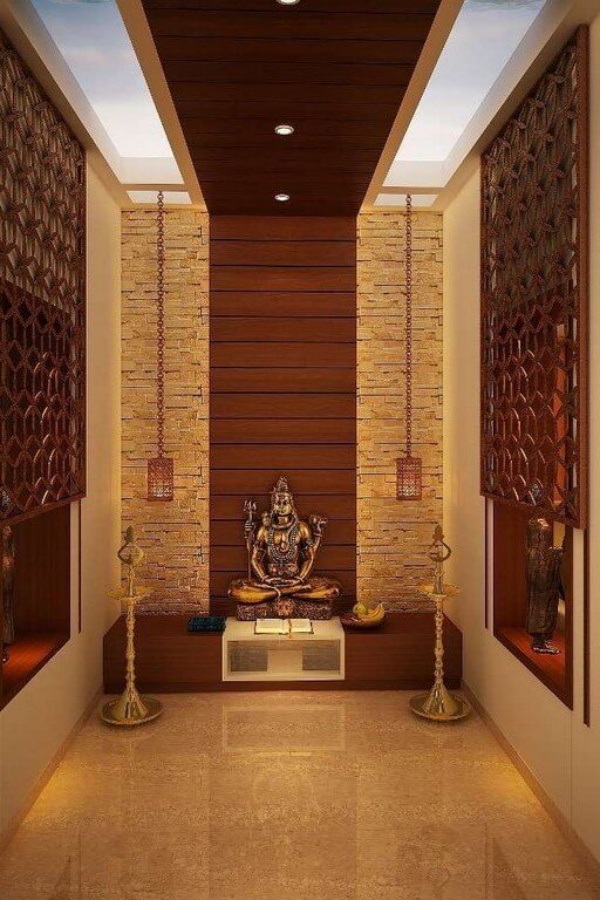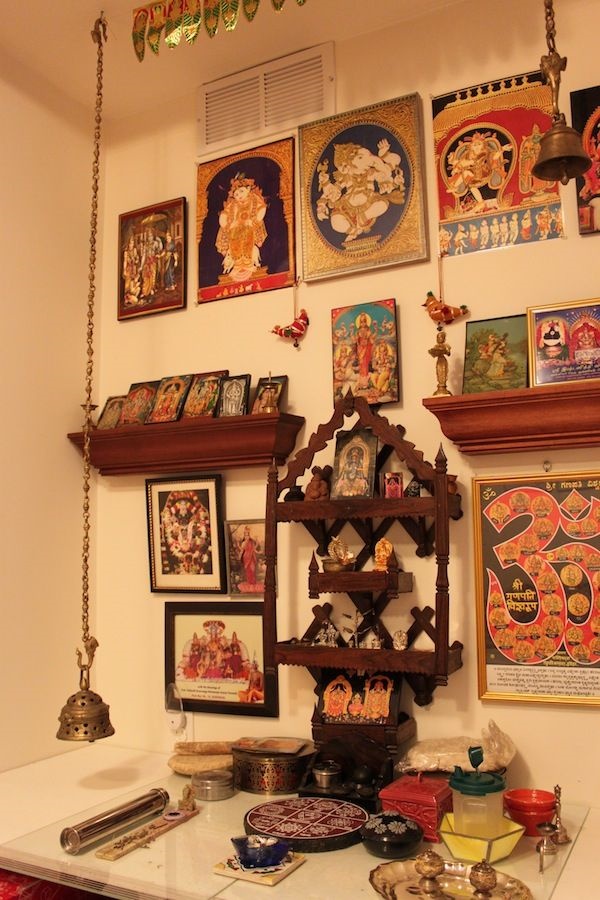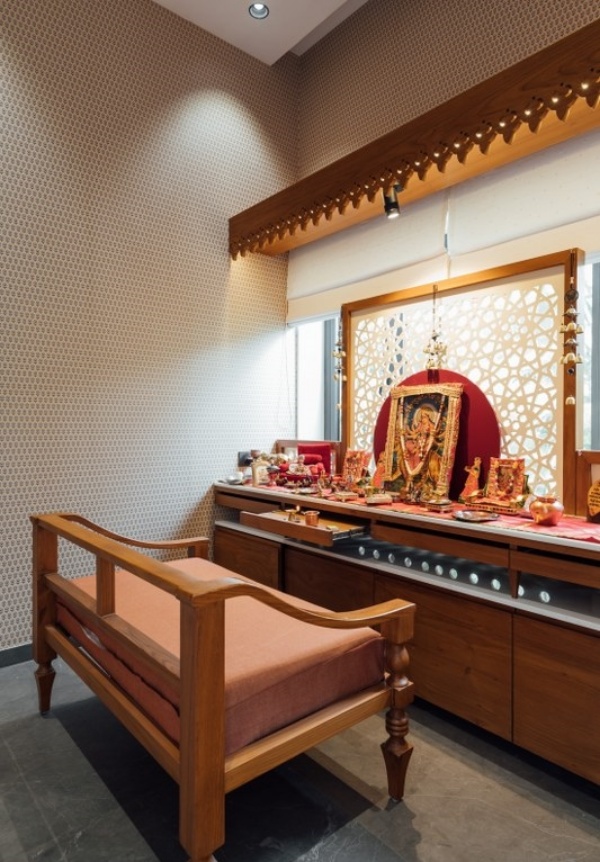 Whether weaving the marble desire into your pooja room or adding a tranquil corner with a celestial design, the Vastu-friendly pooja room appears astonishing in every shape and form. Attractive panels, interesting designs and a pinch of personalization could do marvels to the suggested Indian minimalist pooja room decoration ideas. After all, there's no boundary between imagination and creation when divinity takes up space!