Most real estate agents will tell you that kitchens and bathrooms sell houses, but what if the home you just bought doesn't have enough bathroom space to meet your needs? Or you need to sell a house with a cramped bathroom? There are ways to recreate a private space inside the bathroom without adding square feet to your rooms or home. Here are 10 strategies for accomplishing this in your master and secondary baths.
Add in-wall storage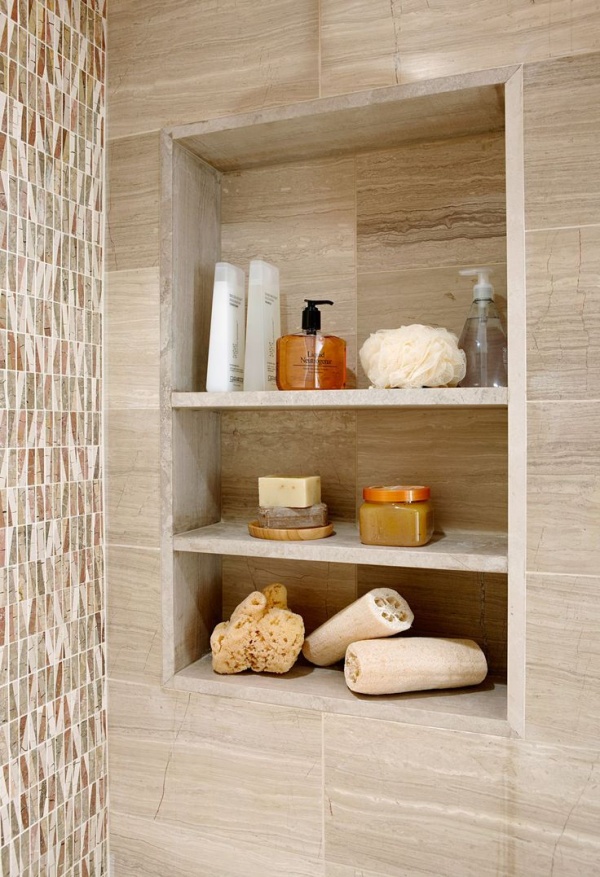 While medicine cabinets are falling out of favor in many master bathroom projects, their between-the-studs approach has given birth to a range of tall, sleek in-wall cabinets that can hold many of your items. Place one for each bathroom – or each user in a shared space – on an empty side wall.
Add u-drawers to vanity cabinets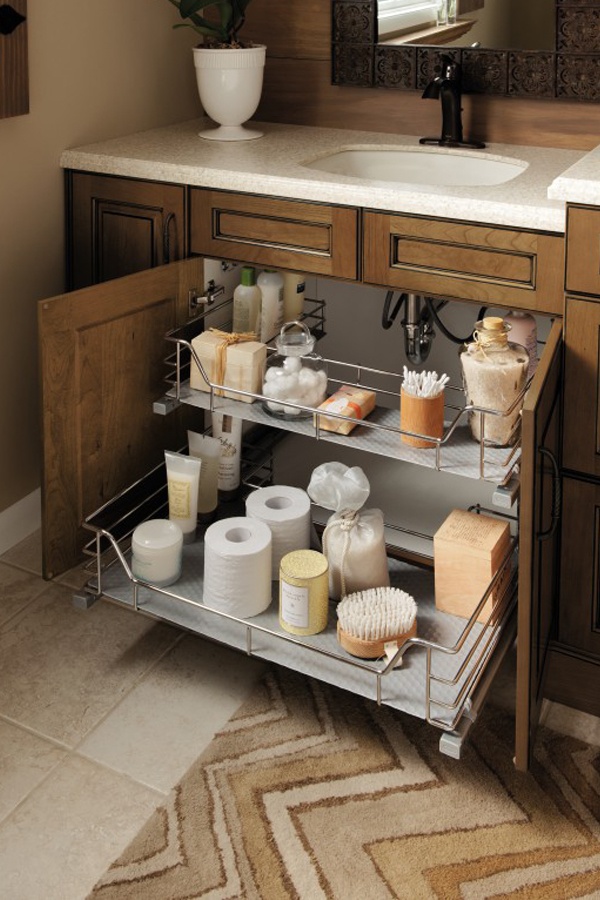 Not all vanities are blessed with drawers, making it inconvenient to store many of your toiletry items inside. A u-drawer (or u shaped drawer) that wraps around the plumbing can serve this function in many cabinets.
Above-shower storage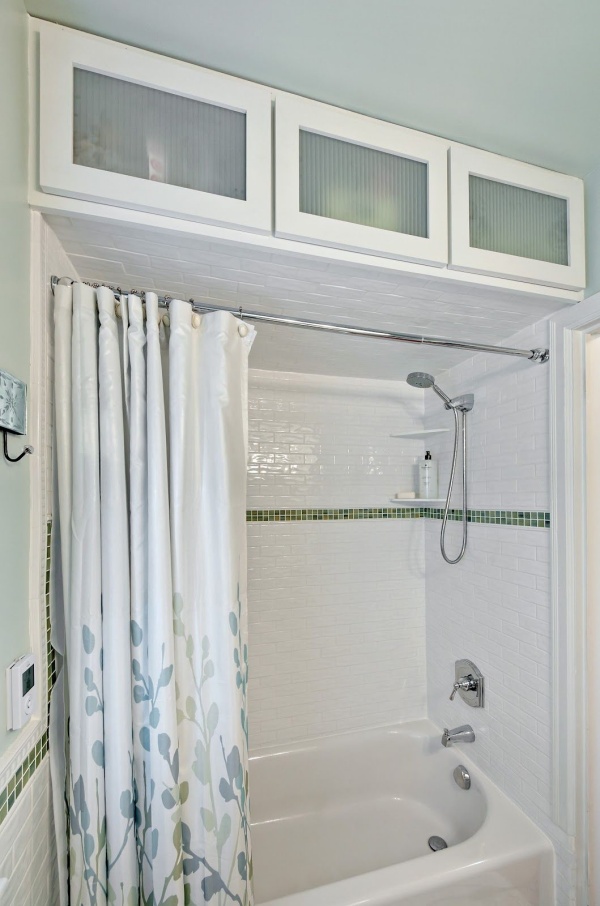 If your ceilings are high, this can be a useful strategy for holding items used less often, like warehouse store bath tissue or guestroom towels. High ceilings can help you add storage capacity.
Add back-of-door storage to vanity cabinets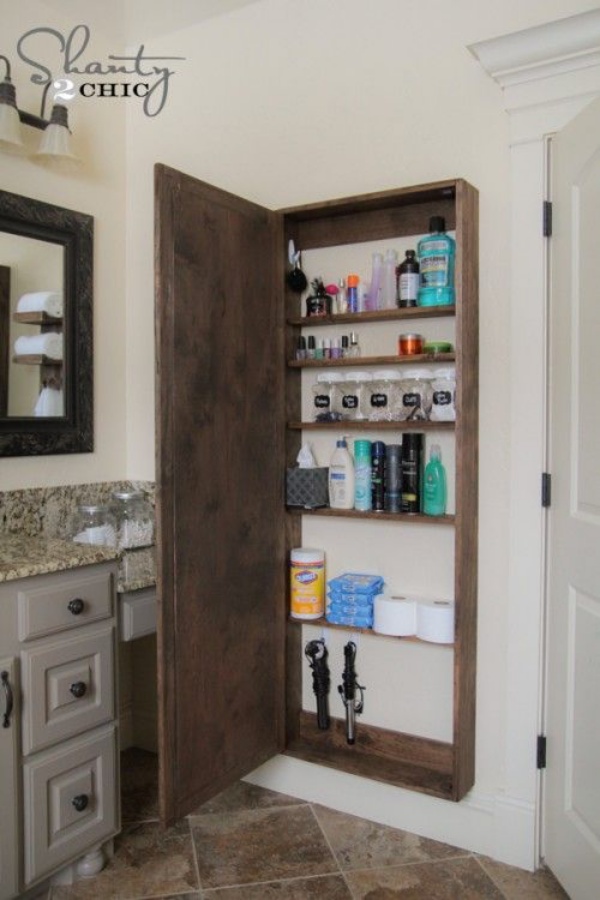 Another way to increase a cabinet's potential is by adding a storage unit to the back of the door. This can hold toiletries, cleaning items or other necessities. Make your vanity work harder with door storage.
Rail organizer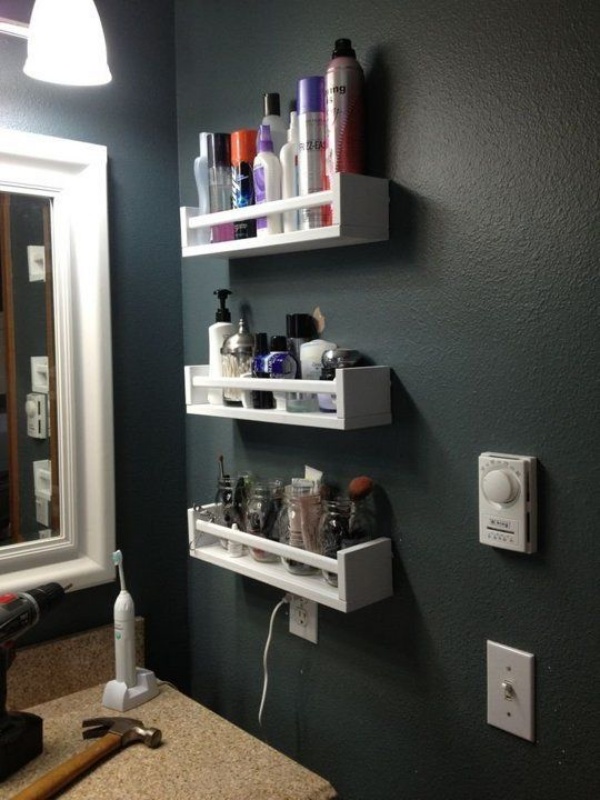 These organizers are commonly used on kitchen backsplashes to hold meal preparation tools, but can work equally well on a tub wall, especially in a shared bathroom and one of the amazing ways to recreate a private space inside the bathroom. Personalize storage near the basin for one or more users.
Swap hook or peg racks for towel bars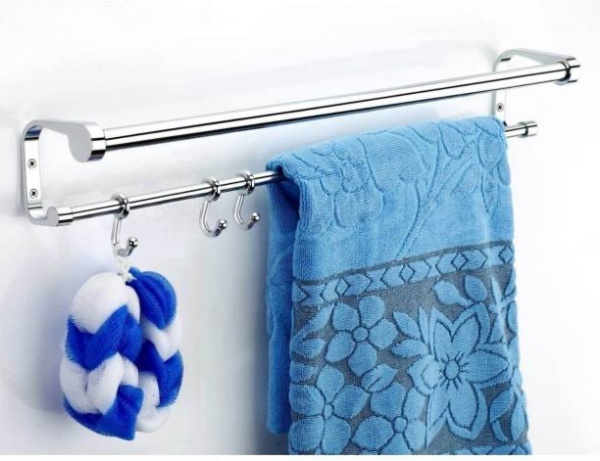 A towel bar holds one bath sheet in the same wall space that can accommodate three or four on hooks or pegs. Towels don't require bars. Hooks and pegs hold more.
Add a towel rack


Another way to store towels in a small bathroom is with a hotel-style towel rack mounted high on a shower wall beyond the spray zone. Not just for hotels, these racks can add towel storage to your home's bathroom.
Replace a standard door with a barn door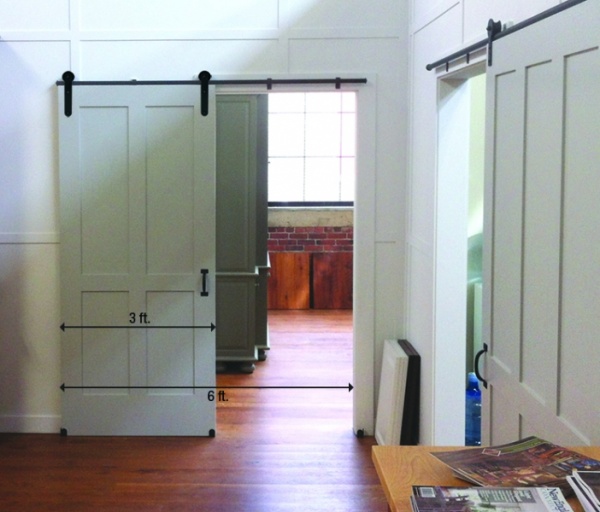 This will free up floor space that would otherwise be required for a door swing, but you'll need free wall space on the adjacent room or hallway to make this strategy work. A pocket door frees up bathroom floor space.
Freestanding storage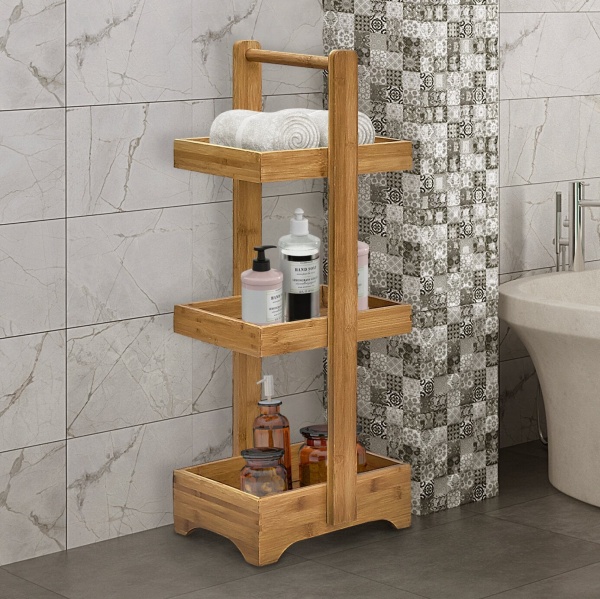 If you have extra floor space, whether by changing your door or because the builder skimped on cabinetry, you can easily add a free-standing storage cabinet, ottoman or cart. If there isn't a free wall, a floating or console vanity will typically accommodate storage baskets below. Floor space can become storage space with furniture.
Eliminate storage dead zones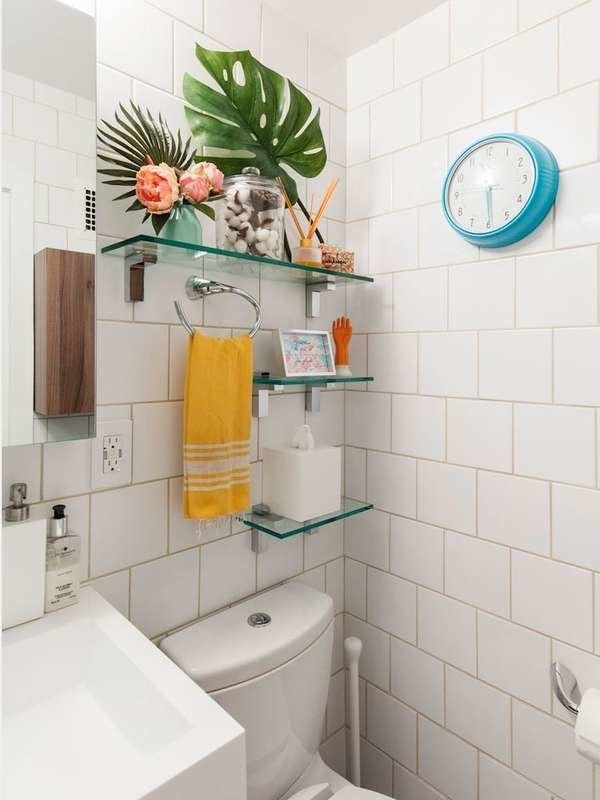 Many bathroom vanities have false panels in front to accommodate sinks and toekick space at the bottom. False panels are easy to replace with tilt-out trays that can hold a toothbrush, floss and other small items. These are also common kitchen organizers that work well in bathrooms. Toekick drawer storage is harder to add after-the-fact, but can be a good option for especially tight spaces and hiding valuables with touch latch to disguise its purpose.
Take advantage of the inside of your doors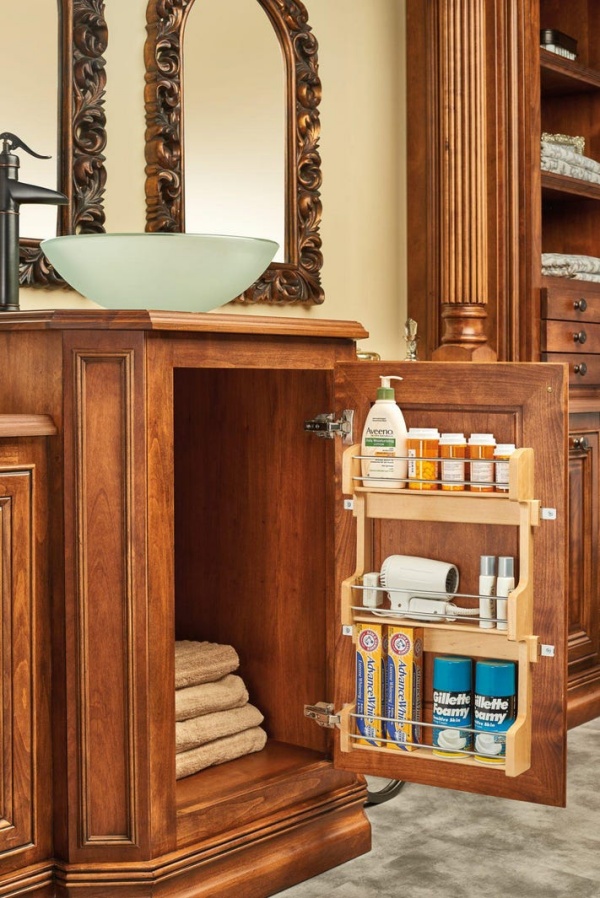 If you're looking for small bathroom storage ideas, consider gaining extra space by using the inside of your bathroom door. You can purchase over-the-door organizers to store small items such as deodorant, toothpaste, and shower gels. Hooks are also ideal if you have cleaning cloths and face towels. This gives you so much extra storage space without taking up any more footprint. 
The inside of your cabinet doors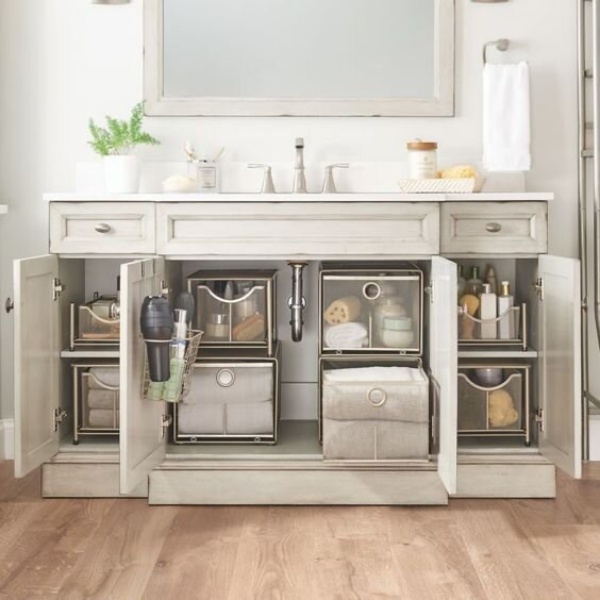 A clear door organizer with blue hairdryer, hair product and brush – how handy is this? Create a hair-styling station on the inside of your cabinet door with this nifty storage idea. By using your cabinet doors, you can easily access your items and hide them. You'll never have to search high and low for your hairbrush again.
Hang hooks to keep necessities within easy reach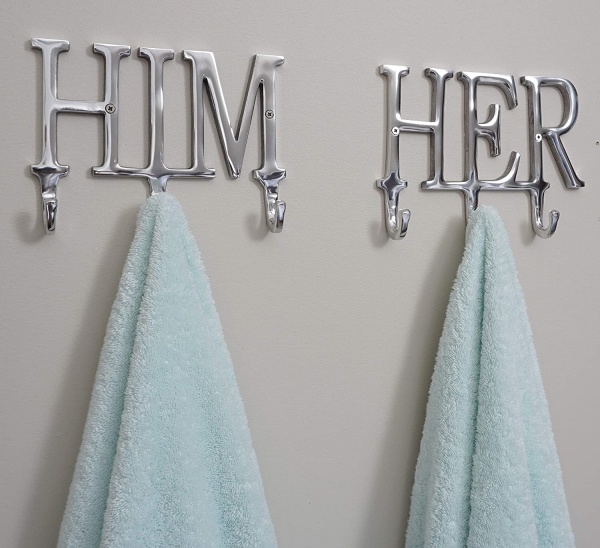 If you've got an empty wall and you're trying to decide between extra storage and a decorative new addition, meet in the middle. Positioning horizontal hooks and then hanging baskets and bags which you can use to house many an item really gives you the best of both worlds.
Keep your most-used products at eye level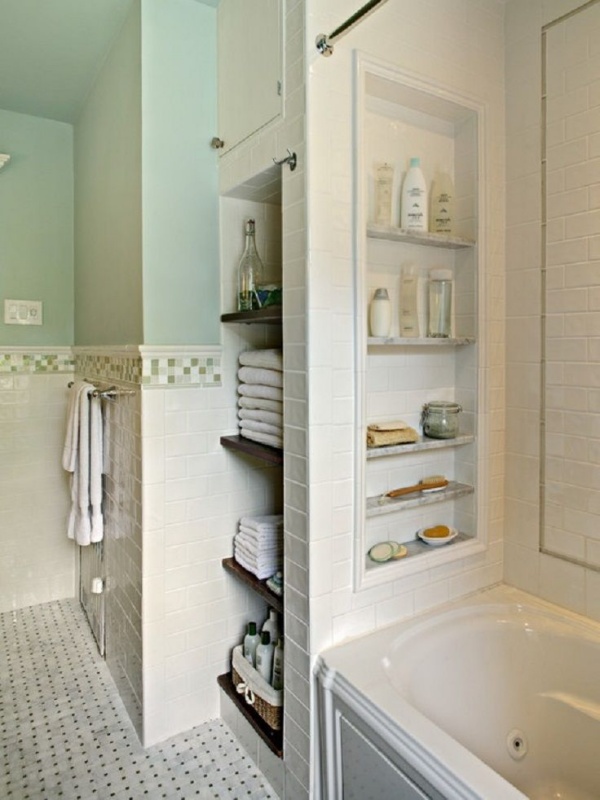 As a general rule when organizing your bathroom shelves, keep the items that you use every day nearest to eye level, so they're easy for you to find, grab, use and put back. For items not used daily, place those items in lower drawers or higher shelves in a closet.
Use drawer dividers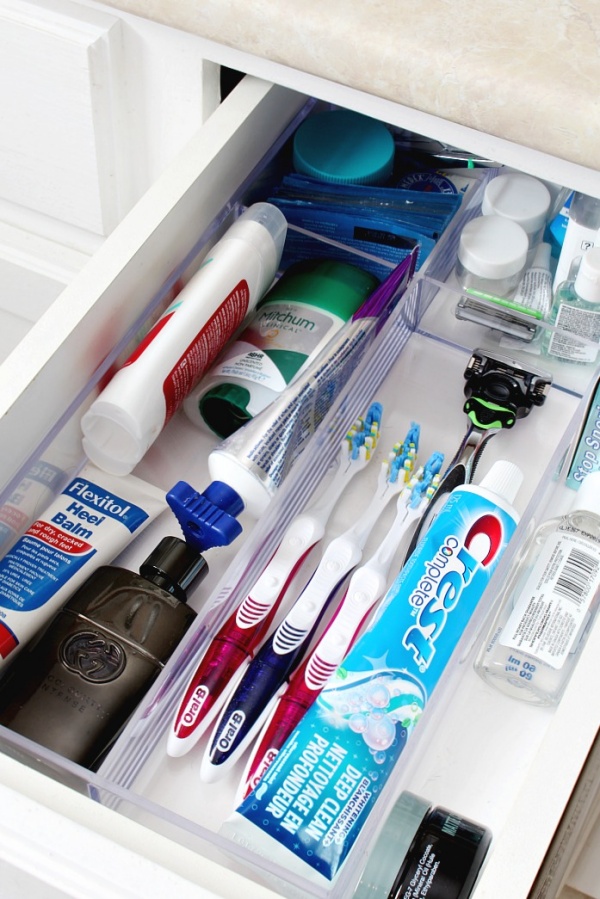 It can be easier to organize your drawers with the help of drawer dividers. A good set of drawer dividers can make it quicker to store your items and easier for you to find them. You can use plastic or acrylic dividers to help you avoid storing items together or on top of each other.