It is very necessary to engage your kids into different activities. If they start playing different sorts of brain storming games, or they get engaged into different craft activity it is very good for their all over development. But all of these activities need a good plat table where your kid can run the train on the tracks or they can draw their minds out with the color crayons. So what if you start your own DIY play table making and present it to your lovely kid? You might have thought it often but never ventured due to lack of ideas. So here we present 10 cool DIY play table ideas for you which will help you in your mission.
Cool DIY Play Table Ideas for Kids:
1. Play table from a simple low table: All you need is a low table of a medium size so that you can provide more space to your kids. Make it vibrant and colorful because your kids don't like a dull looking or monochrome table. Draw different animals and birds onto it or even you can cut those from any paper magazine and glue them onto the table. And you're done.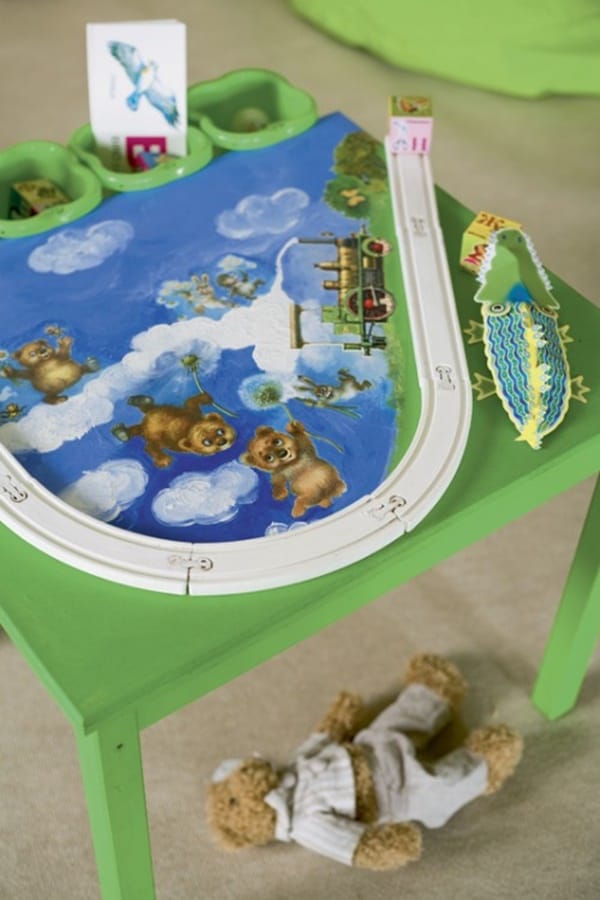 2. A play table with a chalkboard top: Now how cool is this! If your kid is a born painter and loves to paint all over the walls of your house this table can come at your rescue. Buy a normal table from any shop and change the top of it into a chalkboard top. Buy your kid some chalk pencils. He will love to draw his mind out on this and will even love to organize all of the legos.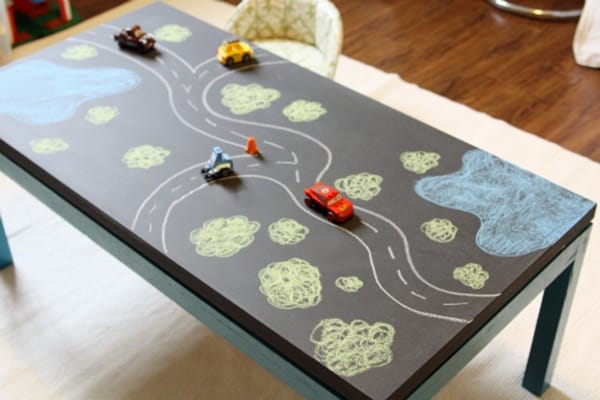 3. Play table with road tracks on it: Most of the kids love to run cars and trucks. And the whole day they make sounds like 'bnooooooo, woooooo' as if a truck is running. So just to encourage him you can make a DIY truck or car table for him. Start with any normal table and paint road tracks, grass lands and ponds on it to make it look real. This tutorial comes at your rescue.
4. The ABCD play table: Well what is it now? Well have a table. Give it a wooden finish. Create a template of wood letterpress type and print it out of your table size in multiple sheets and then transfer that on to the table. Just enjoy the finished look.
5. DIY water table: The normal water or sand tables you get in the markets are of high costs so you better make it yourself. All you need is a sterilite 41 quart storage box with lid, some lumber, saw and nails.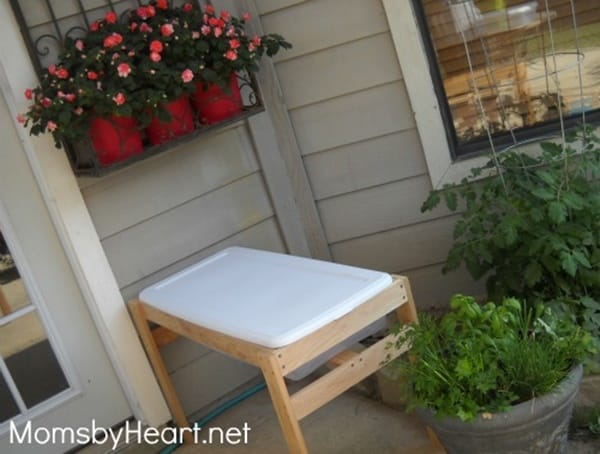 6. The outdoor play table: This is the easiest table to make and you can use the scrap materials available in your house. You don't require many things to make it and the time needed is not also much.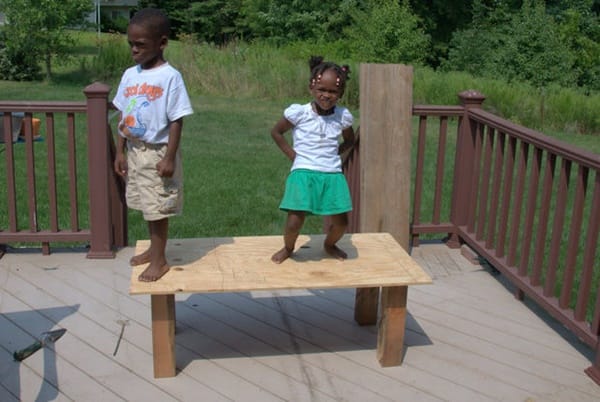 7. DIY rice table: This time make a simple rice table for your baby if your baby likes to immediately sink his hands into rice when he sees it. All you need is a 15-20 lbs. rice bag, a medium sized storage container, four legs and bolts, washers & nuts.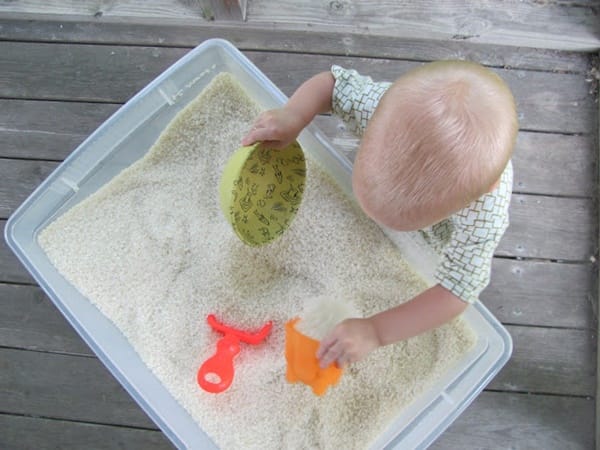 8. Pottery Barn inspired DIY play table: Buy a low table from the shop or if you like to build things then make a sturdy table of your own. Then paint it in bright chocolate color. You can add two drawers just under the table top where you can store all the toys. And your little man is surely going to like it.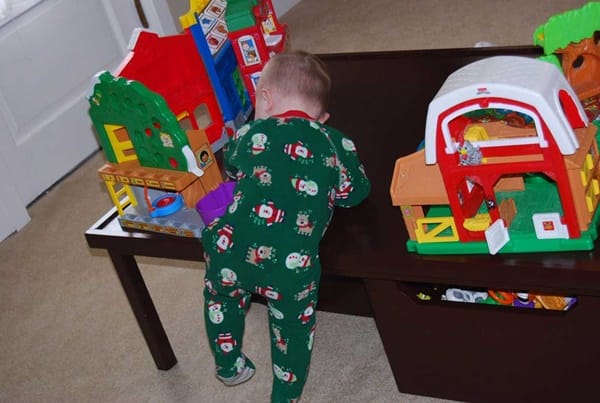 9. The flower top table with thumb chairs: You can make this fun and cute flower top table and DIY thumb chairs using oak plywood or pine wood. It requires not more than 6-9 hours. Paint the table top with bright color if you like and give it a flowery shape. You can also make an inbuilt drawer where your toddler can store his playthings. This will serve them as a perfect coloring station.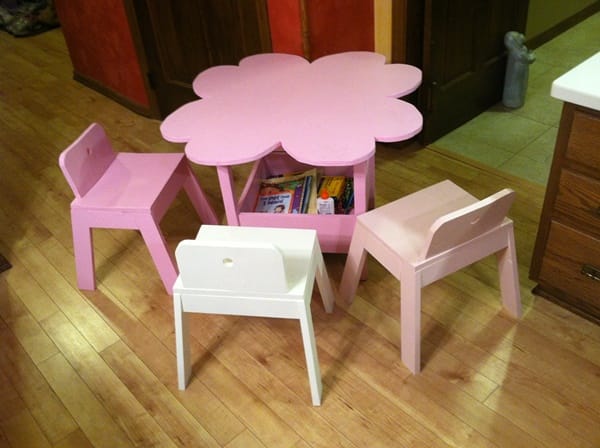 10. Homemade magnetic table: For this you need recycled cardboard. You need to cut a hole at the top to fit a plastic tray and cut another hole in the front of the box so the baby can have access to the bottom.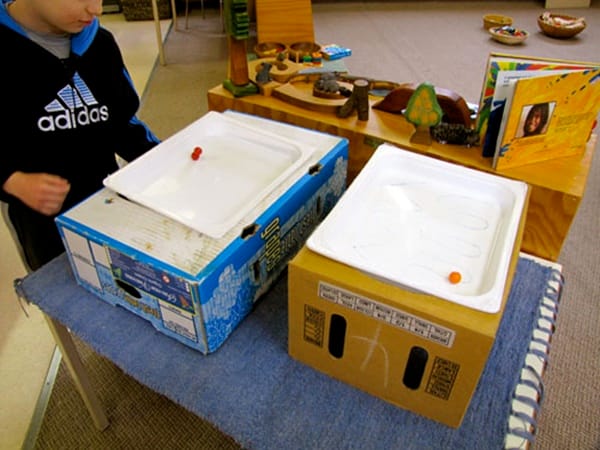 DIY play tables are so fun that you can engage your kids in games as well as drawing, paintings and many more. Train your kid to arrange all his play things inside the drawers of the play table. For snatching his attraction paint the table in bright and vibrant color and make it sturdy. Your kid will enjoy spending hours after hours at this table. And moreover it is affordable and less time consuming to make one. All the best guys!