Probably you are looking for a short time craft idea that you can easily finish on your next one day holiday. Yes, it's easy and we can come up with something that is really interesting. Actually, crafting ideas is all about creativity and if you have that you no need to worry about getting a project done. You all know that we have brought various articles over time on crafts and here you will be some ideas about the craft project you can do within one day and even within some hours. Don't miss to get the ideas.
Craft Project you can do within One Day:
1. A cheap and Chick Pouch: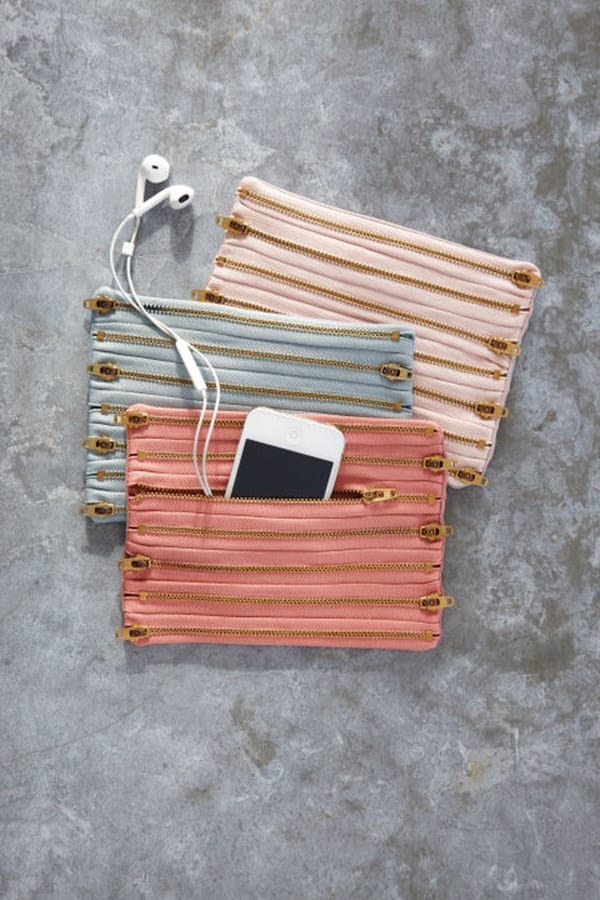 This is an amazing cool pouch case idea that can be made by just stitching some zippers. It's really easy and if you have just some basic knowledge of stitching you can go through this project.
Steps:
You will have to take 7 seven inch long zippers on your work surface which should be positioned horizontally with long sides touching each other. Now, remember that each of the zippers should be one the opposite side as shown in the image.
Now with right sides facing, pin together the top edge of the bottom zipper and the bottom edge of the zipper above it. So repeat this step until all the zippers are pinned to form a perfect rectangle shape. You will have to find a matching thread and start machine stitching the zips together leaving a seam of about 1/8th inch. Cut away the excess thread and iron the seam and open the center zip.
Take a matching fabric of size 6inch wide and 8-inch length and position the zipper rectangle on it with right side facing. Pin all the four edges and sew it leaving a ¼ inch seam allowance. Cut away any excess fabric and turn the bag right side out and iron and you are complete.
2. Painted Tin Can Flower Vase: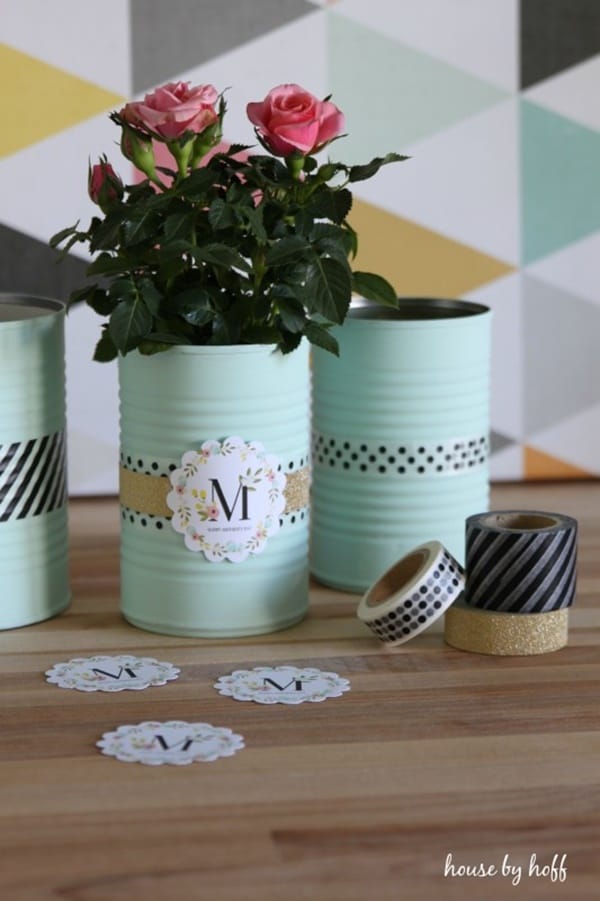 If you have some unused tin cans left over in your store room, just take it for a beautiful recycling that will bring a beautiful essence in your home.
Steps:
First paint a tin can with chalky paint and it will take just 10 minutes to complete. Once it's done, leave it in an open airy space to dry out fast.
You will have to get some attractive washi tapes used for crafting. You will get that in any craft store. In addition, take this printable and take out a print out of it. This two things will help you to decorate the tin cans. You can also stick any other printout if you want to.
Take some flowers from your garden or buy some little size pot roses from a florist. Decorate the tin cans as shown in the picture. It is so easy that your kid can also do that. But it looks so beautiful.
3. Nail Polish Marble Mugs: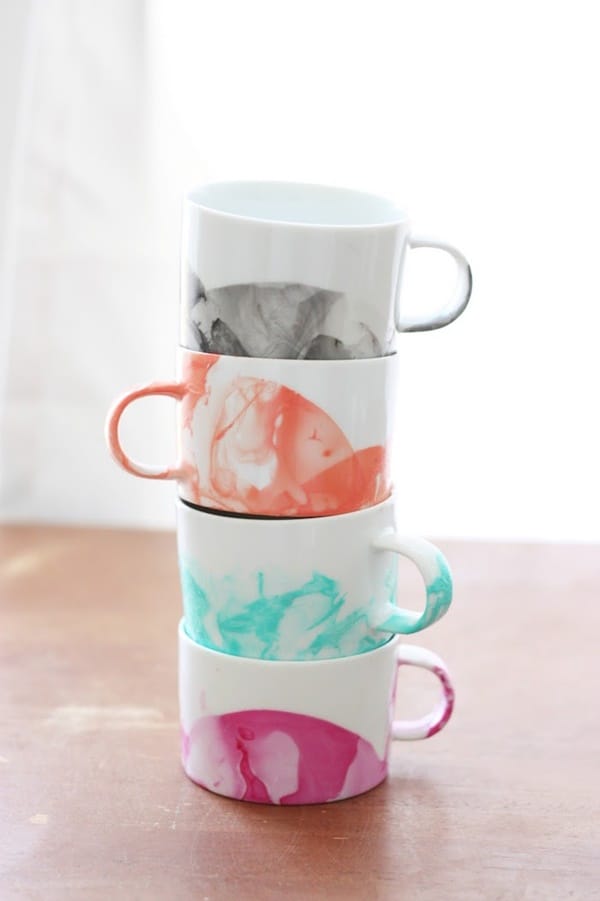 Are you bored of that plain white tea cups? Here's a beautiful way to give that a new look. You will just need your cup, toothpicks, nail polish and a container. That's all and you are going to a beautiful experience.
Steps:
Fill the container with a hot water as we need it to paint the marble finish in it. The hotter the water will be, the more slowly it will work leaving a beautiful print.
Take the nail polish bottle near the container and drop two of nail polish on it. Remember to drop the nail polish from a shorter height near the water. Don't drop it from a big height as the nail polish will directly go to the bottom of the water. It is a basic science.
Now quickly take a toothpick and swirl the nail polish in the water.
Dip your mug directly in the water and all you have to do very quickly.
Place the mug on a paper towel to dry and you're done.
4. DIY Washi Tape Wood Pallet Coaster: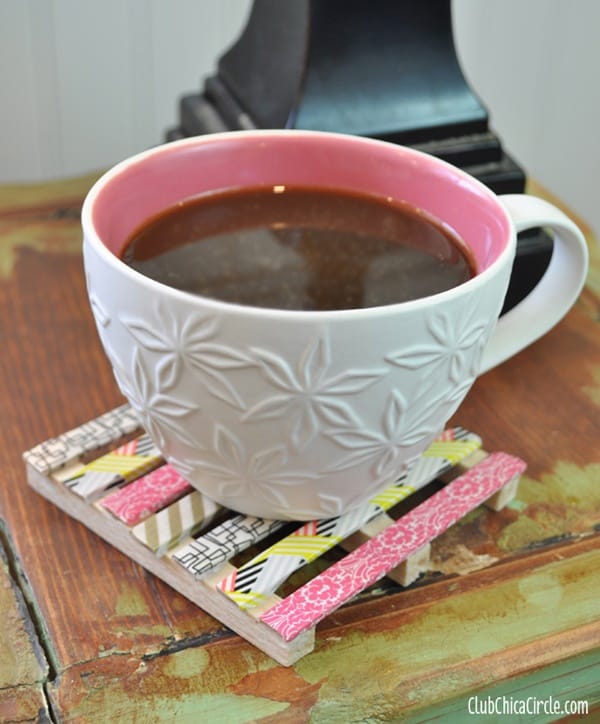 Yes, this project looks very professional but don't worry it's very easy to make out and you can finish it within a day. Get an idea of it.
Steps:
First of all, you will have to arrange all the ingredients needed to make out this project. So you will need wood craft sticks, Wire cutting pliers, ½ inch square balsa wood rod, sandpaper, craft knife, hot glue gun, washi tape, mod podge, and scissors.
You will have to cut the pieces of woods and use 4-inch sections for both the craft sticks. Before cutting the woods, mark it with pencils. Now use the wire cutting plier to sniff of the ends of each of the craft sticks and after that rub the ends with sandpaper to make it smooth. Then cut the balsa wood pellets with a knife. As you marked them, now it will be easier for you to cut. Again use the sand paper to smoothen the sides.
Now take the washi tape to decorate the coaster. Stick it to the craft sticks with a glue gun and cut the excess with scissors.
Then you will have to glue up the center stick that is the pellets to the craft stick as shown in the image. Take the mod podge and apply a coat whole over the coaster to seal everything.
5. Mason Jar Sewing Kits: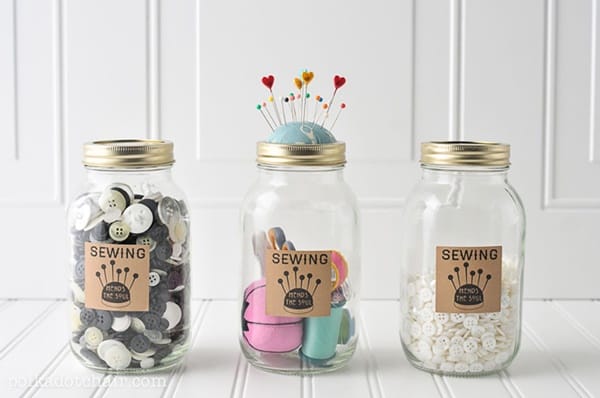 If you really love sewing and want to do that in an organized way, it is a very good idea to reuse your mason jars to make a sewing kit that looks cute and beautiful. It's very easy and can be made within an hour or two.
Steps:
Take the mason jars and clean them so that it looks clear. Now you will have to buy Avery sticker labels to stick on the jars to add an extra look.
Now fill the jars with necessary equipment that are needed to be included in the sewing kits and then stick the label so that the jars look very attractive. To know more about this project, click here.
Crafting is a very good habit and is a great way to spend your boring day. Sometimes, we do spend a very boring holiday or weekend. Crafting can remove all those boredom and make your day very interesting with some amazing experiences. But as you got some idea, you can easily go for a craft project you can do within one day. Ignite your inner creativity and stay happy.