Knowing that you're pregnant is one of the most beautiful moments of any parent's life. You immediately think about what the next nine months will bring and what you need to do to get your life ready for your little one. And if you get the news at your first ultrasound appointment that it's actually twins in your tummy, you're likely overwhelmed with joy, anxiety and lots of questions. The first thought most expecting twin parents have -"I need double of everything now!" In some cases, this is true, but there are also plenty of products made specifically for twins. When setting up your twin baby gear check out these items that are guaranteed to make your first year as a new parent go smoothly.
Baby Jogger City Mini GT2 Double Stroller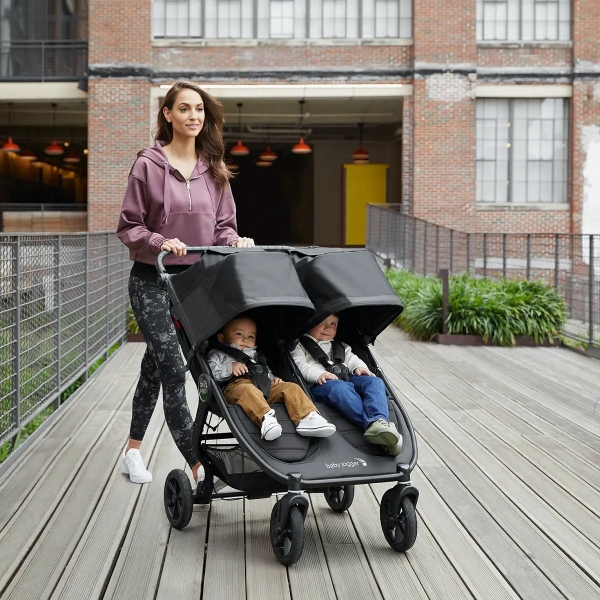 If you plan to some jogging with your babies, this is the stroller you want. It's designed with air-filled rubber tires to give your babies a smooth ride and allow you easy to manoeuver. Each seat is designed to support kids up to 50 pounds, has a five-point harness to ensure they stay tucked in safely, and folds down to nearly flat. The stroller has an adjustable handlebar to give it custom fit, folds down quickly and easily, and has full coverage UV 50 canopies to keep your babies cool and protected.
HALO BassiNest Twin Sleeper
You don't have to buy two separate bassinets because you can get this one that is a perfect twin baby gear which keeps each baby snuggled up safely near each other and at arms distance for you. There is a breathable mesh separator down the middle of the bassinet so your twins can still be close to each other and practice safe sleep. The bed rotates 360 degrees so you can easily turn it to get one baby without disturbing the other. It is also equipped with an audio machine that plays white noise and lullabies, vibrates, and has a back to bed reminder.
Baby Relax Hadley Double Rocker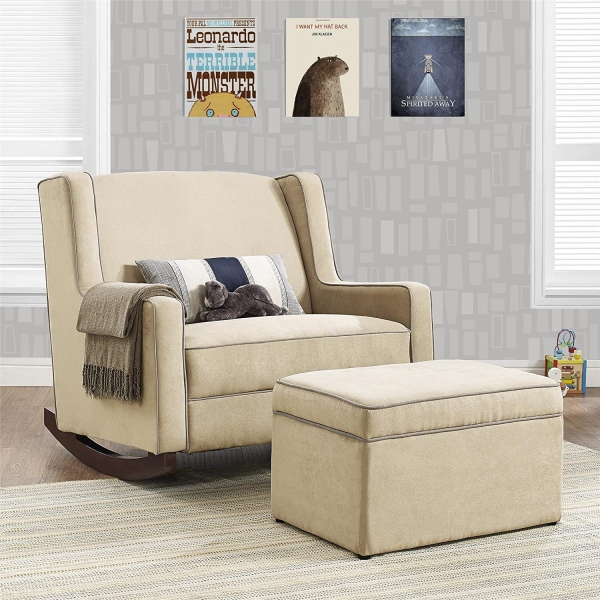 If you plan on feeding or snuggling both babies at once, you may feel a little cramped on a regular-size glider. This chair is designed with a seat that is 1.5 times wider to give the three of you a little more space. The chair is made from wood and metal construction with a cozy, thick-padded seat that's covered in a polyester fabric that's easy to wipe down. The rocker sits 19.5 inches tall and hold up to 275 pounds.
TwinGo Original Baby Carrier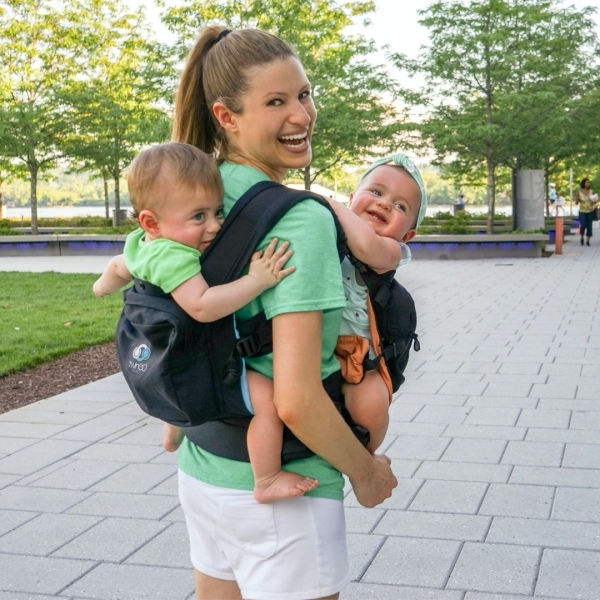 Baby-wearing allows parents to bond with their babies through skin-to-skin, and it frees up their hands so they can get a few things done. This carrier allows twin parents the same advantages as one person can carry two babies at a time with it. It also can be split into two separate carriers so two adults can each carry one baby. The carrier is equipped with adjustable straps, can evenly distribute weight, and is safe for babies between 10 and 45 pounds.
Baby Trend Retreat Twins Nursery Center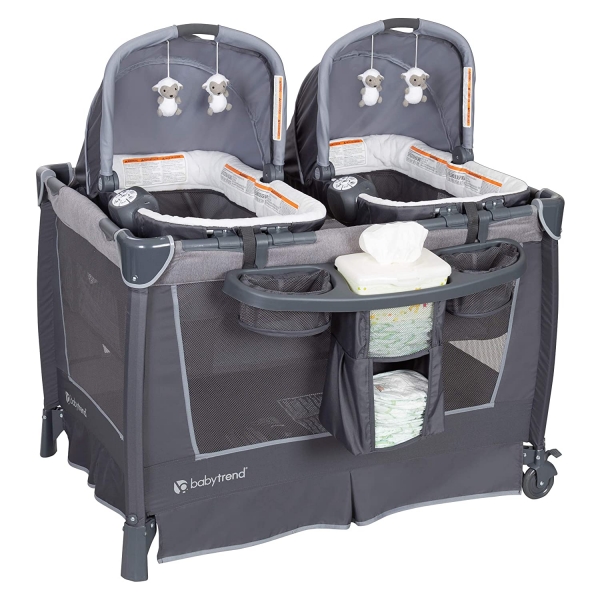 This pack and play has all of the same amazing features of a single design but is made for twins instead. This twin baby gear comprise carrying handles, dangling toys hanging from the canopies, and metal bases so they can be set up on the floor separate from the crib.
The crib can be set up as a changing table, complete with storage for diapers and wipes, as a crib with a high mattress, or as a playpen with a low mattress. The play center has a sound control that will play white noise or lullabies, has a nightlight, and will vibrate the base.
Twin Z Pillow 6-in-1 Pillow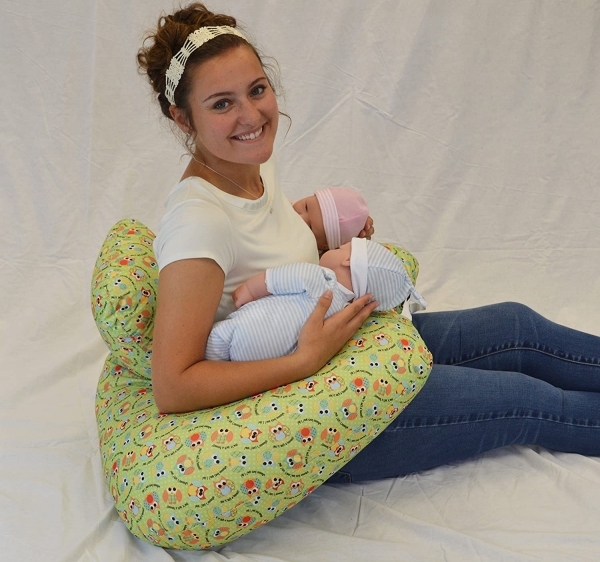 Available in five colors, this pillow has a multi-purpose design that gives parents a spot to safely prop the babies for play or tummy time, easily feed them, and even help mom sleep during pregnancy before the babies arrive. There's also no need to worry about spit-up accidents because the pillow has a removable cover that is machine washable and the pillow itself can be spot cleaned. According to the American Academy of Pediatrics safe sleep guidelines, you should never allow your baby to sleep on nursing pillows.
Motorola Baby Video Baby Monitor with Infrared Night Vision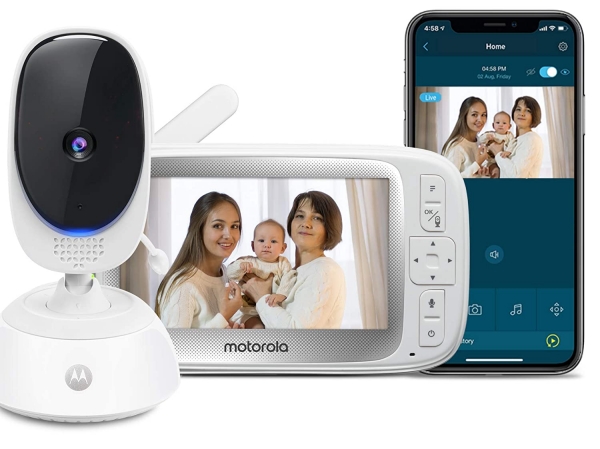 You're going to want a monitor with two cameras so you can keep an eye on both babies when they're in their cribs. This set comes with one monitor that allows you to look at just one camera or have a split-screen view of both at the same time. You can control the angle of the cameras, check the nursery temperature, and talk to your babies all from the monitor. This twin baby gear has incredible night vision to give you a clear picture while they sleep and has a 1,000-foot range.
Ju-Ju-Be BFF Convertible Diaper Backpack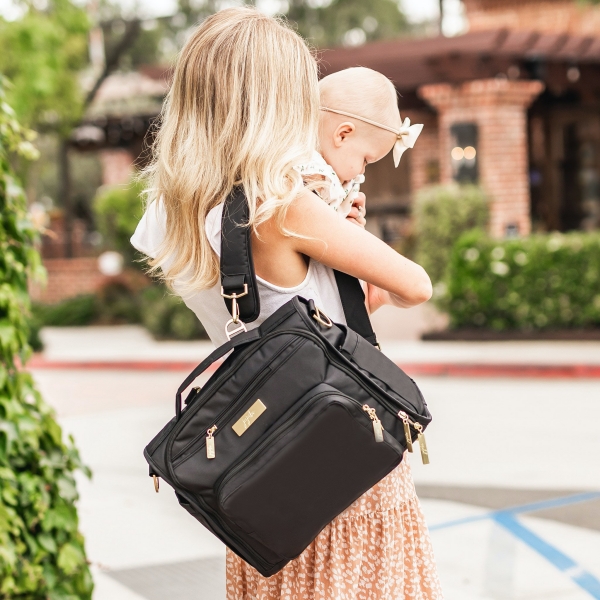 Two babies require mom and dad to have to carry a lot of essentials along with them when they go out. Instead of having two separate diaper bags, it's better to have just one that can easily hold everything you need. This diaper bag can be worn over the shoulder, carried, or converted into a backpack, comes with a memory foam changing mat. The front zipper pocket is a perfect spot to keep your car keys, wallet, and cell phone. You can pack all of your baby essentials in the large main compartment that is full of smaller pockets for easy organization.