What about making DIY play kitchen where your children will love to play! It is inexpensive, it does not need much effort and time and when you end up preparing it, believe me your kid will definitely love it. Kitchen is one of those first places where your kids get accustomed with the daily household works. The usages of different utensils amuse them the most. So let your kid play in his own play kitchen and let him make the breakfast for you with sandwiches, bananas and eggs! May be this way you can make him learn about different food items and their nutritious value. There are many play kitchens being sold in different shops but they are expensive. DIYs come at your rescue. In this article we will be giving you ideas of 10 awesome DIY play kitchens which your kids will love.
Awesome DIY Play Kitchen Ideas Your Kids Will Love:
1. DIY play kitchen from a cardboard: This is the easiest DIY one can make. It is lowest of cost as you need only card boards for this. It does not require much places also. Just make two or three simple shelves and paint it bright if you want. You can make a larger version also if you want. Here goes the tutorial.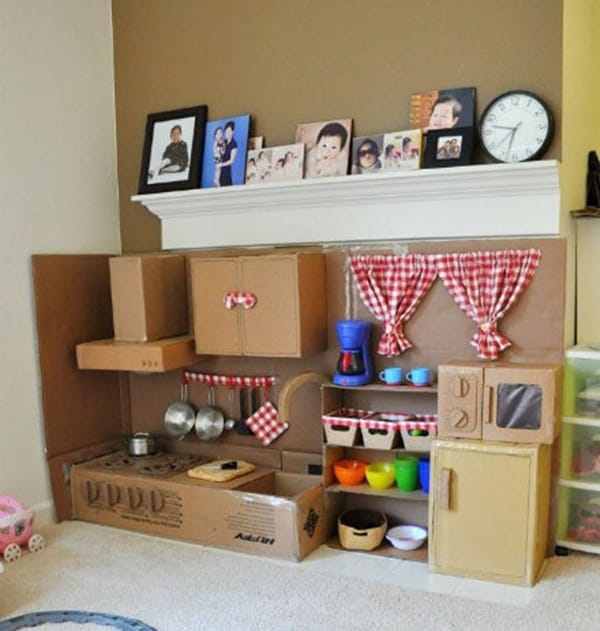 2. Change your dresser into a play kitchen: If you have an old dresser in your house this time give it a makeover and change it into a play kitchen. You need lot of your artistic flares to assemble many things like you can use the shot glasses to make salt and pepper bottles.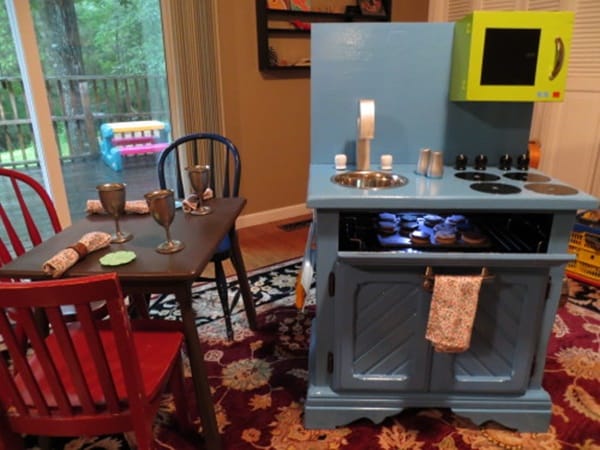 3. Play kitchen from an old kitchen cabinet: If you have an unused kitchen cabinet lying in your kitchen turn it into your kid's play corner. You may cut it down if you want and can add knobs and lights to it to make it more real. This tutorial comes handy.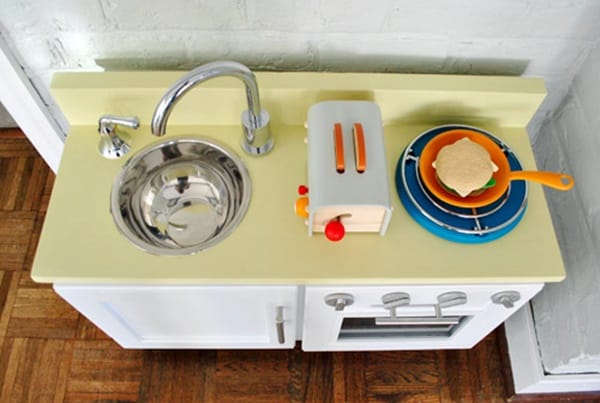 4. Nightstand turned play kitchen: This Christmas you can gift your little one a play kitchen made from your room's nightstand. Add a bowl as sink and hang baskets at the sides to store the play foods.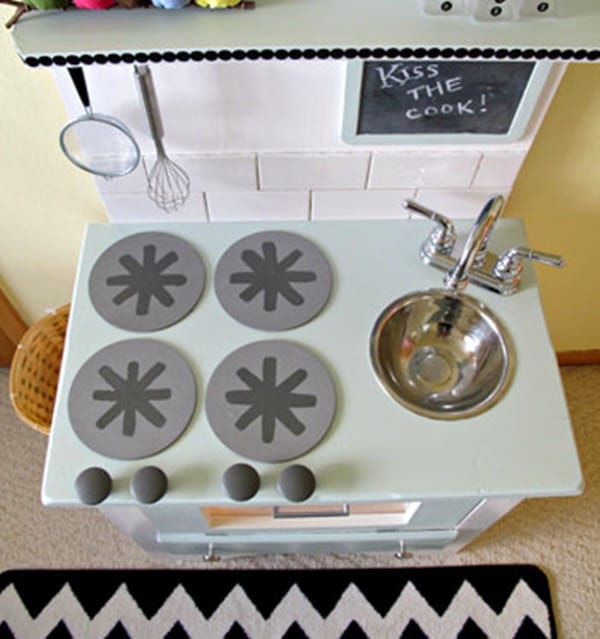 5. The outdoor play kitchen: Using an old shelf you can make a play kitchen and can place it outdoor. Make it sturdy and fancy and add some creativity, this way your kid will spend more time in the greeneries too.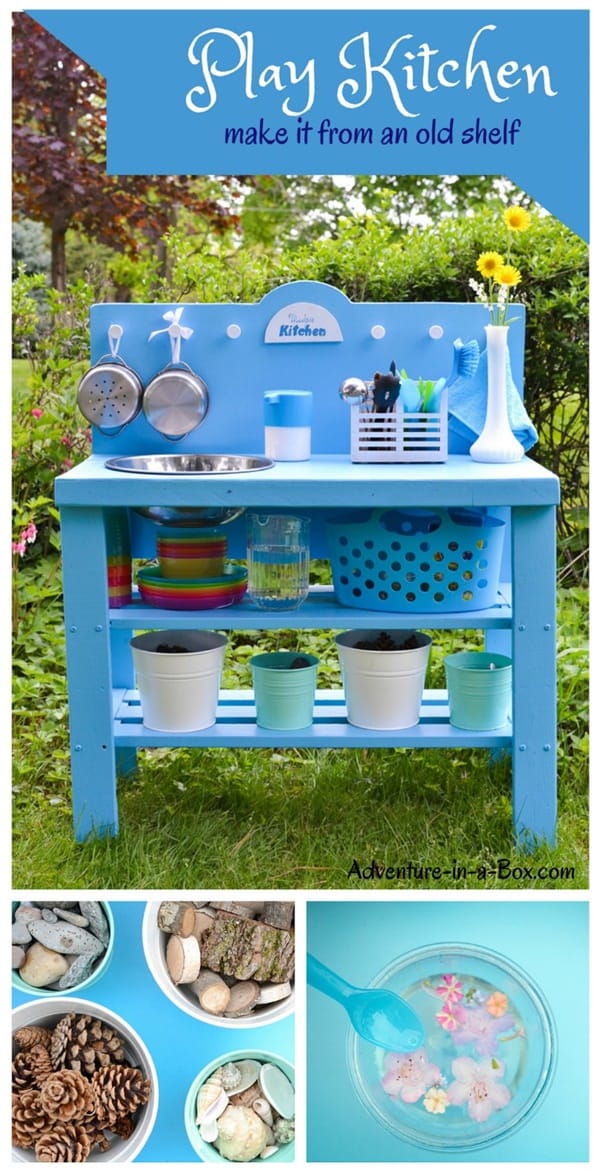 6. Multi column kitchen: You can make a detailed play kitchen with three separate parts viz. a fridge, a sink part and a stove area. Add colorful play foods and fruit printed curtain to it to give it a more vibrant look and your kid will enjoy spending time here.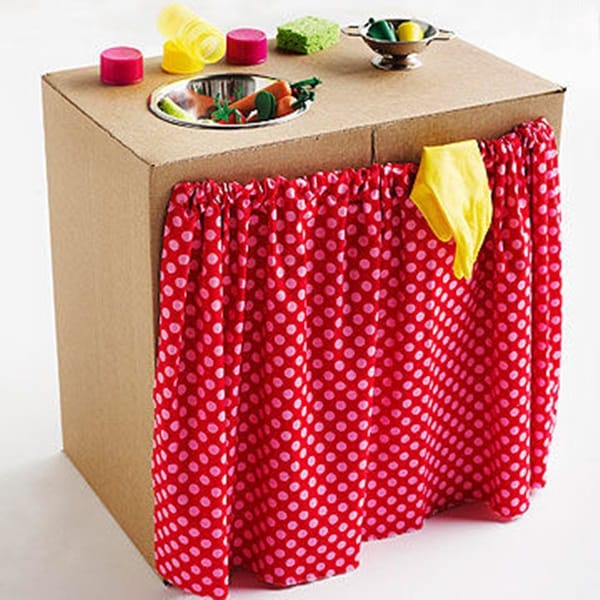 7. Play kitchen just in a box: Oh my god! This one is my favorite. If you have space problem in your apartment and yet you want to gift your toddler a play kitchen this is the right pick for you. Just buy a plastic box and cover it up with enough fabric. Use marker pen for detailing. You will need sewing needle to sew it.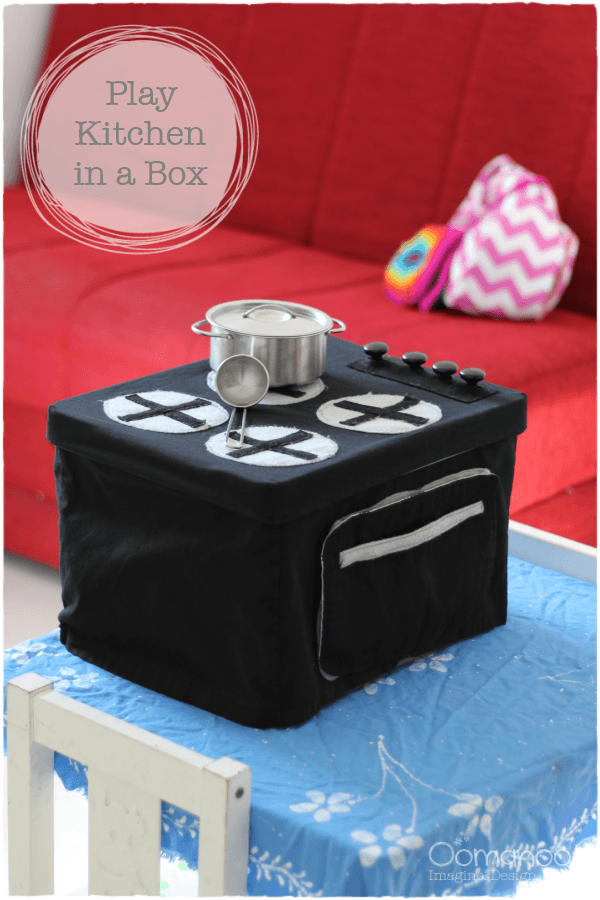 8. Portable play kitchen: Use a side table which has portable legs. Repaint it. Turn the table top into the oven area. You can use compact disks to make the burners. Whenever you like you can move this to the place of your choice.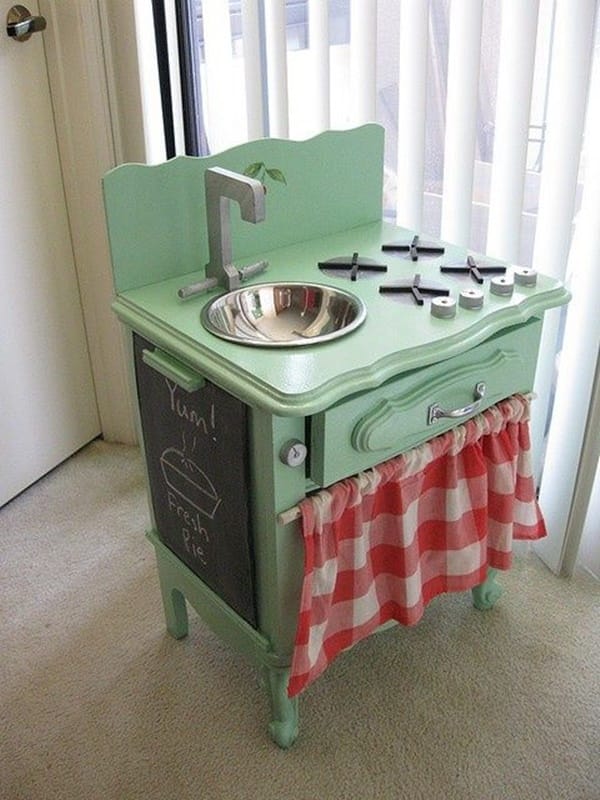 9. Play kitchen from a television stand: Reuse your old television stand. Once you remove all its old knobs you can customize it as you like. You can add colorful tiles to it. You can use your wooden coasters and working lights to make a stove. Add some hangers to it from where the play utensils can hang easily. Make sure it is sturdy and does not fall on your toddler. This tutorial is so well illustrated.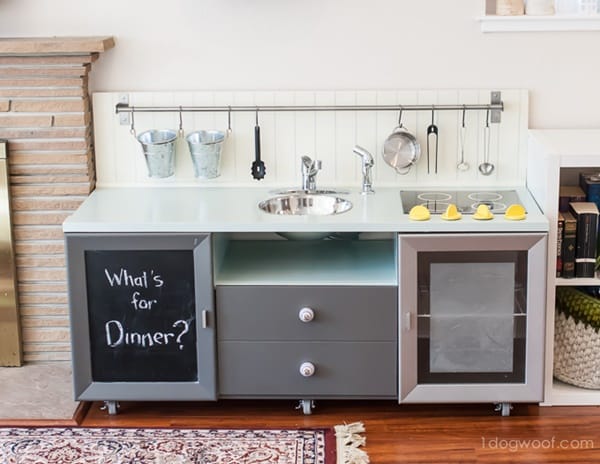 10. The simplest play kitchen with just a stool: This is the last one in our list but it is the simplest one. All you need is a stool. It is affordable and can easily be found. It does not need huge investment. Paint it and paint the wooden knobs. You can buy the oven-board and attach it onto the top.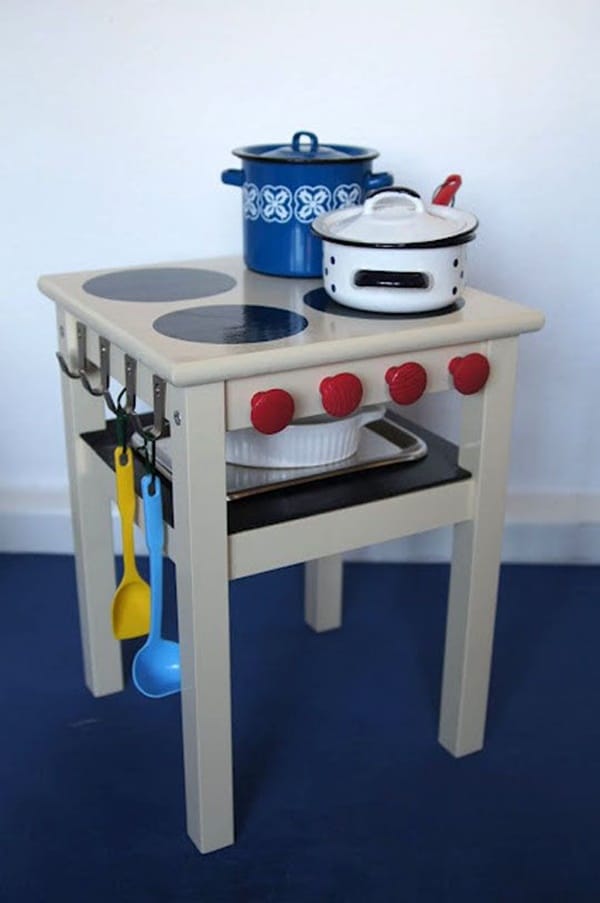 DIY play kitchens are fun, affordable, easy to make and trendy. Ask someone to join you in this DIY project and gift your toddler an amazing play kitchen. You are provided with 10 awesome ideas. Now all you need is your creativity and some hard work. It will also be fun for you to see your baby making tasty cuisines with different play foods. Appreciate his/her skills and encourage him/her effort. So pick the one option you like the most and this weekend start your mission of making a play kitchen.